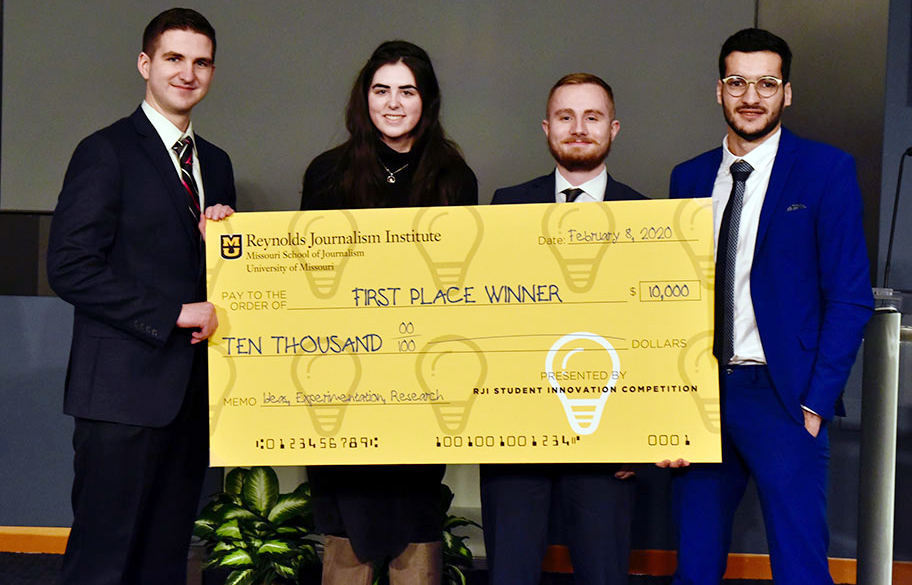 RJI competition challenges college students to help newsrooms reconnect with audiences
Newsrooms in the U.S. have the opportunity to pair up with journalism students from across the country to find new ways to engage with readers during the 14th annual RJI Student Innovation Competition.
Each year the Donald W. Reynolds Journalism Institute at the Missouri School of Journalism issues a challenge to college students to develop a product or service to help solve a journalism challenge. This year's goal is to help newsrooms reconnect with audiences during a season of isolation.
"We thought that helping newsrooms find new and creative ways to engage with their communities was a timely and important challenge," says Kat Duncan, interim director of innovation at RJI. "We are sure that the students will come up with amazing ideas, which will be beneficial to newsrooms all over the country."
The competition is open to any journalism student across the country. During the competition, students, whether as individuals or teams, are asked to find a news organization and brainstorm new and innovative ways for them to better engage with their community and then come up with an implementation strategy. The sky's the limit on possible engagement ideas, says Duncan.
"We want the students to think of engagement in the broadest sense of the word," says Duncan. "We aren't just looking for social platform strategies because engagement can mean so many different things. There are no specific parameters to the challenge other than helping communities connect with their local journalists, because we hope that this is the best way to let the students be creative and think outside the usual boxes."
Ideas must be submitted by Oct. 31 and finalists will be announced Nov. 13, 2020.
Finalists will then be given three months to implement their ideas with their chosen news outlet. They will then share their ideas and results virtually in front of the public and a panel of judges from organizations including The New York Times, KQED and the Los Angeles Times on Feb. 26, 2021. Judges will be looking at several criteria including how well the idea helped the newsroom and its community, if the idea could be implemented in other newsrooms and if the idea was new and innovative for the partner newsroom.
For more rules and information about this year's competition, check out its announcement page.
Comments