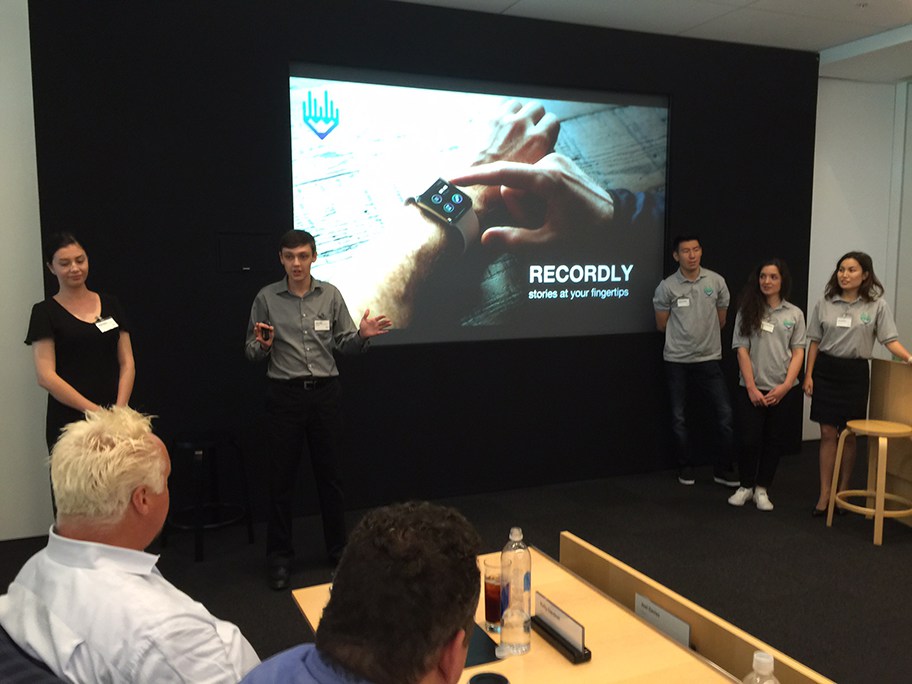 Team Recordly demonstrates its prize-winning interviewing tool at Silicon Valley tech firms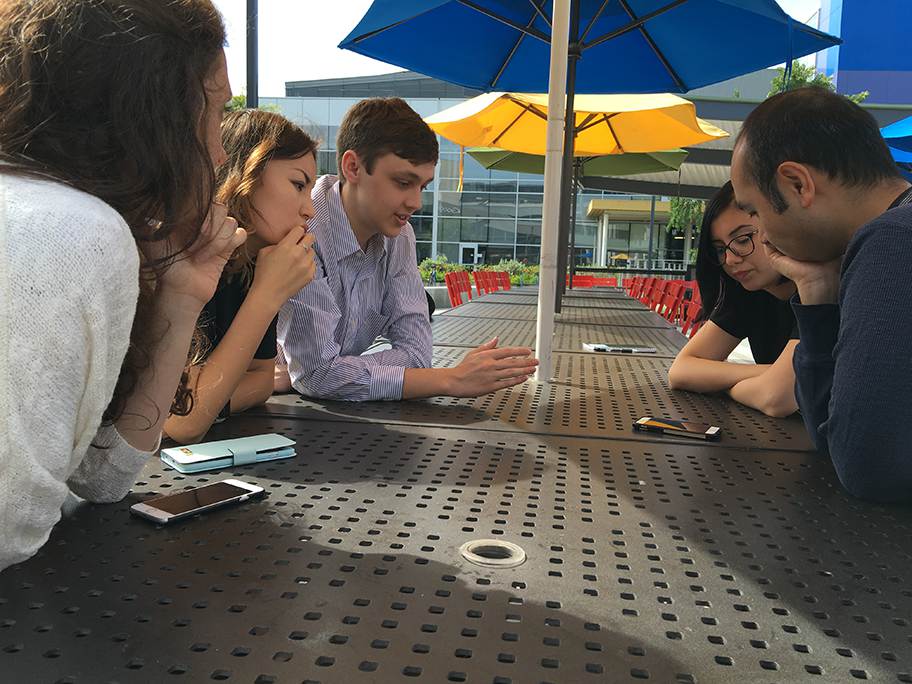 The winning team in the 2016 RJI Student Competition took full advantage of their grand prize trip to California last week, demonstrating their Apple Watch/iPhone interviewing tool in five key venues.  
Recordly members John Gillis, Zolbayar Magsar, Anna Maikova,Yaryna Mykhyalyshyn and Sintia Radu began their tech tour at Apple world headquarters in Cupertino. They received enthusiastic and detailed feedback on their presentation from Apple development, sales and marketing leaders.
Later that evening the team summarized their work before an audience of University of Missouri alumni at the Silicon Valley Capital Club in San Jose.
The next day it was on to Mountain View where they shared their prototype with Google developer Peng Zhuang, a past winner of the annual RJI contest.
Then they drove up to Redwood City where RJI Fellow Victor Hernandez hosted them at the headquarters of Banjo, a geo-location-based social listening firm that helps journalists track breaking news. The team demoed their app to Vice President for Product Management Ryan Johnson.
Finally, the Missouri journalism and computer science students stopped by the San Francisco offices of Matter, the media accelerator that supports journalism startups. They pitched Recordly to Managing Partner Corey Ford and members of his team.
Back in Columbia, Missouri, Recordly has been offered space at the Mid-Mo Tech Accelerator operated by the Missouri Innovation Center at the University of Missouri. The team hopes to sell news organizations on their service, which uses the Apple Watch as a remote control and highlighting tool for audio interviews recorded on the iPhone. Recordly employs the IBM Watson speech-to-text API to produce accurate, real-time transcriptions of those interviews, giving journalists time to pursue more and better stories.
Comments