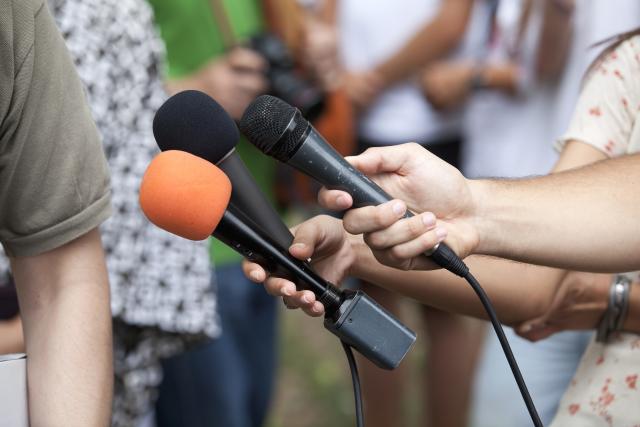 Ten student journalism programs win mobile gear in MobileVideoDIY contest
Students and teachers at 10 U.S. high school journalism programs now have the opportunity to produce higher quality videos thanks to the gift of new equipment.
The schools recently won gear bags for their classrooms from MobileVideoDIY, a newly launched mobile-video resource of the Donald W. Reynolds Journalism Institute. The bags include a microphone, pre-amplifier, microphone cord, tripod and smartphone mount. These accessories can help improve picture and sound quality of mobile video and photos.
Many schools aren't able to afford videography equipment or extra mobile accessories, according to Mike Wheeler, curator for MobileVideoDIY.
"Some high schools couldn't really teach the video part of journalism because the equipment was so expensive," says Wheeler. "Now with just about every student bringing their own camera (smartphone), it opens up a whole new world for video storytelling. We're glad to be able to help schools do that."
The 10 winning schools were selected at random from more than 500 entries in 37 states. Entries came from teachers and students.
New gear will improve students' work
Many of the students in Heather Jancoski's Arizona classroom already use their mobile devices to capture video and sound bites. She says the new equipment they won will help improve their video packages, voice-overs and promos for their weekly show, "Jaguar News."
"I know part of being a journalist is dressing for success and where we live a lot of the students can't afford that," says Jancoski. "But with a mobile journalism bag, they will look more professional."
MobileVideoDIY is a free online resource for teachers, students, and citizen and professional journalists. The site features reviews of the best apps and tutorials from professional journalists on how to cover news events.
The MobileVideoDIY giveaway was sponsored in partnership with RJI and the American Society of News Editors' Youth Journalism Initiative.
Winning schools
Benjamin Merithew (submitted by Sidney Smith)
Fort Osage High School
Independence, Missouri
Julie Tiedens (submitted by Devin Newby)
Black River Falls High School
Black River Falls, Wisconsin
Cynthia Sayles
Abraham Lincoln High School
Des Moines, Iowa
Heather Jancoski (submitted by Jose Contreras)
South Mountain High School
Phoenix, Arizona
David Robb
Pflugerville High School
Pflugerville, Texas
Jane Brewer
Fort Atkinson High School
Fort Atkinson, Wisconsin
Todd Vogts (submitted by Eric Wenzel)
Sterling High School
Sterling, Kansas
Aaron Manfull (submitted by Tristan Chenoweth)
Francis Howell North High School
St. Charles, Missouri
Gaby Herbst (submitted by Sadie Hersh)
Beverly Hill High School
Beverly Hills, California
Greg Anderson (submitted by Brett Stenlund)
Arapahoe High School
Centennial, Colorado
Comments