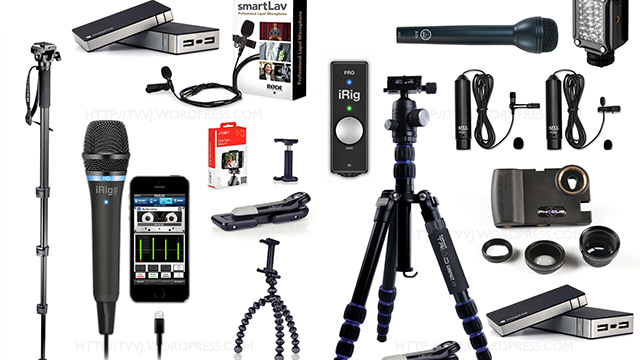 MobileVideoDIY giving away 10 free mobile gear bags to student journalism programs
Columbia, Missouri ­­— Journalism teachers are no longer limited in their ability to add video to their curriculum because of the high cost of professional cameras and gear. Using smartphones and many free supporting apps, videos can now be shot, edited and shared with the world with a quality consistent with professionals.
Teachers and students can now view tutorials available at MobileVideoDIY— a mobile-first website — to learn how to make and share video stories using mobile devices and apps. To celebrate the launch of its website and help teachers and student journalists get started, MobileVideoDIY is giving away 10 mobile gear bags to secondary-school classrooms. Each bag contains a microphone, pre-amp, cord, tripod and mount. Any secondary school can enter for a chance to win at MobileVideoDIY.com.
"We hope that entire classes will enter to increase their chances of winning," said Mike Wheeler, an adviser to the Donald W. Reynolds Journalism Institute and the curator of MobileVideoDIY. "After they enter, we hope they will explore MobileVideoDIY.com to look at the tutorials and the showcase of great stories already shot with a mobile device."
The MobileVideoDIY giveaway is sponsored in partnership with the Donald W. Reynolds Journalism Institute and the American Society of News Editors' Youth Journalism Initiative. The two organizations work together each summer to offer a comprehensive, hands-on journalism institute for journalism teachers funded by the Donald W. Reynolds Foundation. Since its inception more than a decade ago, the Reynolds High School Journalism Institute has trained more than 2,275 teachers.
"We are always impressed by the quality and dedication of the journalism teachers at the Institutes," said Le Anne Wiseman, director of the ASNE Youth Journalism Initiative. "Given some gear to complement the smartphone, we look forward to seeing the video stories they create and share." Journalists at news organizations around the world are now using smartphones and other mobile connected devices to tell stories in new and different ways.
"With the universal distribution of the smartphone, many students can learn using the same equipment that reporters from The Wall Street Journal, BBC, RTÉ and many other news organizations are using every day in the field," said Randy Picht, executive director of the Donald W. Reynolds Journalism Institute.
"Many devices like smartphones and GoPro are currently within reach of student journalists at the secondary-school level," Picht said. "Many more devices like drones, Google Glass and Oculus Rift will be within reach in the near future as the cost for devices decreases."
About the partners
MobileVideoDIY.com is a free online resource for teachers and students. It features reviews of the best apps, tutorials on how to cover events from professional journalists and a showcase of extraordinary mobile video storytelling from around the world.
The Donald W. Reynolds Journalism Institute works with citizens, journalists and researchers to strengthen democracy through better journalism. RJI seeks out the most exciting new ideas, tests them with real-world experiments, uses social science research to assess their effectiveness and delivers solutions that citizens and journalists can put to use in their own communities.
The American Society of News Editors focuses on leadership development and journalism-related subjects. Founded in 1922 as a nonprofit professional organization, ASNE promotes fair, principled journalism; defends and protects First Amendment rights; and fights for freedom of information and open government. Leadership, innovation, diversity and inclusion in coverage and the journalism work force, youth journalism and the sharing of ideas are also key ASNE initiatives.
The ASNE Youth Journalism Initiative is committed to helping students learn why news matters and acquire the skills needed to succeed as 21st-century citizens. The Initiative invests in the future of democracy by providing resources and training to support youth journalism; news, information and media literacy; and civic education. It offers training and professional learning communities for teachers, including the Reynolds High School Journalism Institute. Its student advisory board helps young people learn, connect and be heard by offering them educational opportunities and interaction with journalism professionals.
For more information, contact Wheeler at MobileVideoDIY@gmail.com; or Roger Gafke, RJI's director of program development at 573-881-5446 or gafker@rjionline.org.
Comments