Audio to video: Tips and tools
With audiograms you can transform your audio stories into a video format. This enables you to provide a visual component for readers while listening to your story, share it on more platforms and reach a wider audience.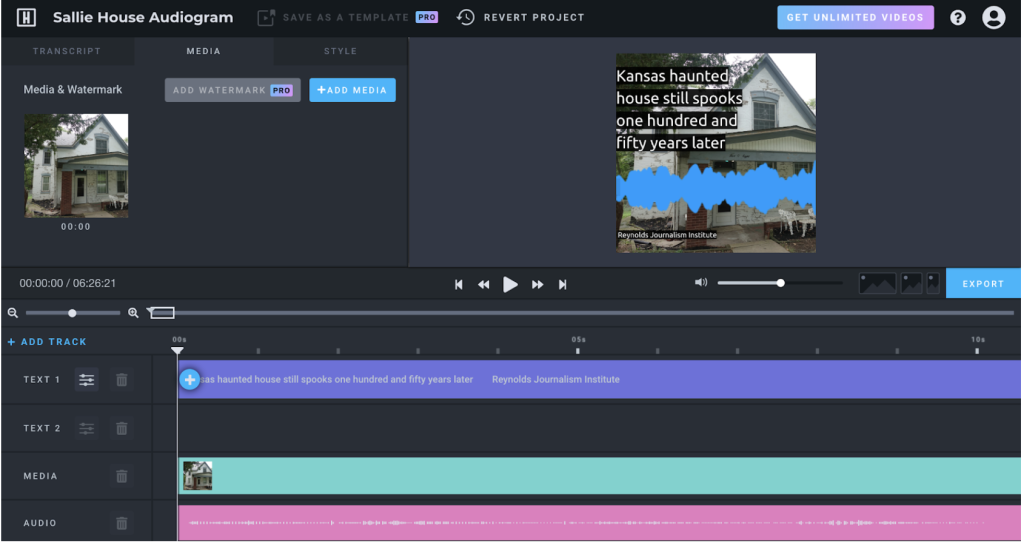 An audiogram has three main components: a background design, an animated waveform and the audio. Audiogram tools transform your audio into an animated waveform through a video file. With these tools you can customize what the waveform looks like and what background the audiogram will have.
There are a few easy-to-use and free audiogram tools with low-cost premium plans built for audio storytelling. This month we tried two tools to test the features that visualize your audio stories into audiograms, Wavve and Headliner. Both tools have a similar step-by-step process. In either tool you upload and select your audio, choose the audiogram's aspect ratio, add a background, audiogram style and text. The features in each can be used to create very similar end-products.
Features
Headliner includes access not only to a specific audiogram wizard, but also its own in-browser video editor, similar to other editors like Final Cut or Premiere Pro. After you complete your audiogram in Headliner's wizard, it moves your project to it's video editor for more detailed editing, such as uploading captions, adding more images, text, animations and transitions. Wavve in comparison is an audiogram-only tool and does not include a video editor. However, it's audiogram tool has several more granular design options than Headliner's audiogram wizard, such as adding multiple text boxes and styling captions. With Wavve you can accomplish more granular detailed edits all in one tool. With Headliner you have to use two tools, but overall can add more detailed video editing than Wavve.
If you don't want to upload a pre-recorded file, each tool has another audio option. With Headliner you can search for and use audio from already published podcasts on the web. And Wavve lets you record up to five minutes of audio within the tool itself.
When creating an audiogram specifically for social media, Headliner also includes a time limit selector, which will limit the audio length to the time limit of the chosen social platform. Wavve does not have a time limit selector, so you have to know the limits prior to clipping your audio. Depending on what social platform you choose, both tools provide three aspect ratios to choose from: landscape, portrait and square. With Wavve you can change your aspect ratio anytime mid-project. With Headliner on the other hand, once your audiogram project is sent to the video editor you cannot change it, you have to create a new project with the ratio you need.
Cost and Membership
Headliner has a couple levels of membership that you can choose from depending on the needs of your newsroom and your budget. The Forever Free membership includes access to Headliner's suite of editing tools including the audiogram wizard and the ability to directly post to social media at 1080p. You can export up to 10 videos per month without Headliner's watermark and unlimited videos with the watermark. For $12.95 per month or $119.95 annually you can upgrade to a Headliner Pro membership and create unlimited videos without Headliner's watermark, make your own custom watermarks, access to stock videos and stock images, reusable templates, custom intro and outro videos and more.
Wavve's membership plans are based on how many minutes of video you would like to generate each month. With the free plan you can generate up to 1 minute of video each month and create your own designs, but Wavve branding will be included in your videos. Their Alpha plan is $10 per month to generate up to 10 minutes of video per month with 20 minutes max of rollover and no Wavve branding. The Beta plan is $18 per month to generate up to 30 minutes of video per month with 60 minutes of rollover and no Wavve branding. The most costly plan is the Gamma at $32 per month to generate up to 300 minutes per month with 600 minutes of rollover and no Wavve branding.
Headliner may be the better free plan if you want to create more than a minute's worth of audiograms per month. But Wavve's interface is more user friendly for users who do not have video editing experience. With Wavve you can accomplish all the basics in one tool, and if you want to change any details, such as the ratio, you can at any point before export. Headliner's video editor that you must use to export an audiogram looks and feels similar to other video editing software and could be a great option for users looking to have more detailed video editing options.
Comments