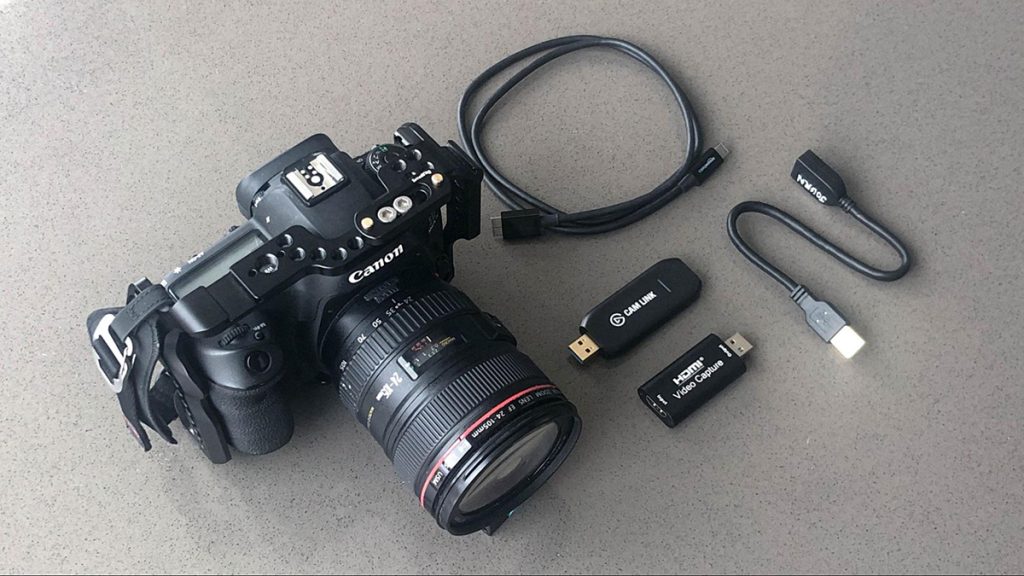 Capture cards: A useful tool for video journalists
Improve image quality for live video journalism in the field or in remote locations
The age of social media
News reporting has largely shifted towards smaller, more mobile teams who've become accustomed to utilizing platforms like Zoom or Twitter in aid of newsgathering. Today, the general public often discovers breaking news through social media rather than news platforms.
Though in-person interviews and news correspondence will remain a top priority for journalists, journalists must also know their way around streaming technology, since it is built into most social platforms where readers interact with and discover news content.
So what are the tools and methods available to journalists to elevate streaming and live video, without overinvesting into a market that's prone to technological depreciation? One potential solution is a capture card.
What is a capture card?
A capture card is a device that tricks your computer into thinking that your camera or camcorder is a web camera, which allows you to use more mobile devices as your primary video source for platforms like Zoom, YouTube Live and Twitter Live. Once inserted into a USB port (or USB dongle), you can then broadcast your camera video footage live like you would from a web camera.
Journalists are often reduced to web cameras, earbuds, and smartphones to produce their live work. With the use of a capture card, journalists can use their professional equipment for interviewing subjects for smoother, higher quality video streaming.
Though it is possible to do this without a capture card (via free programs, such as provided by Sony and Fuji, provided by camera companies to convert your DSLR or mirrorless cameras into web cameras), the simplicity, overall higher image resolution and framerate options, as well as reliability of capture cards make it an enticing choice.
Capture cards can be paired with Open Broadcaster Software (OBS Studio), which effectively mirrors a news production presentation in digital form, allowing agencies to replicate their television news broadcast on YouTube, Twitter, or any other social media platform.
Capture cards are a feasible financial solution for doing coverage from your own home or in the field when you may not have access to the advanced workarounds of a professional TV studio or advanced video equipment.
Examining the options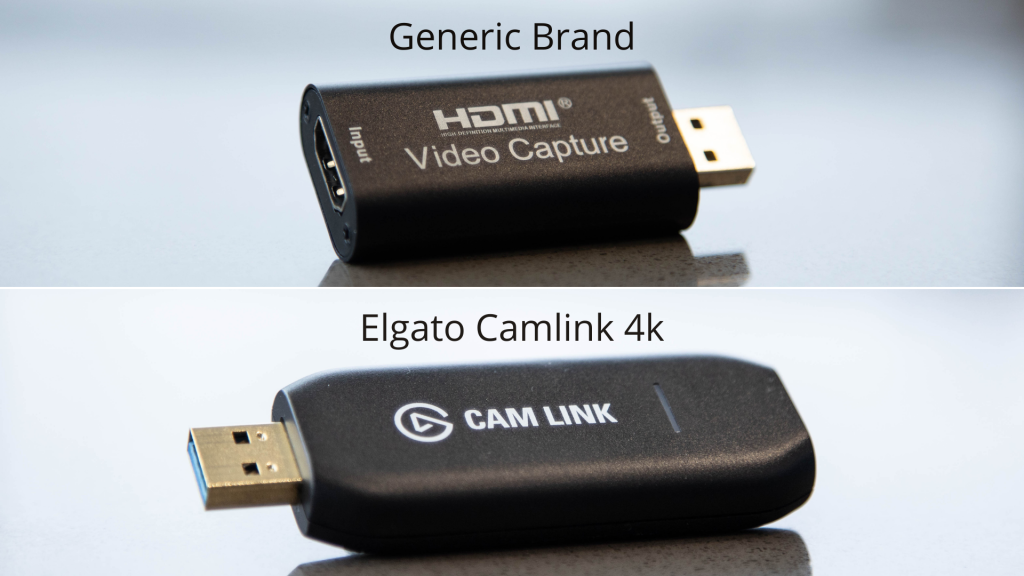 The generic brand capture card and Elgato Camlink shown side by side. The Camlink is a bit larger than the generic brand capture card and has an on/off light to show when it's in use. Photo by Nolan Xiong.
There are two options most people gravitate to when it comes to capture cards. Elgato is the typical go-to brand, which caters its products primarily to online streamers. The capture card I tested is the Elgato Camlink 4k, retailing for $129.99.
The other options are generic brand capture cards that are common on Amazon. For this test, we purchased a generic brand capture card from Amazon for $18.98 which I will compare.
A third option available that most journalists have been utilizing is simply tethering a camera directly into a computer. This typically involves either a USB-C to the computer or a micro-b to the computer. Recently, camera brands have also been producing free proprietary programs you can install on a computer that allow you to use your camera as a replacement webcam. Unfortunately in the field or on the move, it is hard if not impossible to have a computer set up to tether your camera to.
Testing the capture cards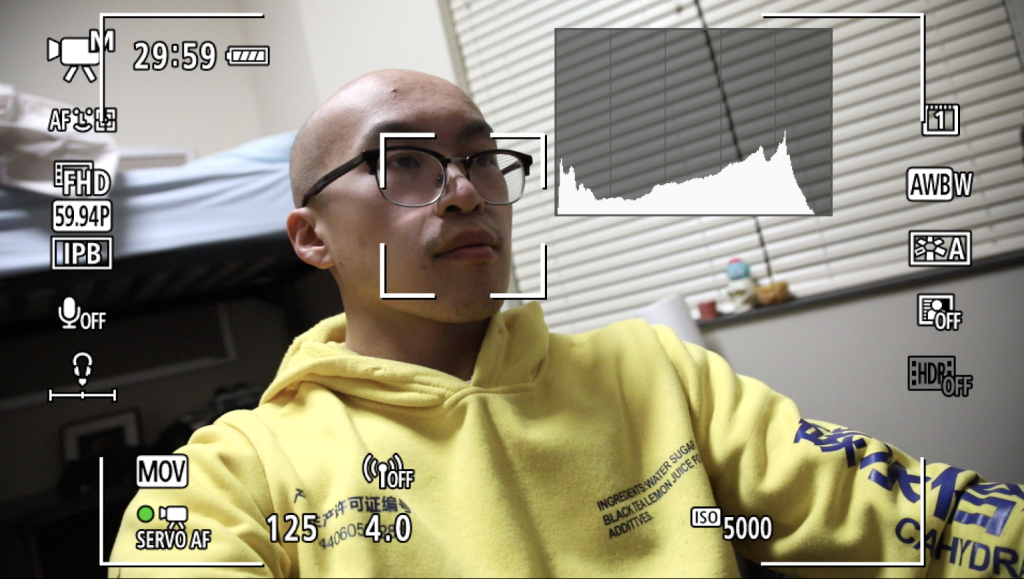 The generic brand capture card struggled to capture the lighting and saturation during my testing, clearly blowing out the highlights and oversaturating my hoodie. You can also see on the wall that the white balance lends itself a bit more green in tone.
As you can see, the generic brand has a noticeably smaller dynamic range and is quite saturated despite my histogram indicating I am within my highlight/shadow threshold. Both were able to perform at 60 fps and when I tested out 4k, both appeared to be able to show 4k.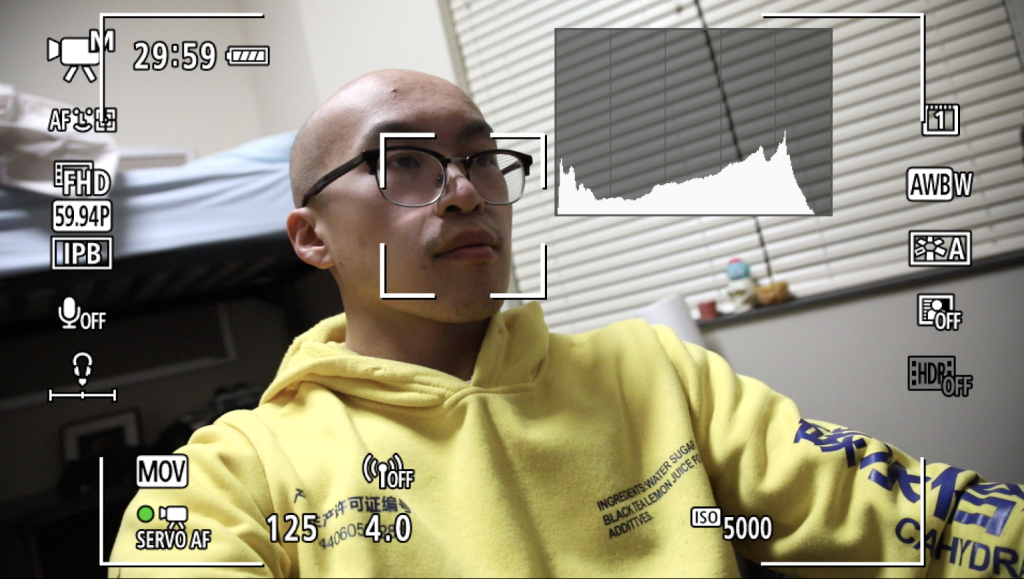 The Elgato Camlink 4k was far more accurate in terms of white balance, saturation, and highlights/shadows than the generic brand. Whether it's worth the $110 markup would depend on the use case.
One thing I noticed however was the type of video format they both were converting the video into. With the generic brand, it was converting the video to an MJPEG, which much like JPEG in nature, a more compressed video format designed for faster upload rather than high image quality.
The Elgato however gave me the option to choose between an NV12 format or YV12 format, a format that does still compress the video (4:2:0), but not nearly to the degree of MJPEG. When I tested the latency of both, the generic brand performed marginally worse than the Elgato at 30fps and 60fps, however, I did run into odd framerate issues at 24fps where I experienced a significant amount of latency as well as frame skipping issues. Though I spent a significant amount of time troubleshooting, I never could get the Generic Brand to act consistently.
Another thing to note is that when I was first attempting to use the Elgato, I did initially run into connectivity issues. But once I had switched my USB dongle out for a different one, it operated as expected. I will preface that Elgato stresses the necessity that their product is used with USB 3.0 in order to work properly. The USB 3.0 dongle I had originally used was fairly worn, so it must have been worn enough to cause problems for the Elgato.
Apart from that, these capture cards were rather simple to use. I wasn't required to download any secondary software for either capture cards and my computer immediately recognized them as web cameras once they were plugged in.
Tips and tricks
With the use of the capture card, there will be a couple of things to consider in regards to your camera setup. The first notable thing is screen info. As you can see in the photos above, all the information that is displayed on the camera will get displayed on the web program.
In this case, I displayed it to show what my camera settings were when I took the screenshots, but in a live setting, you will need to hide this information to give a clean presentation to your video. This can be a potential nuisance if you also require the screen to monitor camera settings.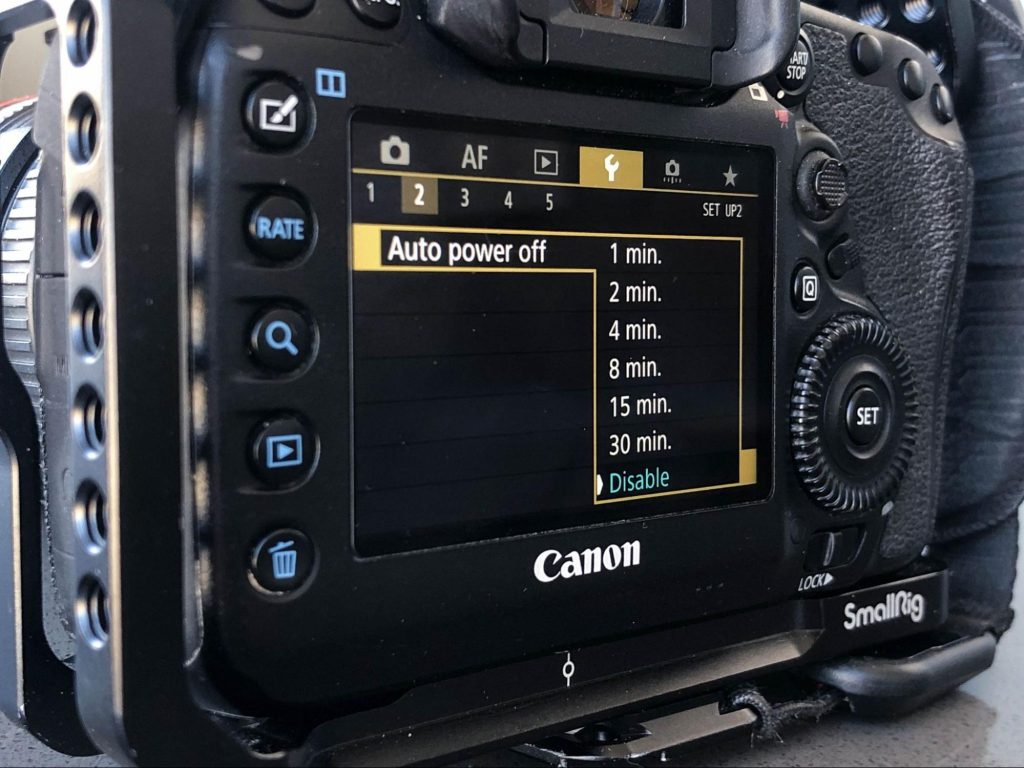 This is what the power off settings looked like for my Canon 5d Mk IV. The location may vary depending on the camera brand you are using.
Another thing to consider is that you will need to turn off your camera's automatic shutoff/power off settings. Fortunately, the camera doesn't need to be recording in order to use the capture card (though you can record simultaneously as you stream if the need arises) but in your typical stock camera settings, your camera will shutoff every 30 seconds to a minute of inactivity, effectively turning off your web camera so to speak.
As I researched this topic, I came across several discussion forums and comments sections that were divided as to whether or not you significantly risk damaging your mirrorless/DSLR sensor in the long term by streaming. Seeing that this setup would be designed for livestream/videoconferencing, it's something to consider.
Though I personally didn't run into sensor issues during testing and it is common for Twitch streamers and Youtubers to utilize mirrorless/DSLR cameras to livestream for long periods of time, it may be something worth looking into yourself if you have concerns over the care of your camera.
Thoughts and considerations
In regards to videoconferencing, it's feasible to simply use your camera brand's webcam utility. But platforms like Zoom only support up to 720p or 1080p at 30fps, thus you wouldn't even be able to fully utilize the capabilities of your camera even if you wanted to.
For live streaming purposes, capture cards offer very compelling use to a niche journalism market, namely mobile live reporting and mobile live interviews that go straight to social media platforms. For example, if you are a solo reporter doing a live interview on the field, capture cards, along with audio interfaces, allow you to set up all the necessary equipment on the field by yourself while retaining a decent level of production value, all while being able to immediately live stream. You don't need a crew, you don't need a shoulder camera rig, and you don't need a broadcast van to operate a smooth livestream with a capture card which is a huge boon to on-the-scene safety and mobility.
By using a capture card (as well as the appropriate USB to phone charger adapter and appropriate livestream phone application), journalists can replace their phones with DSLRs, camcorders, or mirrorless cameras and livestream straight to Facebook, Twitter, or YouTube from their phone, allowing them to keep their gear minimalistic and mobile.
Capture cards provide a means to increase journalism's production value for assignments that require live video that is both affordable and accessible, making it a practical and valuable tool for journalists to have in their toolsets.
Editor's note: This article has been edited for length and clarity by Mikaela Rodenbaugh and Kat Duncan.
Comments