Early lessons about using Threads to engage your community
From allotted character count to engagement strategies, takeaways from the Springfield News-Leader
Katie Taranto is a 2023 RJI Student Innovation Fellow partnered with the Springfield News-Leader in Springfield, Missouri. The RJI Student Fellows will be sharing their innovative work through Innovation in Focus.
Days after Threads launched, Gannett encouraged USA Today Network newsrooms to experiment with the app, including the Springfield News-Leader in Springfield, Missouri. The one stipulation: differentiate Threads content from Twitter. Don't just copy-paste from one medium to the other.
We immediately got started with a desire to strike while the iron was hot. In the early phases of the Threads debut, we sought to experiment with language and engagement strategies while connecting to our audience in this new digital space.
Here are some of our tips and takeaways on Threads for journalists and newsrooms:
So, is Threads basically a new Twitter?
The reason Threads is displayed as a Twitter rival in the mainstream is because, well, it's a vastly similar user experience — with the exception of some key missing features.
To post: Click the notepad icon at the bottom to reveal an empty text box. Threads currently allows up to 500 characters per Thread, an upgrade from the 280 allowed on Twitter without a subscription. The app also supports the addition of photos, video and hyperlinks in posts. While hashtags are not supported, you can still tag other Threads accounts with the @. Video length is limited to 5 minutes and up to 10 photos may be posted per Thread. To add media, click the paperclip icon. Click "Add to thread" to plan a series of posts.
Activity: Threads allows for likes, comments, reposts and quoted reposts through icons at the bottom of each post. The paper airplane allows for two seamless connections to Instagram, such as "Add to story" or "Post to feed," while also allowing users to tweet posts, copy a link or share in other ways. Tapping on the heart icon at the bottom of the screen allows you to view follows, replies, mentions, quotes, reposts and verified activity.
Feed: With a recent update, users can switch between two feed options: "For you" based on algorithm recommendations and "Following" which shows posts from followed accounts in chronological order.
What worked and what didn't
In two weeks, some News-Leader Threads garnered engagement while some were left in the dust, providing potential insight into the algorithm and users' interests.
The News-Leader Threads post with the most likes and comments was our account announcement. Shortly after the Threads debut, as millions were flocking to the app, we announced our presence and tagged three News-Leader journalists who had also opened accounts.
Then, hoping to start a conversation, we asked, what do you think of Threads? Two community members chimed in. One voiced a desire for functional hashtags, which resulted in us riffing about hyperspecific Springfield "hashtags" like cashew chicken and Bass Pro Shops. The other added more general commentary about Threads vs. Twitter, and we responded with some features we wanted to see like a chronological feed, which has since been added to the app.
This post did well in terms of engagement. We're unsure if the algorithm rewarded these two conversations, if the likes rolled in simply as more people opened accounts, or if the community simply wanted to acknowledge our presence, but we do know that this Thread continued to receive likes for several days on end after it was posted.
Three other Threads posted within the two-week period received commentary. One post linked the story of a beloved university professor's passing; one invited the audience to share their thoughts on a city council story; the third post quipped that the best thing we'd seen on Threads was the official Springfield Cardinals account, and cat videos, a joke our target audience would appreciate.
What do all these posts have in common?
A strong community connection and an afternoon publishing time
Avoided hard news updates
Centered topics that the Springfield community cares about.
Engaged with specific, local talking points: the passing of a beloved academic, a timely city government issue, and the city's sports team.
Published in the afternoon, tipping us off about a potential time frame that our audience may be most active.
Some posts undeniably flopped. Since views, clicks and other analytics are unknown, all we know for sure is that the following posts received 0 likes or comments:
Perhaps these posts reflect topics that the community isn't too invested in, but this is easily dismissed by the 97 comments on a News-Leader Facebook post about Moms for Liberty.
Some better guesses: Both of these posts did not invite community discussion. The content also wasn't differentiated enough from Twitter, Facebook or Instagram – these stories are already published on more popular outlets. Additionally, in contrast to the three successful posts, these unpopular Threads were also published between 9 and 11 a.m., when the News-Leader audience may not be as active.
Initial lessons for engaging audiences on Threads
Using the following strategies and posting new Threads consistently everyday, we oversaw the News-Leader's account as its following increased steadily by 26% in about two weeks.
Before you Thread, notify your audience about your new account on other platforms.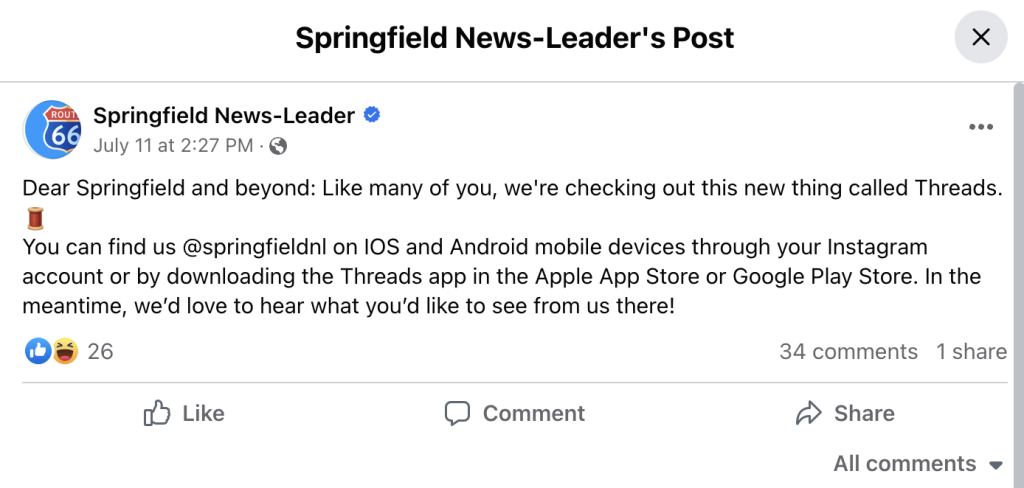 Prompt the audience with polls and questions. Ask your audience directly what they think and what they want. Ask them their opinions on community stories. This worked for the News-Leader's introductory post and city council post, mentioned above. We also love these examples from St. Louis Public Radio, AZ Central and the Detroit Free Press: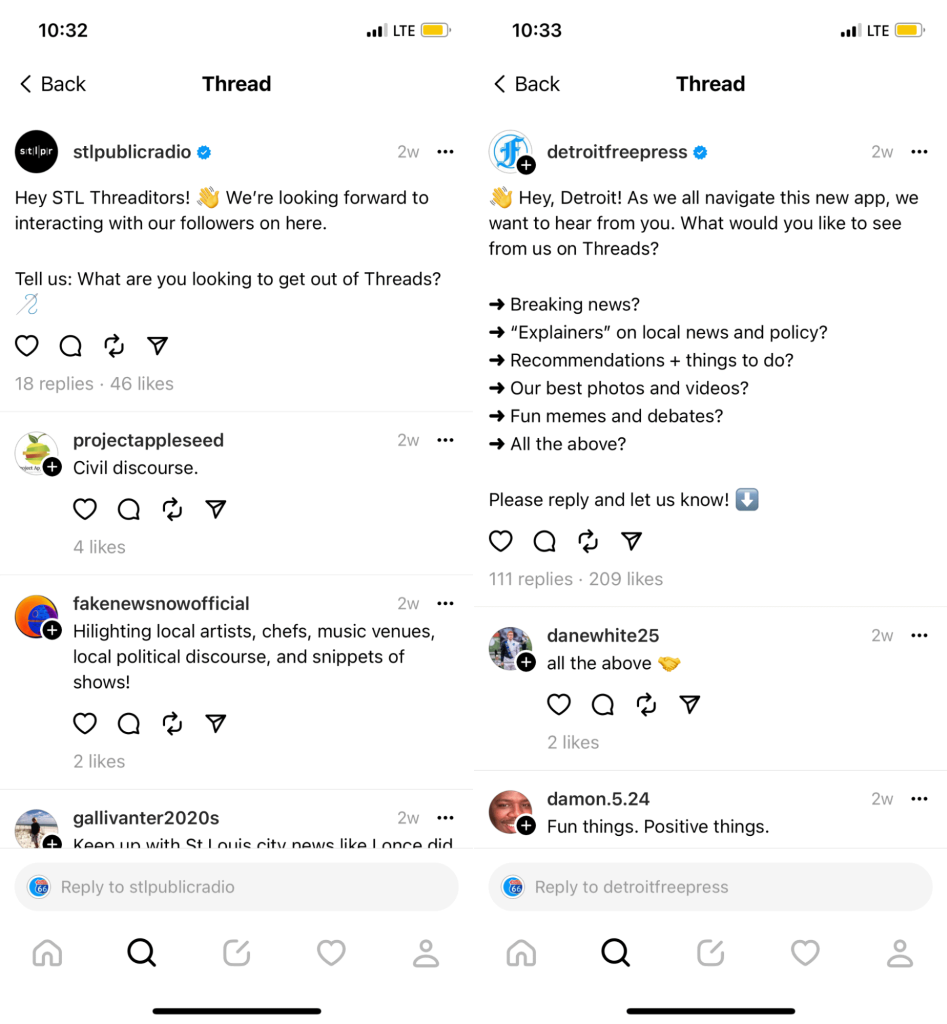 Get involved in local chatter and national trends. Engage in local jokes and memes, and start conversations that your audience will care about or enjoy. In Springfield, for example, we celebrated the reopening of a popular restaurant that had been closed and hyperlinked the corresponding story. In Detroit, the Free Press jokes about a state rivalry with Ohio.
Experiment with a playful tone of voice and invite community discussion when it's appropriate. Take advantage of the knowledge that the Threads algorithm isn't boosting hard news or political arguments by pivoting your tone. You can be lighthearted in a way that your publication might otherwise avoid on other platforms. Here are some examples: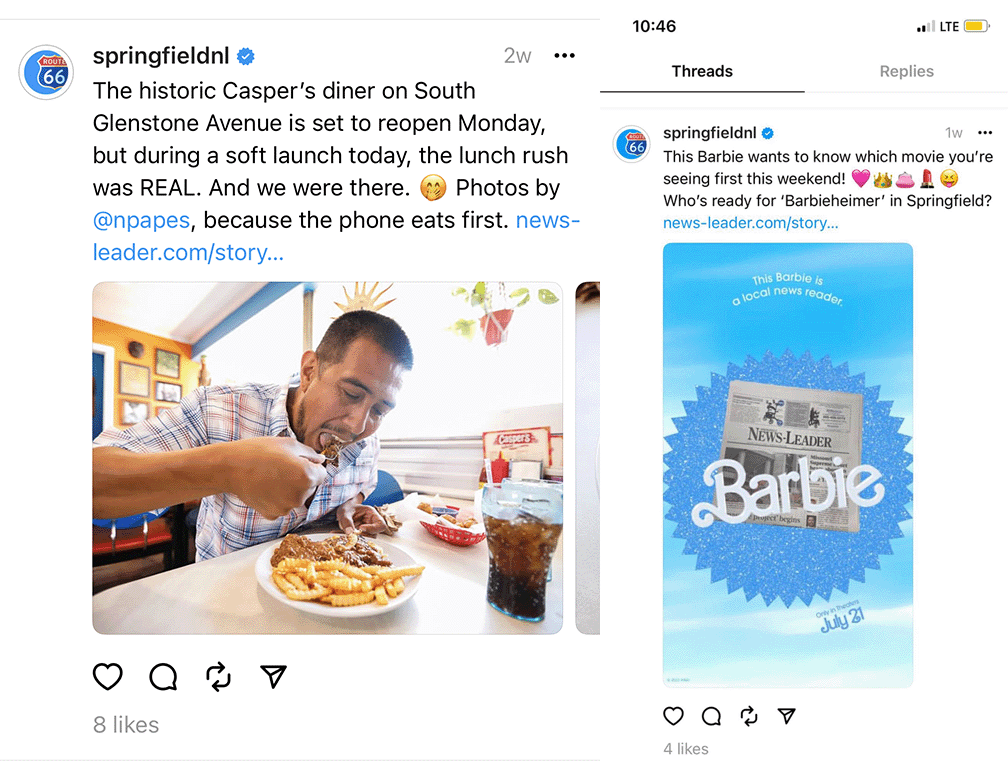 Daily headline posts: The goal is still to inform. Alongside conversational posts and fun techniques, this could be your account's voice that also draws readership. Select two to three headlines and break them down briefly. The 500-character limit comes in handy, but remember that brevity is the soul of wit. Here's an example the News-Leader posted and another from the Washington Post: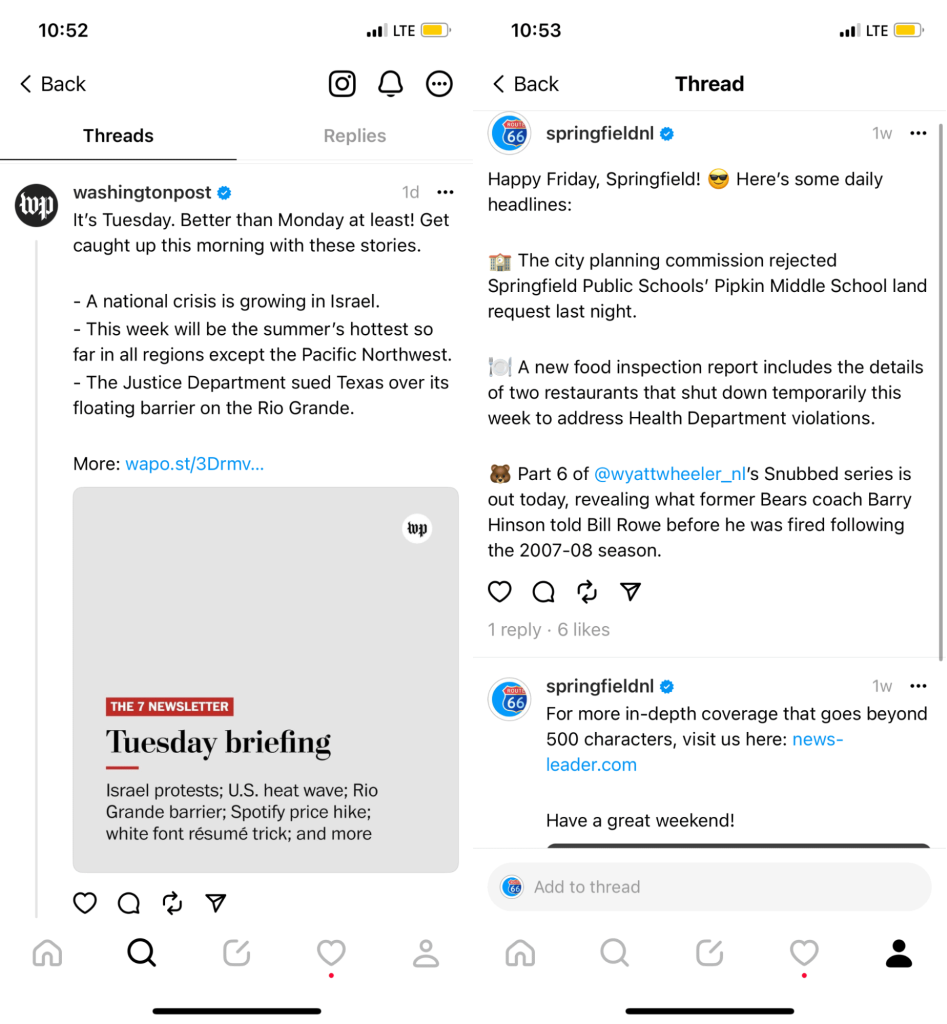 New features and more to come
From late July to early August, the app implemented several new features, including customized feeds, translations and a new follow button.
However, with a lack of functional hashtags, trending topics or direct messaging, this app is still in its infancy stage. At the time of writing, we know that the following updates are to come: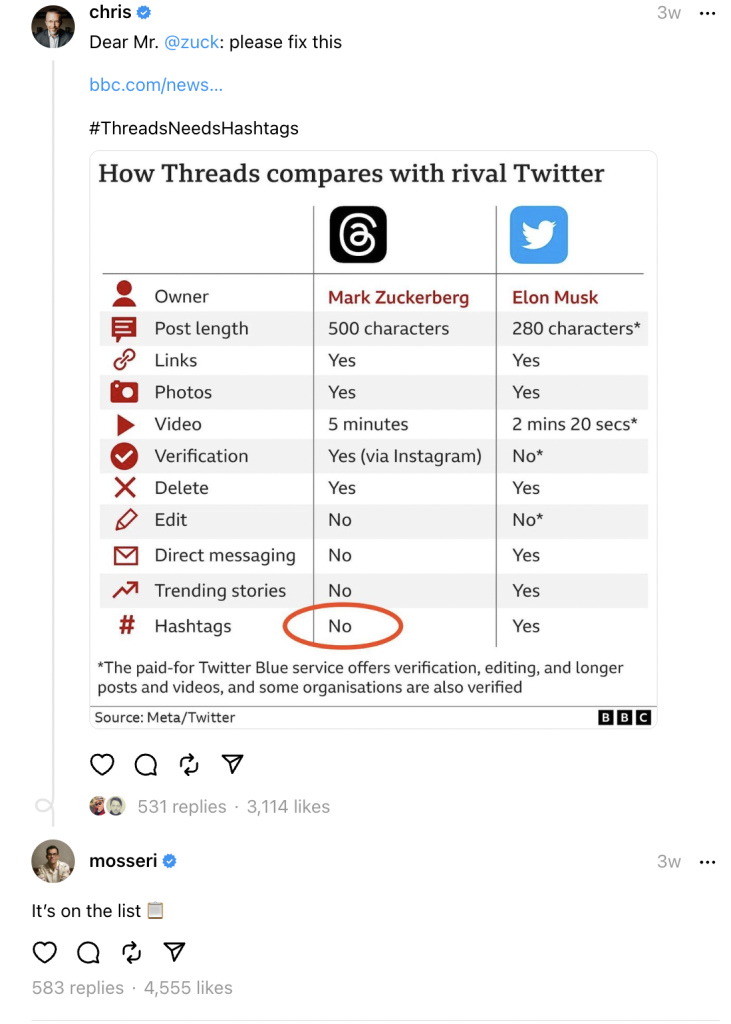 The current breakdown: Pros and Cons
Pros

A 500-character limit and 10-photo limit are more flexible for journalists.
Threads is not monetized nor does it host advertisements yet, allowing for an uninterrupted user experience.
Your audience doesn't have to start from scratch. Threads can seamlessly import your existing followers from Instagram.
Users can easily switch between Instagram and Threads within seconds.
Verified newsrooms on Instagram already qualify for Threads verification.
Users are not significantly limited if they have not purchased a Meta Verified subscription.
The app is still in the early stages and will continuously update with new features.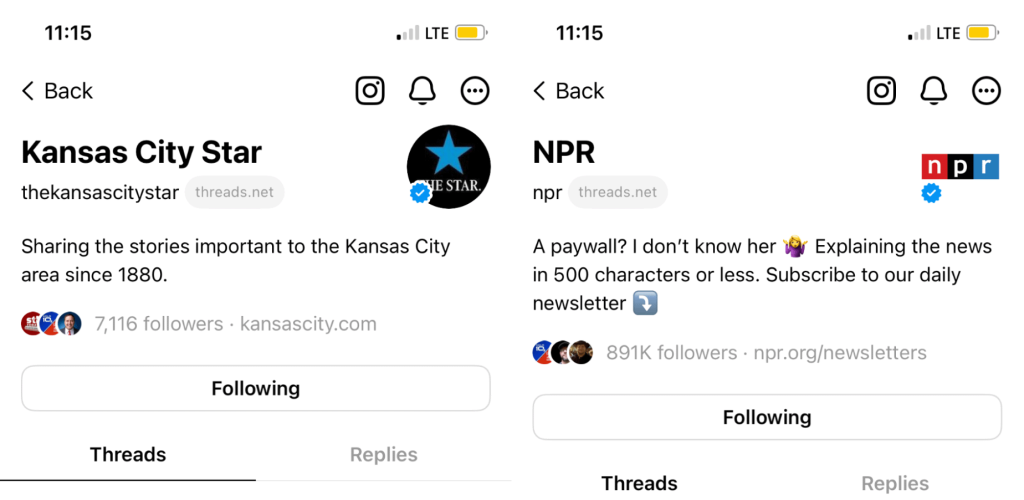 Cons

The app is mobile-first with limited functionality on desktop at the moment.
Following Meta's trend of de-emphasizing news, Threads will not do anything to encourage hard news and political posts. This could make it more difficult for news organizations to stand out through the algorithm – but fear not, plenty of newsrooms have garnered thousands of engaged followers since the Threads debut.
In comparison to Twitter, Threads lacks trending topics and hashtags are currently unsupported.
Keywords and posts are not searchable.
Tech experts have raised some red flags of privacy risks. It is unclear what kind of data Threads collects. Notably, the app is unavailable in the European Union because it does not meet its standards for user data protection, according to Bloomberg Law.
Threads cannot be scheduled to post ahead of time like Instagram and Facebook posts can.
Threads accounts cannot be deleted unless the connected Instagram is deleted, too.
Engagement analytics (such as views, clicks) are not available. You cannot see how many people repost other accounts' posts.
Direct messaging is not possible on Threads.
Comments