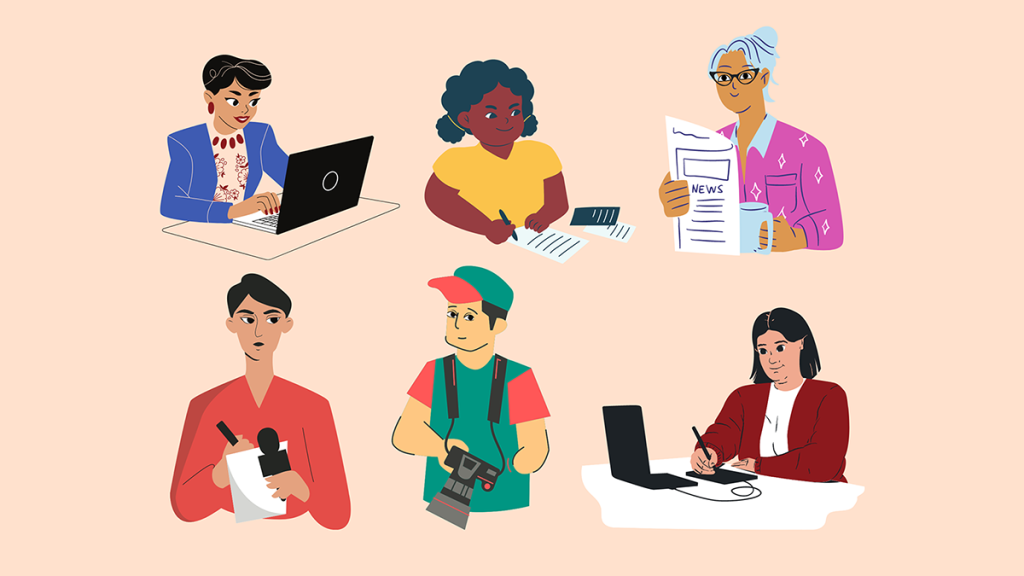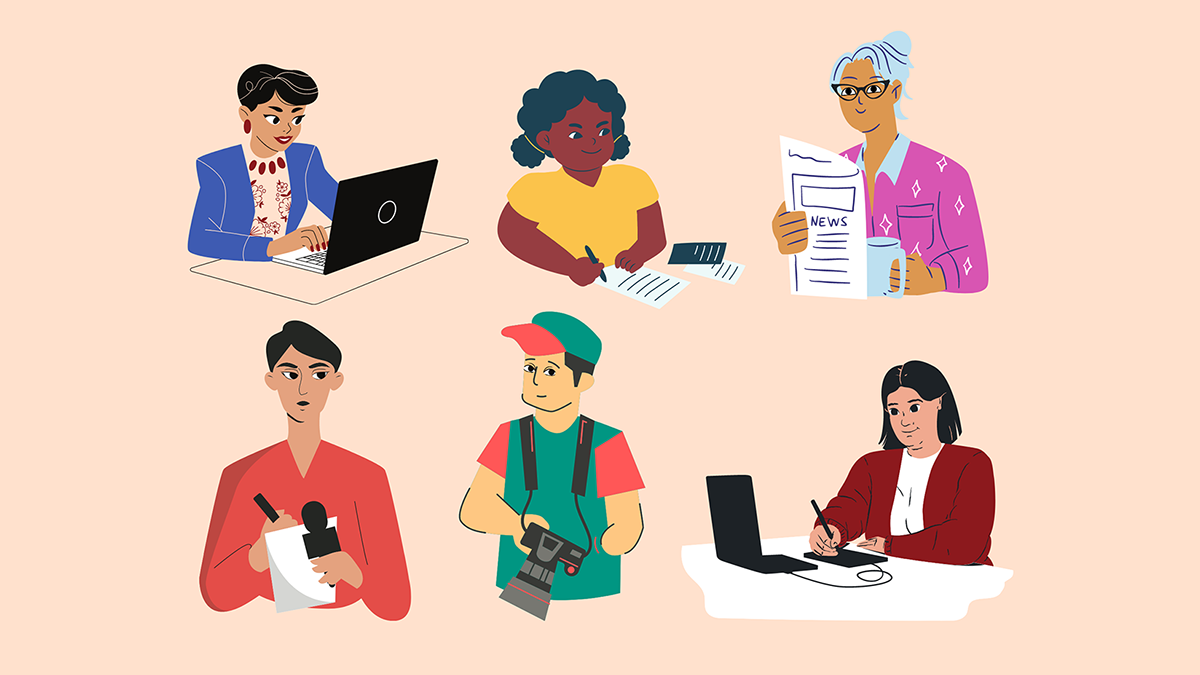 Expanding credit for journalists: looking beyond the byline
Changes to traditional workflows reflect the contributions of all folks in the newsroom
Most news stories pass through the hands of many people — a robust workflow structure that includes various editors, producers, designers and fact-checkers, to name a few.
The traditional practice of credit (at least at newspapers and magazines) has long been to give visible credit to only the reporter using a byline. This leaves out the many people who also contributed directly to the final story or package, and it conveys the impression that a story starts and ends with a reporter, which it does not.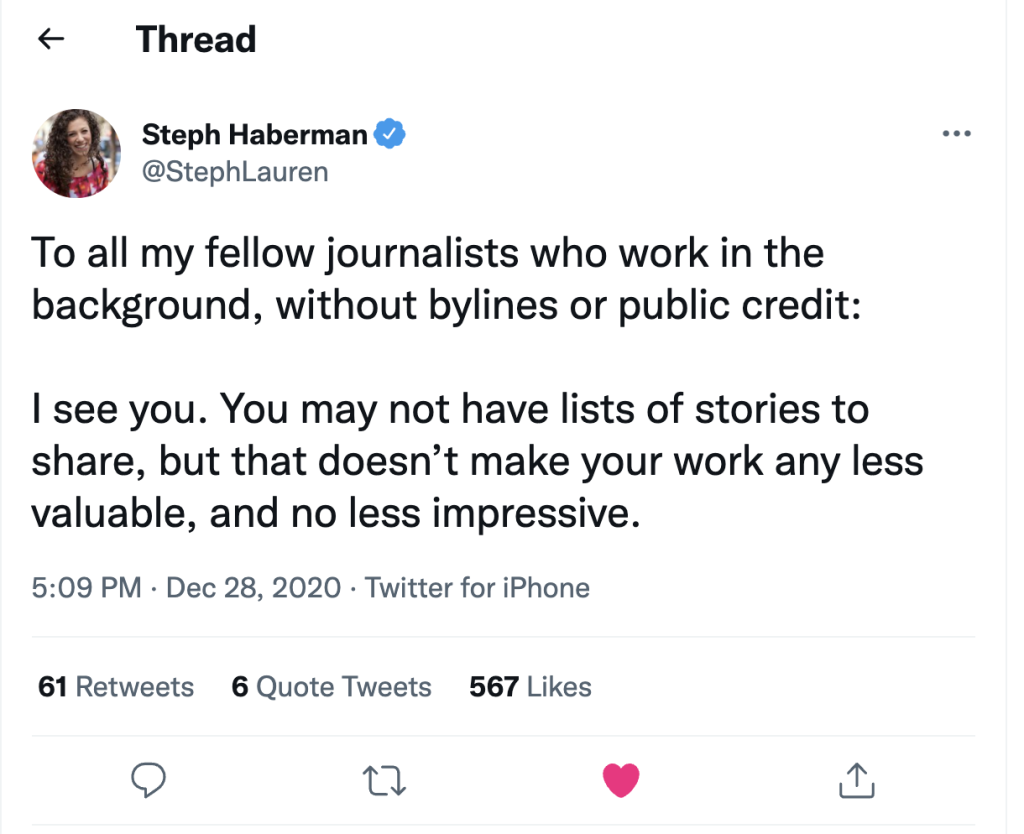 To experiment with methods to change this, RJI's Innovation in Focus partnered with Vox Magazine to try a different way to expand credit for journalists. Starting with Vox's recent June issue we're collaborating to think beyond the reporter byline and consider more inclusive and factual ways to give credit for the work that goes into creating and publishing news content.
The goals of the expanding credit project:
Continually ask the question: "what are the roles in newsrooms that are not credited for their work under the traditional byline system?"
Experiment with new ways to capture and share credit.
Communicate about who has contributed to content, but also educate Vox readers about those contributions.
We've put together a list of some things we've learned in the process, as well as some useful guides and documents to help your newsroom implement your own credit change. Here's what we've learned along the way.
It doesn't have to happen all at once
If taking on a revamp of your workflow and processes in the name of expanding credit seems overwhelming at first, it may be time to create a roadmap of small changes that are easier to implement in the immediate future, with an overall plan to switch over to fully crediting folks by a certain date.
In Vox's case, they started small by focusing first on one specific section of the magazine, the features section, where they began by determining all the related editors and staff members working on feature stories for the June issue.
Additionally, they created a landing page for the expanding credit project that is on their website.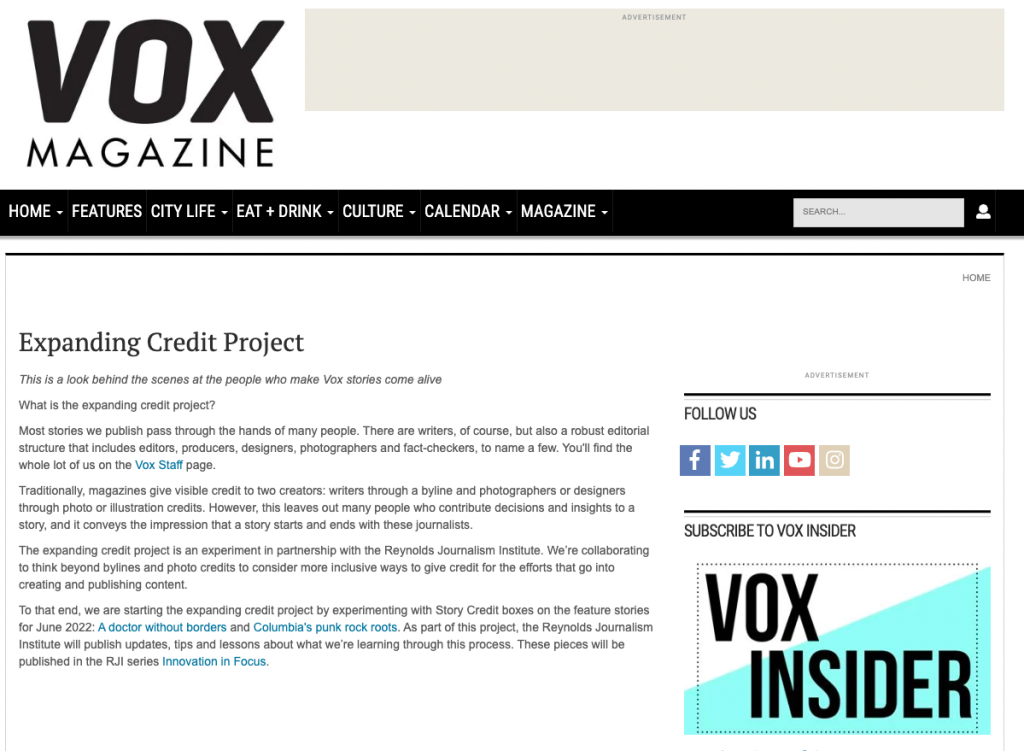 While the ultimate goal is to expand into other sections, and to create a glossary of staff roles at Vox, making changes one section at a time breaks down an otherwise daunting change into smaller more manageable steps and allows for room to try different ways of giving credit over time to find what works best for their workflow and staff.
Involve your staff to consider the article's process from start to finish
A great place to start is by talking to your staff, all of them. After all, they are the experts on who works on what content and what changes they'd like to see happen.
We started with an asynchronous brainstorming session open to any Vox staffers who wanted to contribute. The brainstorming exercise is accessible here if you'd like to start a conversation about this in your own newsroom. We used a template provided by Sisi Wei, in her asynchronous brainstorming guidance.
The Vox staffers who helped participate in this process included Cela Migan, Hannah Gallant, Laura Heck, and Heather Isherwood. During our brainstorming effort, we found that editors were some of the most commonly overlooked roles and were often tackling a number of different responsibilities such as assisting with the pitch process, fact-checking, correcting grammar mistakes, coordinating where to send reporters and other responsibilities.
Additionally, one thing we noticed during the process was that for some roles pertaining to digital production, social media production or graphic design, the particular newsroom staffer handling that part of the news article's journey tended to change, rather than remaining the consistent job of one person in the newsroom. This was important to understand because it demonstrated a need to know on an article-by-article basis, the specific contributions of different staff members.
One other reason it can be important to involve your staff in this process is to better understand whether any staffers feel at risk to have additional attention drawn to them, as the following Tweet outlines: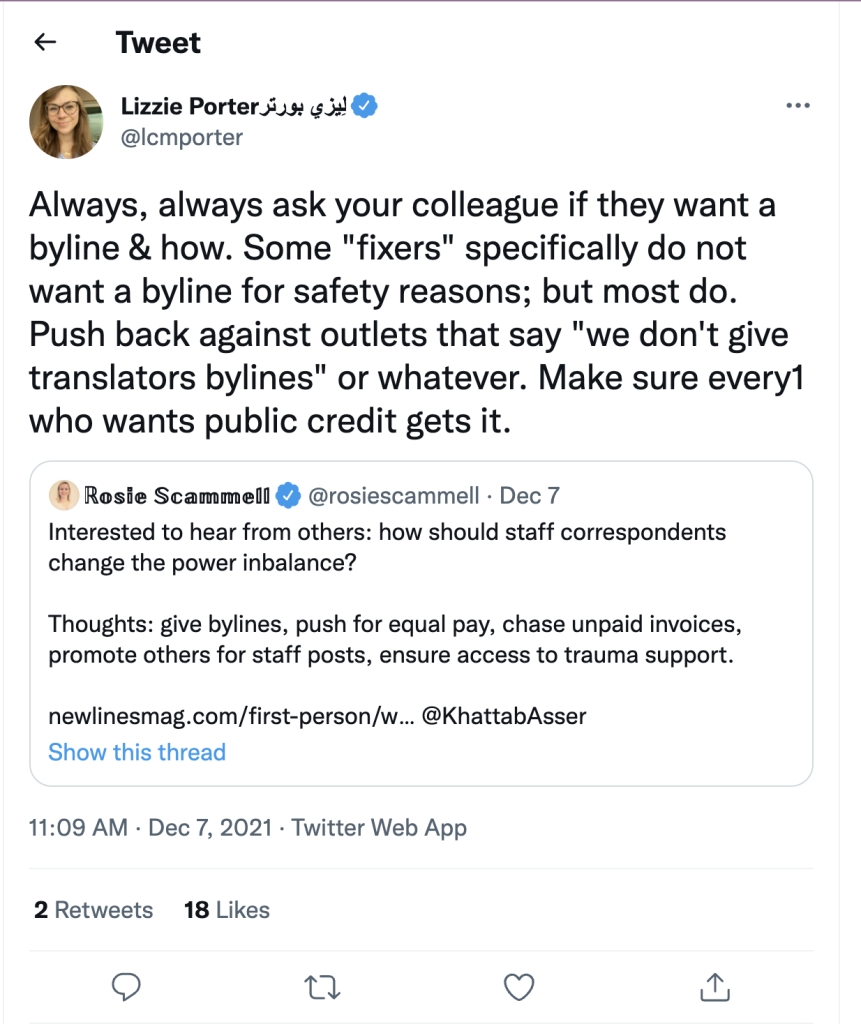 Make space in your workflow for giving credit
We discovered in our process that Vox Magazine struggled with making space in their current production workflow to think about giving additional credit to their staff members.
Especially in the case of digital production and social media production, this was an especially important discovery because it meant that we would have to incorporate a new piece of publishing process workflow dedicated to tracking who touches a story or package throughout the process from start to finish.
Here are ways that newsrooms can approach prioritizing expanded credit in their workflows:
Adding space in the publication budget specifically meant to capture who has a hand in the process of the article
Incorporating expanded credit into the standard steps for copy-editing
Encouraging social media managers to sign off with their names when they are using the publication's branded accounts
Adding a new step to a publishing checklist specifically about checking who has been involved and ensuring that everyone is being given credit for their work
Creating dedicated space in your article's formatting where additional credits can be given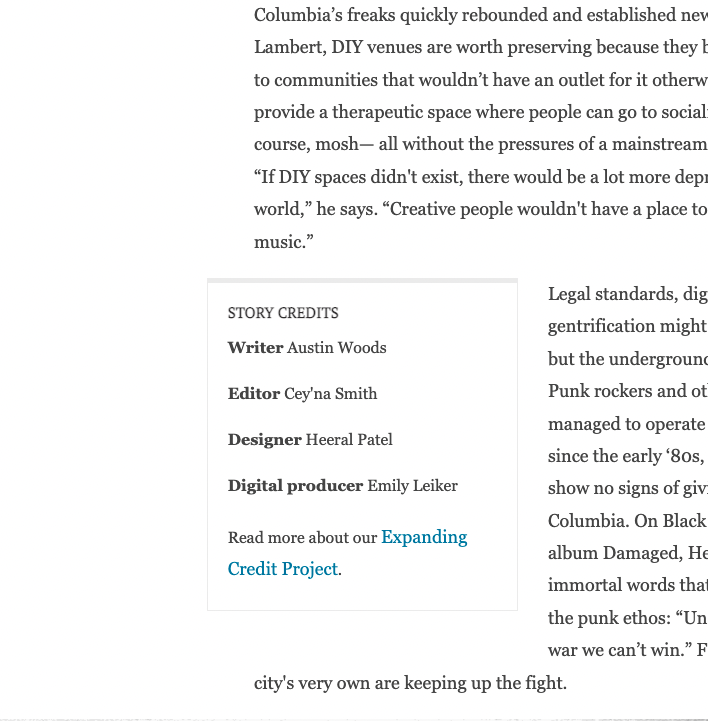 Giving credit can mean using visual space creatively in print
If you work for a publication that is both online and in print — make sure you are thinking about how to expand credit on both mediums.
In Vox Magazine's print product, there is very limited physical space in the masthead to acknowledge what each staff member had a hand in, but we did have an opportunity to consider adding credits to the folios of the page.
There are other visual elements in print publications that need expanded credit, such as graphic design, page design and data visualizations where multiple people may help create, edit and then place it. Sometimes, there isn't already an ideal place for giving credit, so your newsroom will have to make space.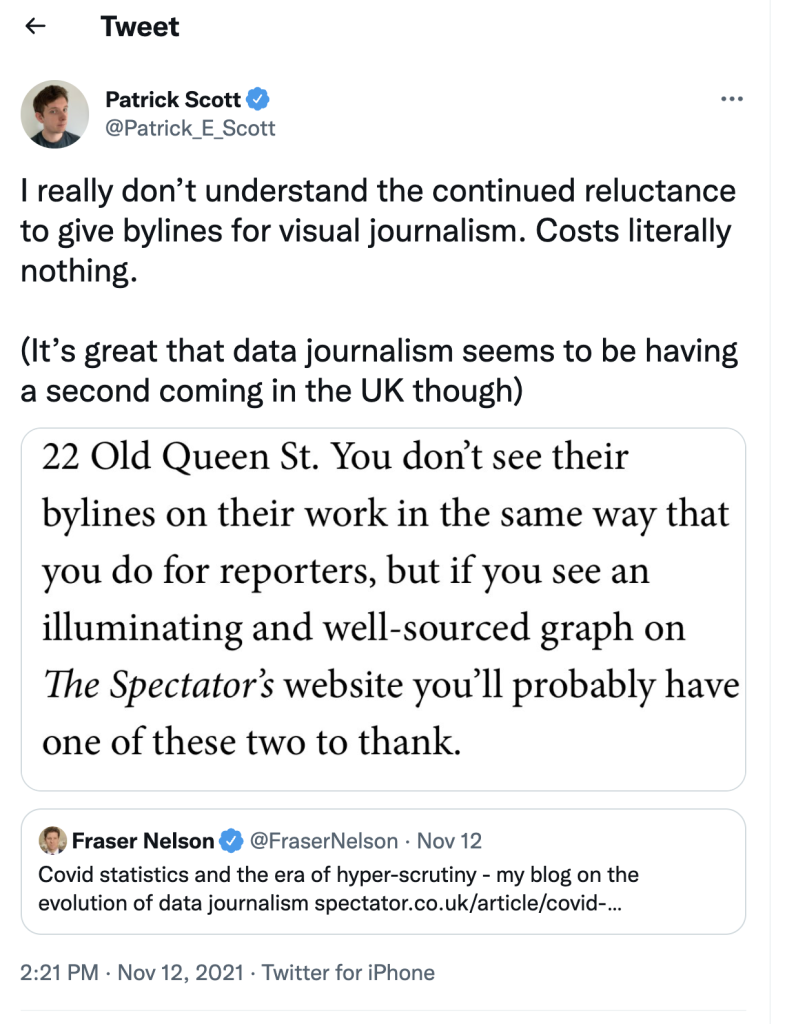 Boost transparency, media literacy and audience trust
To help support this project as a transparency initiative, we also created a glossary of journalism roles at Vox that outlined clear definitions for their newsroom roles for readers to understand what roles are involved in each piece of journalism.
If you would like to replicate this effort, we've created a public template glossary of journalism roles to describe the different types of contributions your staff may be making to the news coverage your outlet creates.
As we learned from our interview with Alex Sujong Laughlin, expanding credit can also promote audience trust by adding an additional layer of accountability for who is involved in specific editorial decisions that the reader may want to give feedback on.
Ultimately, it never hurts to be more transparent and equitable about the process of creating journalism, and the benefit of fostering media literacy in your community will lead to more trust in the journalism you produce.
Make a plan to follow up
Especially if your publication is considering a multi-step approach to expanding credit, it is also a good idea to create a plan to follow-up on next steps after each step you make in this work. Whether that means gradually adding to the list of content that will have expanded credits, or talking to your community to better understand their takeaways from this process.
Your newsroom will also get valuable information by checking in with your staff. Seeing if they have received any additional opportunities or recognition for their work, or if this has improved their morale or helped to change the culture of your workplace — all of these are worthy questions to ask since you've started expanding credits for your newsroom.
This article was edited by Kat Duncan and Randy Picht.
Comments