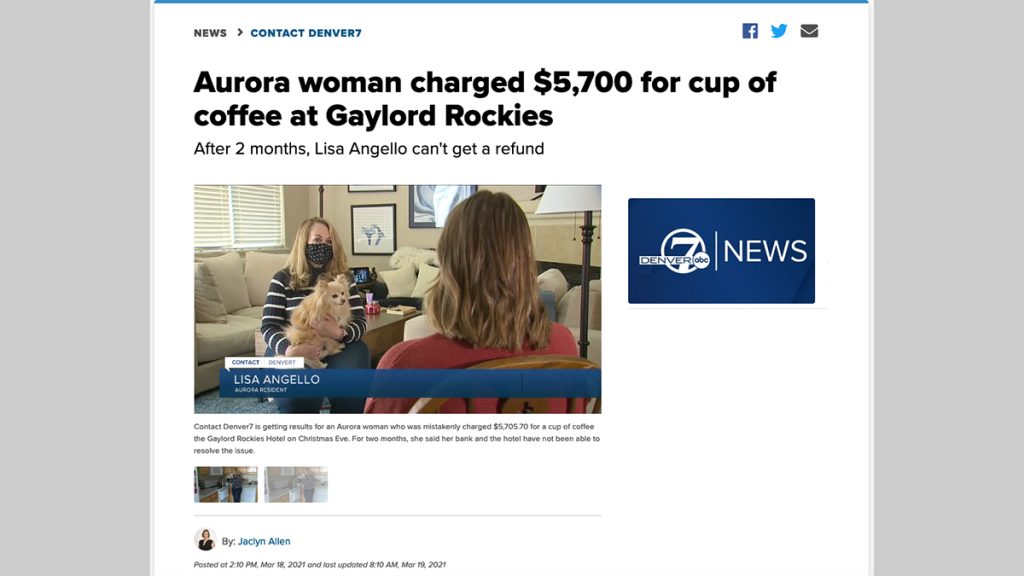 Four ways consumer investigative journalism is changing local TV news
Solutions oriented, community-focused reporting is making an impact and bringing in viewers
Jaclyn Allen is a consumer investigative reporter and anchor at KMGH Denver7. She produced this report as part of completing her online master's degree at the Missouri School of Journalism.
My simple story about a $5,000 cup of coffee made headlines all over the world.
"I went to the Gaylord with an out-of-town guest, so that we could go and take her children ice skating," said Lisa Angello, who later realized that her credit card had mistakenly been charged $5,705.70 rather than $5.70. "That's a trip-to-Paris cinnamon dulce latte."
What should newsrooms do?
Recruit top to bottom: Building a consumer investigative brand starts with support and guidance from the highest levels of a corporation to dedicate the needed resources and promotions. It also requires boots-on-the-ground journalists who are passionate about the work.
Check yourself before you wreck yourself: The ability to vet stories and awareness of potential legal concerns are critical skills. Journalists need training and time to ensure the newsroom is not at risk of losing lawsuits and advertising dollars.
Work smarter: Find a balance between in-depth investigations exposing systemic issues and simple can-you-fix-this stories. As a way to work smarter, select stories that yield natural check-ins or follow-up coverage, find ways to localize national consumer affairs content, and look for opportunities to showcase results, such as combining reports from people who have had problems solved.
Angello thought Gaylord Hotels would simply give her a refund, but instead, the multi-billion-dollar company gave her the runaround for more than two months. Unable to pay her bills, she reached out to the Contact Denver7 consumer investigative unit. After I started making calls, Angello received a response from her bank and Gaylord with a solution. "Within a couple of hours from you contacting them, I received money back into my account as a provisional credit. So, I'm actually back into the black where I can pay my bills," said Angello. The simple David vs. Goliath story resonated, and it was picked up by news outlets all over the country.
This is the power of a type of journalism that's been seeing a bit of a renaissance in television newsrooms. It's been four years since NBC doubled down on its NBC Responds/Telemundo Responde brand with plans to launch consumer investigative units in Orlando, Florida, El Paso, Texas, Sacramento, California and Fresno, California. NBC was not alone in its efforts to build a consumer reporting brand, a wave that included me when I was promoted to KMGH's Contact Denver7 unit, a consumer investigative brand that had been revived a few years earlier at the ABC affiliate. The Contact Denver7 unit spearheads both quick-turn and in-depth investigations into everything from consumer complaints to government inefficiency with a focus on finding solutions and viewer empowerment.
To better understand the "new" consumer investigative role and its evolution, I interviewed 11 experienced consumer investigative reporters, producers, and managers in local TV newsrooms all over the country. Their experiences (relayed with the condition of anonymity) represent large, medium, and small market newsrooms, encompassing multiple affiliates and ownership groups. What I found is an industry-wide movement emphasizing compassion and helpfulness, rather than conflict and negativity, that resonates with journalists and viewers alike.
Consumer investigative journalism itself has changed. Here's how
Journalists involved in consumer investigative reporting are quick to point out that it has evolved from the "gotcha" journalism and gimmicks of the past to a more sophisticated field, incorporating elements of solutions and constructive journalism.
"When I first started, that was an era you played 'gotcha' and you chased people down the street," said an investigative producer in a mid-sized market. "I think we're smarter now. I don't think viewers want us chasing someone, unless that person is really, really bad and has really dodged us. I don't see that much."
Instead, technology and social media allow journalists to quickly reach businesses and decision makers, so the chances of getting a response or reaching a low-conflict resolution (without playing "gotcha") are far greater. Additionally, journalists emphasize fairness by using more transparent storytelling techniques.
"I think that we use more process language now in our reporting than we used to in the past," said a former investigative reporter who is now a corporate director of content. "Because transparency is key, right? Distrust in media is higher, even at the local level, and so we have to use some of that process [storytelling] – talking about what we did, walking people step by step, what we did to get answers on behalf of somebody else."
Other journalists celebrate the decline of "gimmicky" forms of consumer investigative reporting, often centered around caricatures. "In Houston, they had one of the one of the most famous consumer reporters ever, a guy named Marvin Zindler," remembered one longtime investigative reporter, now working at a national network. "It was very character driven, caricature driven, and he would go out and just perform… I can't immediately tell you the name of anyone who does that in America today. There's some characters and personalities, but they're not making theater out of the work. So, I think that's an improvement."
Fight the power: Modern consumer investigative journalism is looking for solutions.
When asked to define modern consumer investigative reporting, a common theme emerged: Journalists practicing in this field see themselves as protagonists fighting for the powerless. Their stories were not limited to money or pocketbook issues, instead emphasizing going to bat for anyone who needs help.
"This is news that you can actually use," said a consumer investigative reporter in a top-five television market. "Me doing what I do is like putting on a cape and flying around the city and coming to the rescue for people."
Across the board, consumer investigative journalists believed it was part of their role to seek solutions in their communities, often by contacting people who could make a difference or by advocating for viewers themselves. "As an industry, we've done a great job for a lot of years pointing out problems without solutions," said the corporate director of content, who worked as an investigative reporter covering consumer issues. "If we don't put it in front of those difference makers, then the story just kind of sits there and change doesn't happen. And that's no good for anybody."
While solutions-oriented journalists acknowledged walking a tightrope when it comes to fairness, the trend in the direction of helpfulness and viewer empowerment is unmistakable.
"We have to first challenge the people that are coming to us with their troubles and ask them, 'Do you have documents to prove that?' Let's be journalists first. And then once they've proven the injustice, then we can maybe flip the switch a little bit and actually be people that are going to work on their behalf to try to find out how this happened and see if there's going to be an answer that can make the injustice go away," said an investigative reporter who has worked in television newsrooms across the country.
Feeding the beast: How consumer investigative journalists deliver and solve problems fast.
Like all modern television journalists, consumer investigative units face mounting pressure to "feed the beast" and have come up with resourceful ways to deploy frequent, solutions-oriented content while also working on more in-depth investigations.
Many of the reporters took pride in delivering "the biggest bang for your buck" for newsroom management. Using Excel spreadsheets, Outlook folders and shared newsroom planning calendars, consumer investigative journalists have developed complex systems to organize and track simultaneous projects. Some units rely on a national hub to assist with answering calls and responding to emails, while others have recruited volunteers or even the news station's receptionist to help respond.
"My job consists of the deep dives, the longer form deep dives, that can take weeks or months to put together," said a consumer investigative reporter in a top-25 market. "While I'm churning on those and working on those, I'm turning two quick-turns a week that are based on enterprise stories that are consumer advocacy and problem solving."
Still, finding a balance between in-depth investigations exposing systemic issues and simple can-you-fix-it stories sometimes requires hitting the easy button. As a way to work smarter, several journalists emphasized selecting stories that yield natural check-ins or follow-up coverage. Reporters found opportunities to localize national consumer affairs content, such as re-working Consumer Reports packages. In an effort to showcase the brand daily, an investigative producer in a top-25 market leaned on Zoom interviews and so-called "swipe-right" stories, combining multiple reports from people who had problems solved, even if they did not want to speak on camera: "Can you snap a picture of your refrigerator that's broken? Can you take a selfie of me with a thumbs up? I call it the thanks video. 'I hit a dead end with Samsung until you got involved, and I was able to get a brand-new refrigerator thanks to you. Couldn't have done it without you.' And then that's another piece of video," said the producer. "And so what could have been a dead story ends up being a decent little story that didn't take a lot of brain power from you."
Consumer investigative journalism empowers and attracts viewers.
Let's set the record straight: Getting results for every viewer's concern is not possible, and yet empowering viewers is a key component in modern consumer investigative journalism.
With helpfulness as their anchor, consumer investigative journalists highlighted educating viewers about everything from scams to lowering utility bills.
"With those little stories, it's crucial to provide advice for the consumer, something they can take out of it," said one consumer investigative reporter in a small market newsroom. "So, problem solved? Maybe not for that person… But problem solved for you [the viewer] in the future."
Not only do consumer investigative journalists empower viewers to protect themselves, but there is also a growing movement towards empowering viewers to help others.
For instance, after one consumer investigative reporter covered a story about tenants destroying an elderly landlord's apartment, newsroom phones rang off the hook with people wanting to help. In response, the newsroom organized a day of service. "A few Sundays later, a few of my coworkers, myself, and just strangers went to this home, and the place was cleaned up. It was amazing. That's what it's all about," said the reporter, who intuitively grasped the restoration narrative. "It's not about, 'We're going to go after these tenants.' Forget them. Let's get the resolution, and let's show the community impact."
Another news manager in a top-25 market accentuated the success of a donation campaign the station created to directly help people in the community. "People care about one another. And they want to help," said the news manager. "So, to me, the whole idea of consumer stories, whether they're investigative in nature or they're helping in nature, whether you're going after the bad guy or helping the good person who was victimized, there's nothing stronger in our communities."
Comments