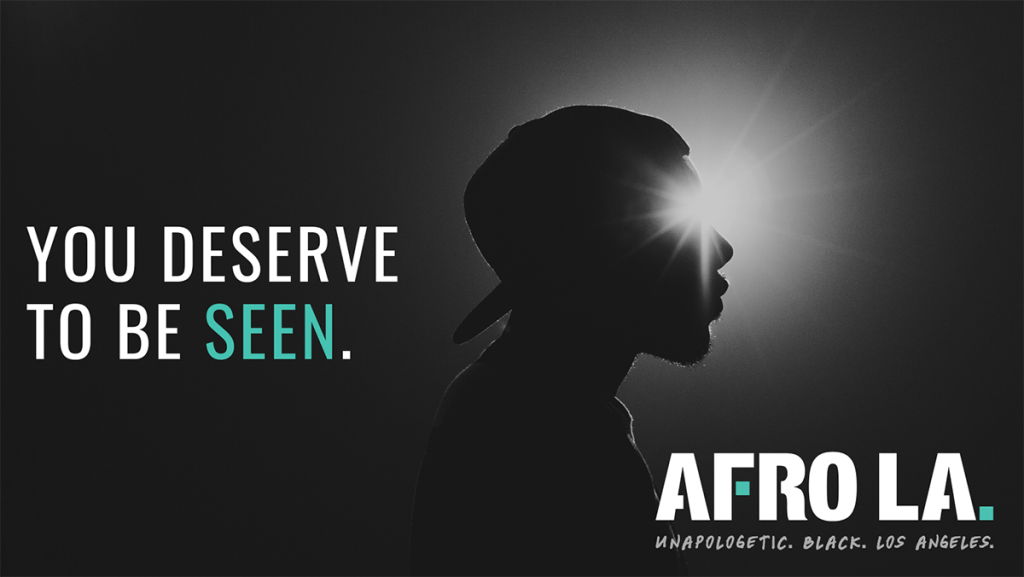 How a newly founded newsroom is building community connections
AfroLA is making data-informed decisions to meet audiences where they are
How does a newly founded newsroom reach the audiences they want to serve? How do we invite people to engage with our events and information? AfroLA is a news source in Los Angeles launching in 2023 (but already publishing stories!) that focuses on black communities. We worked with them to answer questions of how to reach the communities they strive to serve.
First step: Making lists of audiences' specific information
Getting audiences' data, such as who they are and what they need, helps us deliver the information they want in a manner that is accessible to them. People may ignore a printed flier if they only see it once, but they may scan a QR code if they keep seeing the flier at their church, school, grocery store, and coffee shop.
I made lists of all the information I could find about Black communities in LA, to help inform where AfroLA will show up in person to meet and engage with their communities.
For our first step, I collected demographic data about all communities in LA from https://censusreporter.org/, then ordered the data by the percentage of the Black population and categorized it by zip code.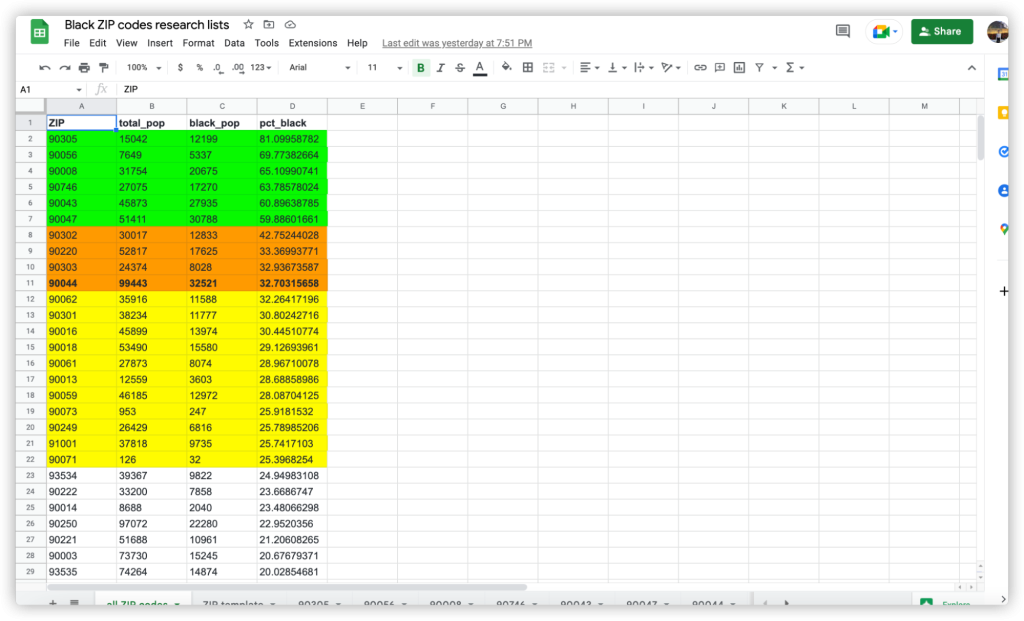 Second, to know where AfroLA should distribute fliers, I identified eight places where audiences frequently show up in person – including churches, schools, colleges, restaurants, community youth centers, libraries, coffee shops, beauty salons, and other small businesses. I used keywords like black churches and black-owned restaurants to search for locations, phone numbers, and website addresses in Google Maps. Often owners don't identify that their businesses are black-owned in Google Maps, so I selected keywords in the comments to identify whether they were black owned or not.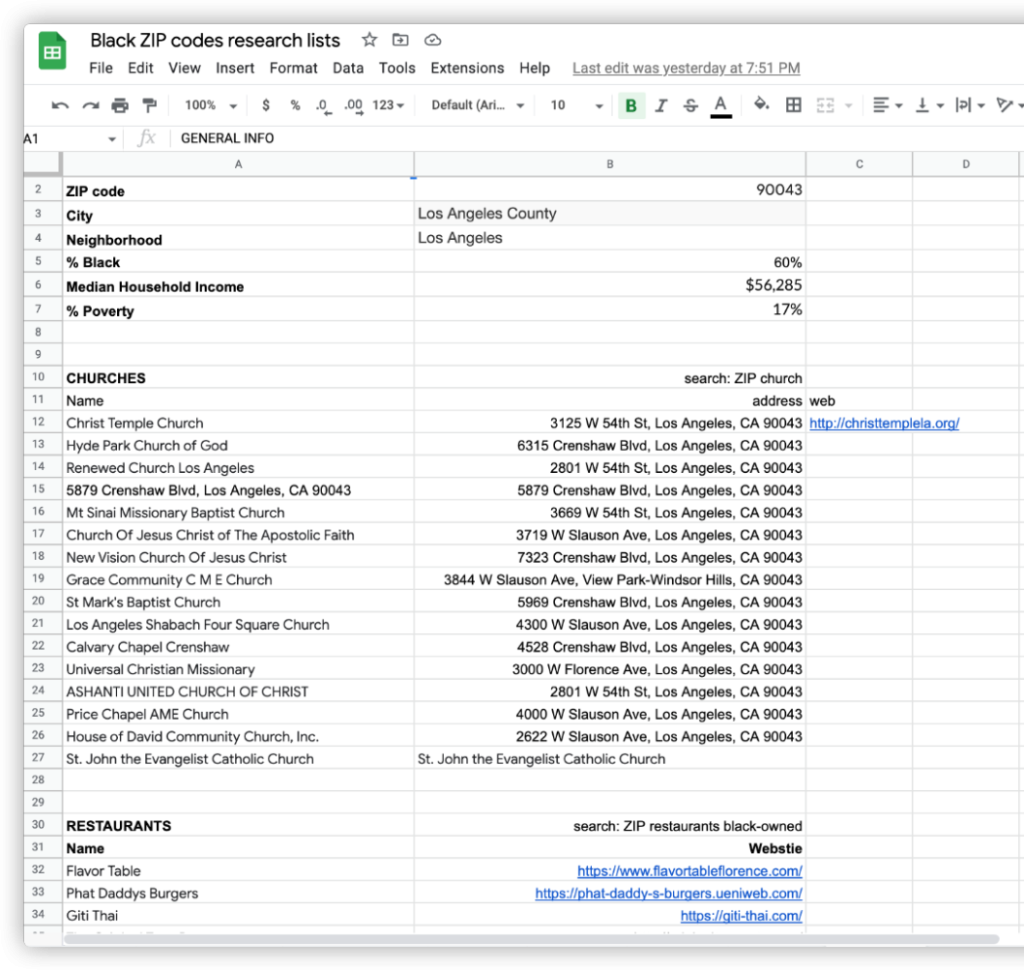 Second step: Refine information to communities you serve
The first list I made was comprehensive, but not specific enough to reach out to potential audiences efficiently. There are more than 30 churches in certain zip code areas, ranging from large to small family-run churches. AfroLA can definitely visit certain churches, but it would probably be too time-consuming to visit all churches one by one. Therefore, I refined it and made a new list.
The next list was specific to churches in LA that are active on social media. AfroLA believes churches that are active on social media are more likely to connect with them. Based on the previous list, I selected all churches that have websites and found their social media and email contact information from websites manually.

We sent notes to them via email or social media, depending on which platform they prefer. It saved a lot of time and effort to reach out to them digitally, compared to visiting churches one by one.
Third step: Hosting a community event
The most efficient and straightforward way to build relationships with audiences is by having conversations with them directly. AfroLA hosted community listening sessions online via zoom. We distributed flyers in places we previously identified and anyone interested in AfroLA from the local community was invited to sign up and join us.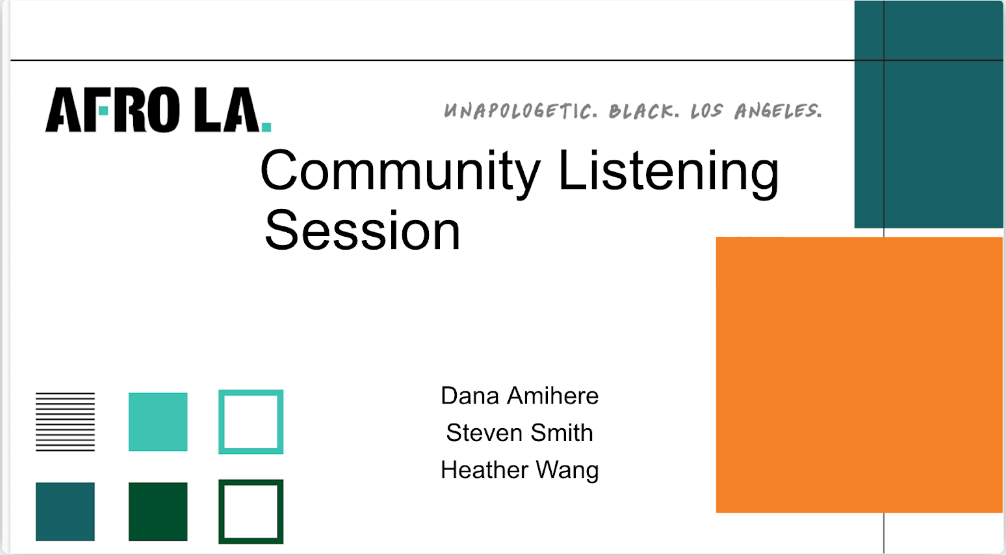 The event was divided into three parts – icebreakers, introductions and discussion. We prepared a Q&A for icebreakers to create a welcoming space for the community and raise their interest.
Although we spent a lot of time preparing the event, it was hard to get folks to attend because of schedules and our limited audience. We only had one person show up at the event, but this small-scale conversation was very informative.
The community member that attended shared her thoughts about older people's media habits and the underestimation of black people in mainstream outlets. From her observation, people tend to not trust the information they receive from outlets if they are not well-represented.
The first-hand information from local residents is really important because data cannot tell you everything. Combining the direct interaction with community members with data driven decisions to find them, allowed us to do more with less.
The series of community events will continue as AfroLA builds more direct community ties.
Comments