How listening sessions can connect you to the local community
Build trust and improve content coverage from direct contact with readers
Julia Wilson is a 2022 RJI Student Innovation Fellow partnered with La Voz in Arizona. The RJI Student Fellows will be sharing their product work throughout the summer in Innovation in Focus.
At La Voz, we have revamped our social media strategy to grow our audience and followers. We want our readers to feel accurately represented by our reporting and like they have a grasp on local issues. We decided that hosting listening sessions would best help gauge what content our readers want to see covered.
Newsrooms can use listening sessions to gather collective ideas about a topic or issue. For La Voz, a smaller newsroom that primarily covers the Latine population in the Phoenix metro area, we want to ensure that our audience sees us as an accurate and representative media outlet in the area. An ideal listening session for us has a small number of local people with one or two journalists acting as facilitators. A small number of people ensures an intimate conversation and that everyone gets an opportunity to speak. The journalist's role is solely to help move the conversation forward if needed and note recurring topics of discussion.
We want our readers to feel accurately represented by our reporting and like they have a grasp on local issues.
Our first topic was engaging in conversations around the fact that housing costs in Phoenix are rising rapidly and affordable housing availability is becoming scarce for younger renters in downtown Phoenix. We thought this topic would be the best place to start our first conversation since many of La Voz's readers are Millennials and Gen Z'ers in the Phoenix metro area.
To begin our community conversation, we reaffirmed that none of the content discussed would be featured in any La Voz or the Arizona Republic publications; the session was solely to gauge what issues our readers want to see covered. All six contributors provided consent to be recorded. Using Local Voices Network, a branch of the AI company Cortico, we record our conversations and the site automatically finds keywords that can guide our future news coverage.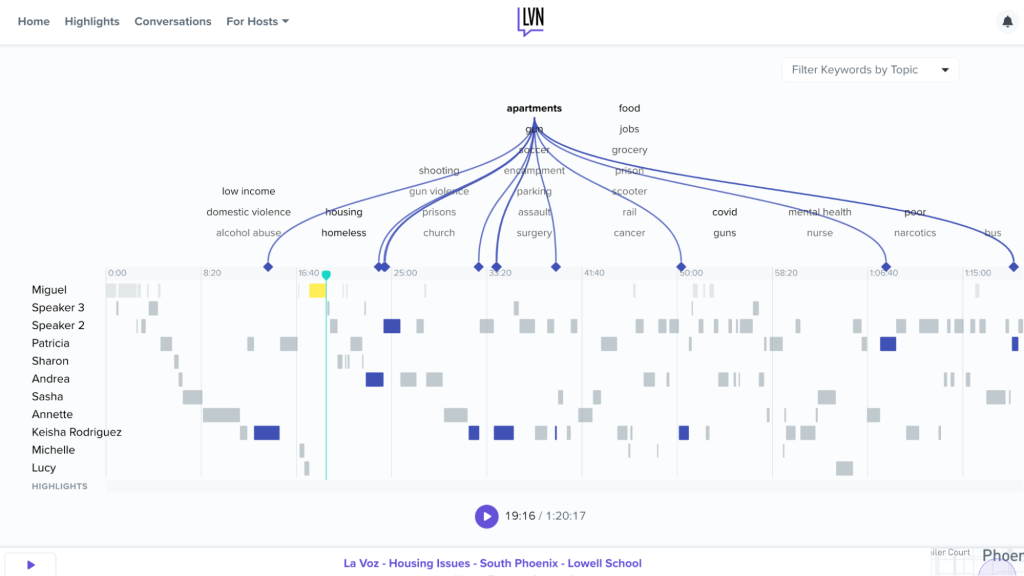 The way Local Voices Network works, if food security were mentioned more than other key phrases, it would be pushed to the top of the page to highlight its significance. Gathering context around the most-used phrases helps us determine which issues need to be emphasized more in our coverage.
An obstacle we encountered using Cortico was that the software only provides detailed data on conversations held in English. Our initial plan was to host sessions in Spanish or a mix of the two languages. We plan to host at least one future session in Spanish and examine the transcripts of the conversation manually to find key ideas.
After basic introductions, the conversation began by asking what barriers participants have encountered while trying to find housing in the Phoenix area. From there, the conversation evolved into discussions around gun violence, drug use and affordability in certain neighborhoods.
Since we are still hosting sessions and trying to gain more community involvement, our reporting methods on housing have not yet changed. Although, we have noticed that our readers want more resources on affordable housing options in Phoenix and want leasing agents to be vocal about banning firearms and drugs from complexes.
The La Voz team is continuing to hold sessions and interact with our audiences via social media. Going forward, La Voz will work to provide housing resources such as: where to find rental assistance, affordable and low-crime housing options and proximity to grocery stores. These resources will be provided online and as physical pamphlets for those without internet access.
Comments