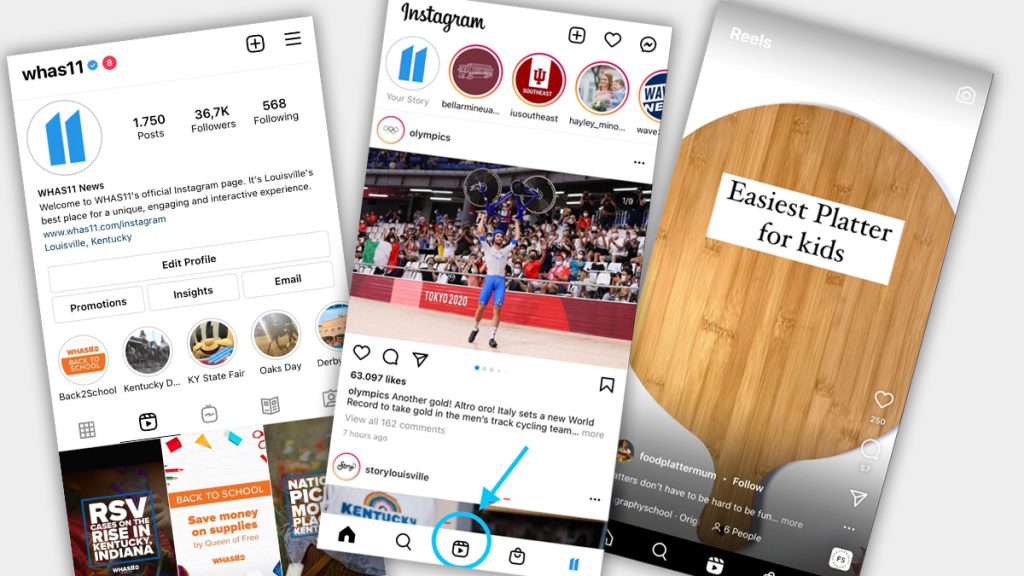 How to optimize your videos on Instagram Reels
7 tips to make your Reels work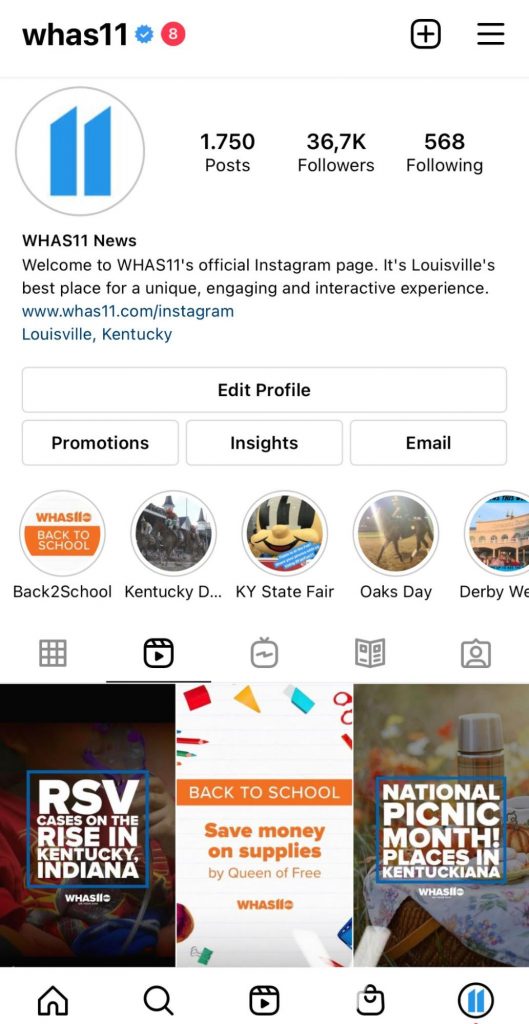 Instagram Reels is one of the most featured and amplified types of content offered on Instagram right now. This category even has its own space and tab — the center at the downbar menu in the app's interface in both Android and Apple devices — plus exposure on the Feed, Explore and Profile. If your newsroom wants to grow on this platform, give Reels a try.
Reels are short-form and multi-clipped videos that can have sound, effects, and music added to them. It has distinctive characteristics:
1. Length
Since July 27, Reels changed the duration from 30 seconds to 1 minute. Take this into account if you want to recreate or reshare content from a TikTok account, in which videos are up to 3 minutes in length.
2. Content penalized in terms of reach
On Aug. 4, @creators by Instagram published a guide sharing which content should be avoided.
Low-resolution or watermaked reels: For this reason you should avoid resharing content from TikTok. But if that is still an option for you because of time or efficiency, you should consider removing the TikTok watermark. I suggest SnapTik.
Reels that focus on political issues: Avoid publishing political content. You should focus more on reels that include trending music, educational content or a behind-the-scenes (#bts), for example.

3. Music or sounds
If there is a sound in a reel that you would like to use for future content, go to the down left corner and tap on the sound. You will access the sound's profile, where you can see other reels that have used it. Tap on "Use this sound" or "Save" if you want to use it later. Whenever you want to access the saved audio, just go to your profile, tap the three line menu icon at the right upper corner and go to "Saved". You will see a collection specifically for your sounds.
An alternative to get to know which sounds are trending is to consult TokBoard. Usually, songs or sounds trending on TikTok come to Instagram a week or two later. This will help you to plan content ahead of time and stay on top of trends.
4. Ways to share them
Reels can be shared in a dedicated space in Explore, where it can be discovered by a wider audience. If you want to share it also with your followers, you can post it to your Feed. When that option is selected, it will be shown in your Profile also. When reels contain certain songs, hashtags or effects they can also be featured on dedicated pages to those songs, hashtags or effects.
5. Video size and feed view
Video size: The overall video size is 1080 pixels x 1920 pixels, a 9:16 aspect ratio, which is the same as Instagram Stories, IGTV and TikTok. Still, this is not a completely unobstructed view. The upper part is used for the brand "Reels", the whole bottom is overlayed with the account information, caption and information from the audio or effects used. The right lower corner also features the icons for liking, commenting and sharing video. My suggestion: always work with a Feed view.
Feed view: As stated before, reels can be shared to your Feed. If you plan to add text (which I will talk about later), you should consider the "text-safe zone", a 1080 pixels x 1350 pixels, a 4:5 aspect ratio. Amplify11 states that "on some phones the edges are cut off at about 35 pixels from the right edge and left edge. This includes on the iPhone XS and several other medium sized phones. You will want to plan your video in all views to allow for this".
Remember! Reels is a vertical video format, so you will start from there when recording your content. Instagram values this format in order to share it with a wider audience.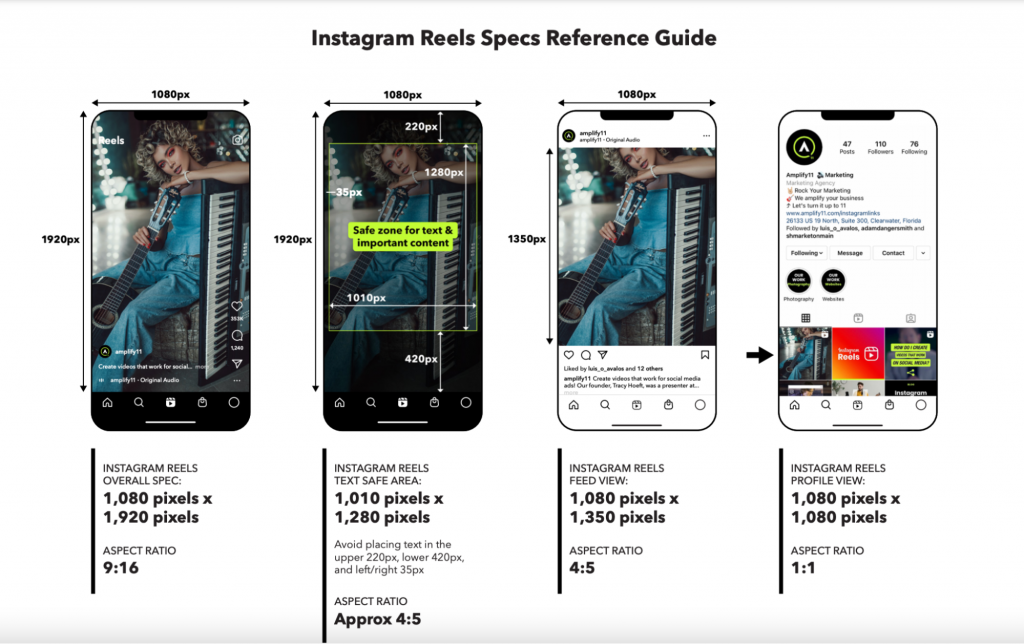 6. Text or captions: on-screen placement
I mentioned above about adding text to your reels. This is a really important step because it has been shown that a high percentage of people watch videos without listening to them. Closed-captions are important for people to get engaged, but also for people with hearing difficulties. It is a way to make your content more accessible.
7. Cover and Profile view
Before hitting "Share," one more important thing has to be done. When you choose to share your reel to your Feed, a "Crop Profile Image" option is displayed below. This is where you can fit the cover to your Profile Grid, so it would not be cropped in the middle of a text, for example. This Profile view is 1080 pixels x 1080 pixels, an aspect ratio 1:1. Take this into consideration when creating your Cover: the aspect ratio of it should be 9:16 just as the video, but within it, the text or important content that will be shown on your Profile should be 1:1.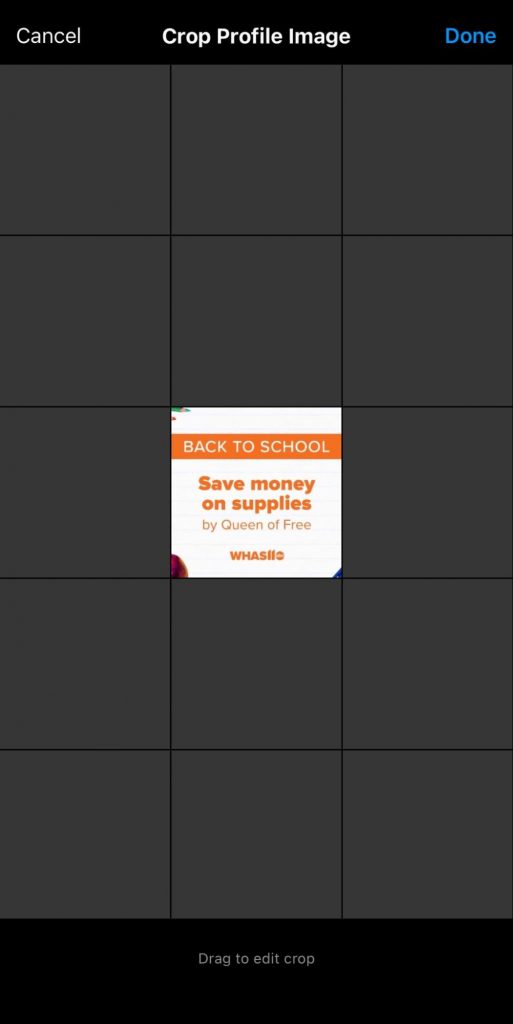 Carolina Vásquez is the RJI Student Innovation Fellow at WHAS11 in Louisville, Kentucky. This summer our student fellows will be sharing dispatches from their fellowships in newsrooms across the country as a part of Innovation in Focus.
Comments