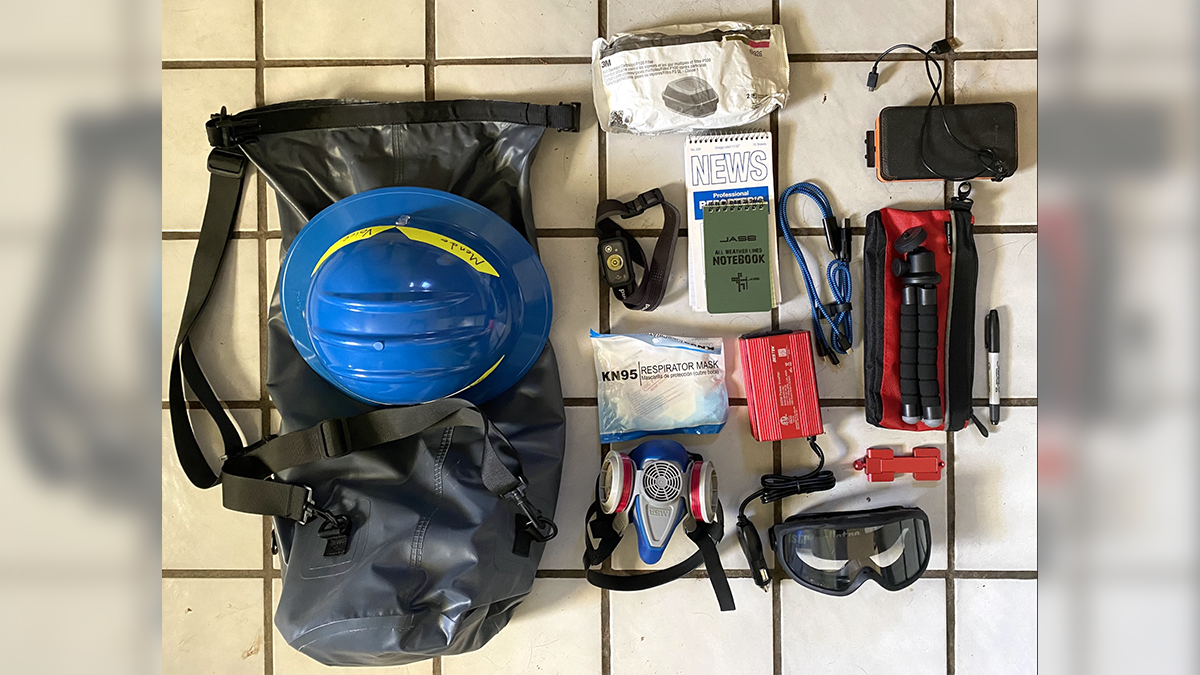 How to start preparing for your newsroom disaster response
It's time to start planning for the unexpected
The first time I ever needed to be a breaking news reporter for a wildfire, it was also the first time I had ever experienced being in a wildfire — much less one that I might want to report on while also needing to evacuate. In that circumstance, as is the case with the rapid growth of many recent wildfires on the urban-wilderness interface, the fire started just after midnight and grew rapidly within a few hours, quickly threatening homes, blocking crucial roads, and taking out the power, cell service, and internet for emergency responders and thousands of people trying to flee.
It's not unusual for emergencies and disasters to have cascading effects, and those can compound quickly, which is also the case when a weather-related disaster coincides with something like a COVID-19 outbreak or disaster in the region, straining emergency resources. Officials can't send notifications to residents without cell service, gas stations close, and mutual aid (if available) can't get through flooded roads or communicate with responders at the scene. In my case, not only did I find myself having to come up with creative ways to reach official sources and evacuating residents who themselves were without power, I found myself without the ability to charge devices or update our local news website. I was also without cash on hand to purchase food or gas to drive somewhere out of the fire's impact zone.
Journalists are one of the few kinds of workers outside of emergency responders who run towards an emergency, instead of away, despite lacking many of the same benefits and support as these other roles.
Despite my lack of preparation in terms of supplies, as a local reporter and resident, I did have certain things already in place that were just as useful: I knew what mountain roads might have pockets of cell service, what community centers might have back-up generators, deputies at roadblocks were familiar with my news outlet, and I had multiple ways to find officials and community organizers involved in disaster relief. And as part of an outlet already publishing online daily and engaging with readers on multiple platforms, it was easy to identify and adapt to what our community needed and reach people in whatever ways worked.
Journalists are one of the few kinds of workers outside of emergency responders who run towards an emergency, instead of away, despite lacking many of the same benefits and support as these other roles. And just as emergency workers are often brought in from other areas in large scale disasters, journalists often "parachute in" from larger distant outlets — but local journalists are best positioned to serve as an information bridge and interpreter for their communities, often knowing the local names for roads or which government employees or community organizers are best positioned to give and share accurate information. That also means they are the ones who will be talking to loved ones and neighbors during some of the worst moments of their lives, and be there long after the immediate emergency recedes.
Changing technology and climates can make it hard to anticipate exactly what will be useful in individual crises. One of the most important things you can do in advance is to start to assess what role your news outlet might take on in a range of possible disasters or emergencies, and to start assessing your existing communications and community networks, resources, and capacity.
Whether developing an individual reporting go bag or developing a newsroom emergency source list and operations plan, putting aside time now to gather some existing supplies or review your publishing plan during an outage will make responding to difficult situations a little bit easier. This is also the case with identifying available safety training and developing good operational practices, such as keeping devices charged and source contact information updated. And the same is true for your readers — figuring out how they get urgent information, and sharing with them information about how to prepare and stay informed during emergencies can help you and your community prepare.
Here's a few steps you can start with now
Questions to ask before a disaster
What kinds of emergencies are possible in your area?
How will you get information about what is happening?
How will you share information about what is happening?
How can your newsroom and community prepare now?
Consider
Scenarios with multiple or cascading emergencies: what happens if there is a fire, and a widespread outage?
How you receive, verify, and share information with multiple audiences when communications infrastructure might be impacted: how can you meet people where they are at?
Your current workflow and resources: what training, equipment, and practices do you need to stay safe?
Steps to take now
Talk with local emergency responders and officials

identify how to best quickly receive, verify and share information
identify what is the official emergency response plan
identify appropriate safety gear and training
Talk with community and audience(s)

identify how to best quickly receive, verify and share information
identify how your community accesses info and what they need to know
build relevant emergency info resources
Talk with coworkers about workplace protocols, resources, and plans

identify available trainings and needed resources
build individual and newsroom go bags
build a shared emergency source list and map
build a shared emergency operations plan
As part of this project, I'll be sharing a guide with a detailed list of templates, checklists, and more for local disaster reporting over the coming months. If you have experience you'd like to share or want to test out the guide, please get in touch at publisher@mendovoice.com to participate.
Comments