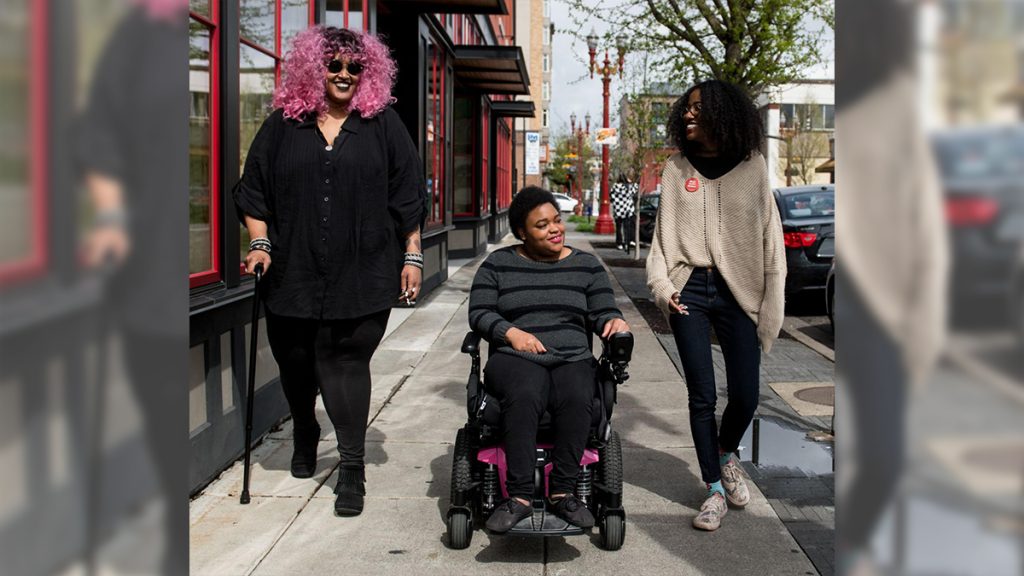 How to support disabled journalists in your newsroom
"How could I possibly feel like I belong in an industry where I can't even get in the door?"
One of the questions I have received the most during my RJI fellowship was about how many disabled journalists are working in newsrooms. It is impossible to know because disability is not included in most newsroom diversity reports.
There are notable disabled journalists like Serge F. Kovaleski, Wendy Lu, Eric Garcia, and Sara Luterman, but often disabled journalists are as invisible in our industry as disabled people are in society.
The physical and technological barriers that disabled people face regularly are in newsrooms, too. Canadian journalist Bailey Martens wrote for Canadaland about how she could not physically enter a news organization's building for her first day because the accessible buttons on the doors were not working.
"How could I possibly feel like I belong in an industry where I can't even get in the door?" she wrote.
As Luterman writes for Nieman Reports: "There need to be more disabled journalists in newsrooms, telling complex, difficult stories about disability. Hire disabled journalists. Hire journalists who might not not have perfectly smooth resumes, but who have experienced the disability service system first-hand. Ask your disabled employees, if you have any, what they need to build their careers, and to build pathways and pipelines for younger disabled journalists. Diversity initiatives in newsrooms are vitally important, not only when considering race or gender, but also when considering disability status."
And don't try to say that there is a pipeline problem. Disabled Writers has an excellent database of disabled writers, their focus areas and brief bios.
Here are a few suggestions of how newsroom leaders can support disabled journalists:
Include disability in employee surveys
Give employees the opportunity to self-identify as disabled on employee engagement surveys. Anonymous company surveys have moved in recent years to ask employees questions about their identity including race, gender and sexuality. But disability is often not accounted for in diversity efforts.
Unless disabled employees are given the opportunity to self-identify, companies will continue to lack understanding of how many disabled people work in their organization. Knowing that there are more disabled journalists in a newsroom can help employees feel more engaged and build connections. And the information can help the company identify and meet the needs that disabled employees have within the organization.
Build a newsroom culture of flexibility
The COVID-19 pandemic has proven that it is possible for newsrooms to operate remotely. As news organizations prepare to return to their physical spaces, leaders should build a culture of flexibility and know how our physical work environments affect our health and safety.
A culture of flexibility requires a clear policy informed by staff feedback. It means training for managers and an increased focus on communication and onboarding. And it opens doors to journalists who otherwise may be excluded by strict in-office policies.
Flexible work environments and hours make it easier for all employees to have healthy work-life chemistry. It makes it possible to schedule appointments, take care of our loved ones, and have fulfilling careers.
Make the process for requesting accommodations clear and easy to find
A reasonable accommodation is a modification or adjustment to the job, work environment or the way things are usually done during the hiring process to enable a disabled person to not only get a job, but to successfully perform the job's tasks. Accommodations are protected by the Americans with Disabilities Act.
It can feel scary to request a workplace accommodation. Often the process to request an accommodation within a news organization is hidden within a company's benefits guidelines or buried in other HR documents. Rarely are accommodations discussed with all employees as part of the onboarding process.
If newsrooms want to make disabled people feel comfortable at work, they must make requesting accommodations a standard part of the work experience.
Encourage the formation of disability focused employee resource groups
Employee resource groups (ERGs) help foster open dialogue and connections among employees. Many companies facilitate ERGs for women, people of color, LGBTQ employees and parents.
Adding a disability ERG, as McClatchy recently announced, gives employees a dedicated space to learn, grow, and share experiences. ERGs can also make it easier for employees to raise issues of inequity with newsroom leaders.
Comments