Immersive Documentaries: Collaborate with the community
Viktorija Mickute and the team at Al Jazeera Contrast, an immersive storytelling studio, produced the immersive documentary "Yemen's Skies of Terror," which was nominated for a 2019 News and Documentary Emmy in the Outstanding New Approaches: Current News category. I spoke to Mickute to learn more about how newsrooms, large and small, can tackle their own immersive documentary project.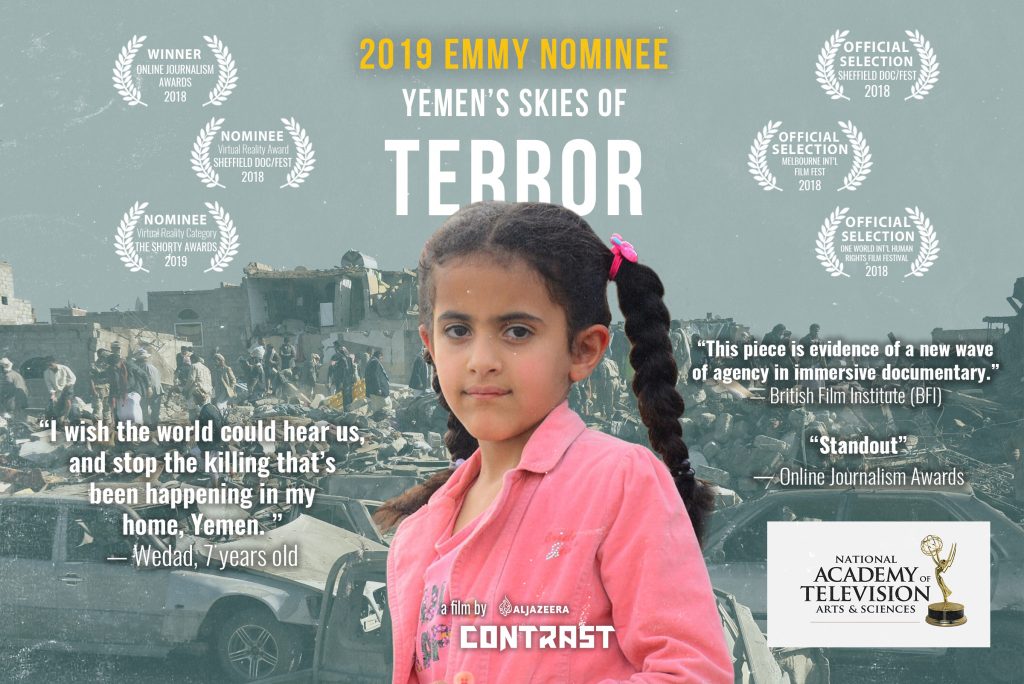 Duncan: For those that aren't familiar with it yet, tell me a little about the "Yemen's Skies of Terror" project.
Mickute: It's a short six min 30 second immersive documentary about the consequences of war in Yemen, more specifically the impact of air raids on regular people's lives. We wanted to tell the story through the children who were impacted in a very personal way. It's a story about war told through a highly intimate lens.
Duncan: How was other information used in the 360º space to provide context within the project?
Mickute: It's a journalistic piece so we also wanted to include data and we wanted to do that in a visual way. The ticking 'clock' counts the air raids throughout the piece – that's why that appeared. We wanted the viewer to not only get the sense of anxiety and fear of what it means to live in Yemen but also get information and data on the scale of the crisis.
Duncan: Since access to Yemen is challenging, how did you get the footage for the doc?
Mickute: One of the most exciting parts of the project was the collaboration part of it. We collaborated with local Yemeni journalists to tell the story. These journalists were not immersive storytellers, they were not virtual reality specialists – they were just regular journalists who took up the challenge and risk to do a new thing. And they trusted that we could teach them quickly enough to gather the material and be able to tell the story they wanted to share.
Duncan: How did you teach them from afar?
Mickute: We managed to get the 360º cameras into Yemen for the journalists and we taught them how to use them. That was the most challenging part because the connectivity in Yemen is so poor and sporadic, we had to rely on WhatsApp notes and messages. Teaching someone who has never done 360º or virtual reality in this way was not easy, it was very challenging but also very rewarding. By collaborating with local journalists we managed to get the stories and footage that were super unique and important.
What was beautiful about this piece is that we not only collaborated with local journalists but as much local talent as possible. We included a local illustrator and a local composer. The fact that the composer had to live through this war himself really set the mood for the music. He understood what we were looking for very quickly. And though it was challenging to get the music from him because of poor connectivity, the fact that he was a person from the community really affected the strength and the impact of the music upon the piece.
Duncan: Why 360º? What about this story do you feel made it stronger to tell it in 360º?
Mickute: What you really get from 360º is that idea of being able to understand the location and the space better. This is a very impactful way of telling some stories but not all of them. We always say not every story should be told in 360 degrees. But for some stories the location is super important, the place is super important. In terms of the story of Yemen, which is so inaccessible to many, I think this gives an invaluable opportunity for people to actually see how it looks, to virtually witness the damage that has been done and how war has impacted the place. The fact that you can spend six minutes by yourself with those people in that location, is precious. It provides an important perspective and documentation of the country in the time of the crisis.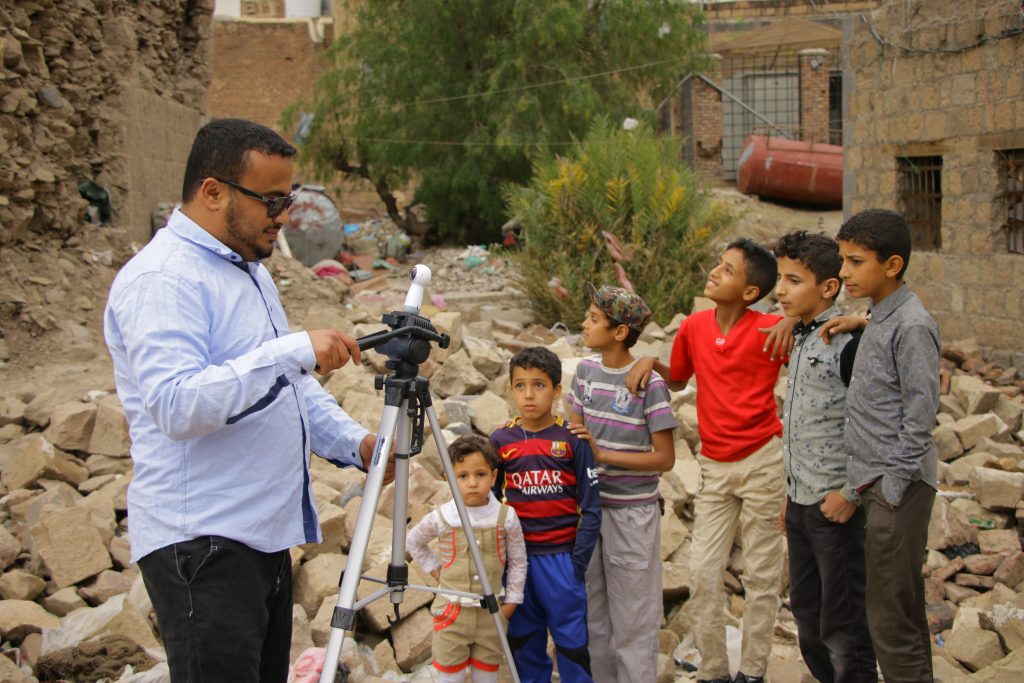 Duncan: Do you think the viewer needs a VR headset to really experience it, why or why not?
Mickute: I think it is a very different experience watching a 360º documentary on desktop and watching it in a headset. It's true not as many people as we would like own VR headsets. That's why it's always important to have a strong story. Technology is helping us tell the story but it's not just the technology that matters. If the story is powerful, people will want to consume it no matter the way it was produced.
Duncan: What do journalists need to think about before they decide to try to produce an immersive documentary?
Mickute: One of the most important things to think about is why you are doing this in 360º, why do you want to create an immersive story. There has to be a reason for that. Do people need to see it in 360º, do people need to feel transported into that location, is there an interesting character that is willing to collaborate, are they willing to be in front of the camera and be open to the new technology? Action is also very important. The story has to involve action because you want the viewer to be interested in looking around in the 360º space.
Duncan: Where are people coming to your immersive content from? What are your social strategies?
Mickute: The main place where we host our immersive content is Facebook. We post the videos natively to Facebook. It's easy to share and people can watch the documentaries on their phone. The other platform is YouTube. It requires more strategy in order to create and keep audience engaged but it's a good place to store your immersive documentaries. Another good thing about YouTube is that the viewers can choose the mode to watch 360º documentaries in a cardboard headset, which is a cheap version of VR headsets.
Duncan: What is your next challenge in immersive storytelling experiences?
Mickute: We are working on an interactive immersive experience "Still Here" about mass incarceration and gentrification in New York City. It's a big project involving virtual reality, augmented reality and audio storytelling. In the VR portion of it, the viewer will be able to walk around in the space and choose what they want to do. That'll be something different. The whole project is going to live in a physical installation where you can come and experience it all in one place. The scope of the project is huge but we are very excited to see how all of this – the work we've been doing and our values and editorial strategy, fits into this type of project and where we can take it from here.
Editor's note: This interview has been edited for length and clarity
Comments