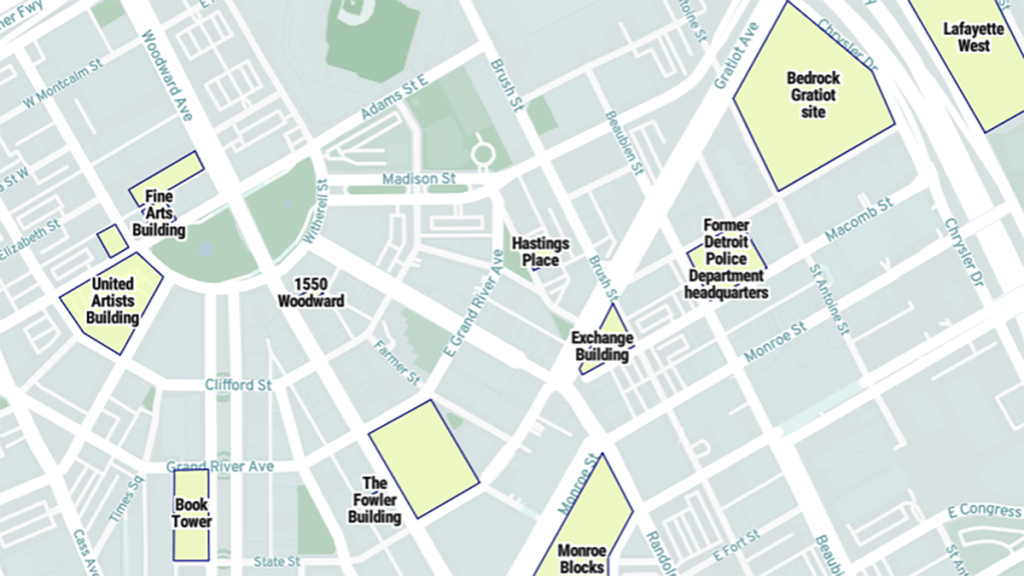 Live in beta: The Detroit Development Tracker
This open-source tool makes property data accessible and actionable for Detroiters as the city undergoes rapid changes
I'm thrilled to share that the Detroit Development Tracker beta, an open-source, service-journalism tool, is now live. This product, published by Detour Detroit and built during my 2021-2022 Reynolds Journalism Institute fellowship, aims to help Detroiters better understand the real estate development projects that are changing the city's landscape and impacting its communities.
As development activity skyrockets in the city — and developers' plans constantly change — we believe residents deserve better access to information about what is being built and who is building it. The Detroit Development Tracker aims to take this information out of the domain of developers, funders and city bureaucracy, empowering Detroiters to better understand and influence the forces shaping their own neighborhoods.
You can now visit the tracker site to explore the map or search for a development project. Each development project page includes more details about the taxpayer, what is being built, the status of the project, zoning and other information when available, like cost and images. The tracker is meant to be a participatory project, relying on users to share information about developments happening in their neighborhoods. All submissions are reviewed by journalists.
Detour is a micro local newsroom that launched in 2018. Since the start, we've explored ways to make the news more accessible to Detroiters and strived to holistically engage our audience in our coverage. The Detroit Development Tracker — a project first pitched by Detour member Jimmy McBroom, civic engineer and lead developer of the tracker — is the latest iteration of our commitment to community-powered journalism.
The information in the tracker is collected from a variety of sources, including public documents and meetings, independent research and open data scraped from sources including the Detroit Open Data Portal, the city's Parcel Viewer and Detroit Documenters. Our data also relies on reporting from other local news outlets. We believe the tracker will strengthen real estate development coverage for Detroit residents, filling information gaps in a format that meets users' needs — but it wouldn't be possible without the existing, and essential, local journalism from our peers in the local media ecosystem.
What's next
With the beta launch, we're eager to get this tool into the hands of Detroiters and learn how we can improve it. In the coming months, we'll be establishing a system for long-term management. We'll also be using feedback to build a roadmap for the tracker's next iteration.
Possible changes might include incorporating additional information about each development, like timelines, more ownership details and funding sources; expansion to Hamtramck and Highland Park (two smaller cities within Detroit's borders) or including projects from the recent past. We'll also look into adding new functionality, like filtering, calendars for related public meetings, alerts and more mapping features.
We are actively conducting user feedback and hoping to hear from Detroit residents who want to know more about development; real estate developers who are interested in democratizing the development landscape and building relationships with the people their projects serve; members of organizations that serves Detroiters; local journalism and data outlets that are interested in partnering; and anyone else who has an idea for how the tracker could serve Detroiters better.
As we take the Detroit Development Tracker into its next stage and continue to learn — about building processes, seeking revenue streams and achieving sustainability — we plan to share what we've figured out with our peers who want to create data products for and with their readers.
Building this data tool, with a small budget and limited product experience, has been a labor of love (and land records), with plenty of trial-and-error and a steep learning curve. Not a steeper one, however, than choosing and implementing a tech stack; creating email templates; designing user surveys; starting a membership program; or any of the other new skills we and other local news entrepreneurs across the country have taken on in service of building media organizations for our communities.
So in a few weeks, we'll publish a toolkit with what we learned to explain how we built the Detroit Development Tracker — with the lessons, steps and resources for small newsrooms that want to build service journalism tools (on a budget) and make public data more useful for readers.
Comments