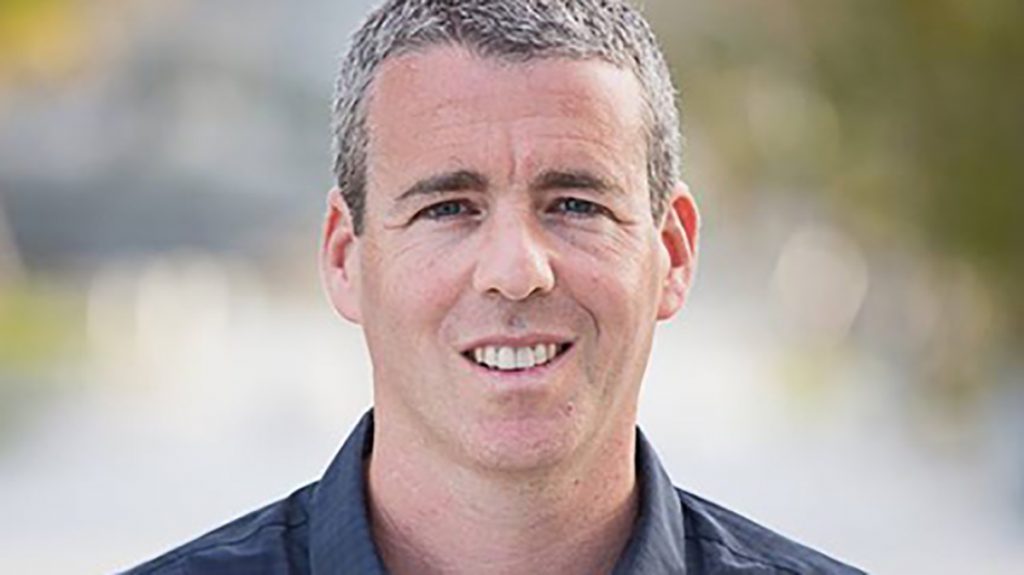 Michael Grunwald writing book on environmental crises with support from Reynolds Journalism Institute
Columbia, Mo. (Oct. 25, 2021) — Michael Grunwald is a 2021 Fellow of the Watchdog Writers Group, which provides monetary support and other assistance to journalists who are writing books that prioritize investigative journalism and in-depth reporting. The WWG is a nonprofit institute within the Missouri School of Journalism's Reynolds Journalism Institute.
In 2018, veteran journalist and bestselling author Michael Grunwald wrote an article for Politico about his family's efforts to go green. He'd bought an electric car and put solar panels on his roof, saving money and lowering his carbon footprint at the same time. The article was hopeful about the future of consumer-friendly green technology, but it also touched on a truth that has nagged at him for years: he could live greener if he was willing to sacrifice more.
The list of sacrifices he was unwilling to make — forgoing meat, for example, or line-drying his clothes (a standard energy-saving measure in the UK, but one that can border on illegality in some parts of the U.S.) — spurred him to learn more about how people can contribute to a healthy climate and overall environment. And in the process of learning more, including the fact that animal agriculture uses almost half the land on Earth, he began to realize that while the drawbacks of fossil fuels grab most of the headlines, a larger and more complicated crisis is looming: a land-use crisis.
"The fossil fuel problem is a really huge problem, but the answer is relatively simple," said Grunwald, a former staffer for the Boston Globe, The Washington Post, Time Magazine, and most recently Politico Magazine. "We need to replace fossil fuels with zero-emissions energy. But the land problem is a much more complex problem, and we're just starting to try to deal with it."
Combined with the ever-increasing problem of a rapidly rising global population, an associated increase in food insecurity and less land available for agriculture, Grunwald is concerned that the world is now faced with a challenging puzzle: How do we make more food with less land?
In search of answers, Grunwald is writing a book on the subject for Simon & Schuster, with the support of a fellowship from the Watchdog Writers Group (WWG) at the Missouri School of Journalism's Reynolds Journalism Institute. The fellowship offers a stipend that allows authors to take a break from their day jobs while they focus on the difficult and time-consuming task of a book length investigation.
Grunwald is well aware of the enormity of his task; though he wants to inform the public about the scale of the problem, a major goal of the work is to give voice to potential solutions offered by the scientists and land use experts at the front lines of the war to feed the world.
"If current trends hold, we'll have to deforest two more Indias worth of land to feed our growing population by 2050," he said. "We don't have two Indias worth of land that wouldn't destroy forests like the Amazon, and we need those forests to soak up our carbon. So we're going to need to waste less food, eat less meat, and do a better job protecting nature, but the bottom line is that we're also gonna need to make more food."
To conduct the massive amount of research, interviews and other preparations necessary to write the book, Grunwald is taking advantage of another benefit of the WWG fellowship: a student assistant. In this case, the student is Mark Ossolinski, a graduate student at the School of Journalism who is studying investigative and public policy reporting.
"Mark immediately understood what I'm doing and offered a lot of helpful suggestions," Grunwald said. "He's kind of like my snow plow: If he does some of the research up ahead of where I'm at now, then I've saved a tremendous amount of time by the time I get there."
And make no mistake: Grunwald, who has already written two books, recognizes the value of making the book-writing process easier — a sentiment he applies to Ossolinski's assistance, to the monetary support, and to the community formed by his "fellow fellows": Mya Frazier, Shoshana Walter and 2020 fellow Pamela Coloff.
"Writing a book is hell, so it's nice to have company in hell," he quipped. "Financially and personally, as a dad, it's crazy to write a book. But the fellowship makes it less financially crazy, and it adds some human connection to the solitude of writing."
But much like his perspective on the converging crises of climate change, fossil fuels, and food insecurity, his view of the WWG fellowship's importance extends beyond his own experience.
"All of the fellows are dealing with nerdy-but-important subjects," he said. "This program seems to be designed to support nerdy-but-important projects, and I'm incredibly grateful for that. It's an affirmation that some books that might not sound sexy can be really interesting, and even help illuminate and solve important problems. It's good for nerds and hopefully good for the world."
Comments