Post Episode 16: Hidden cameras expose falsified records, fake doctors and odometer rollbacks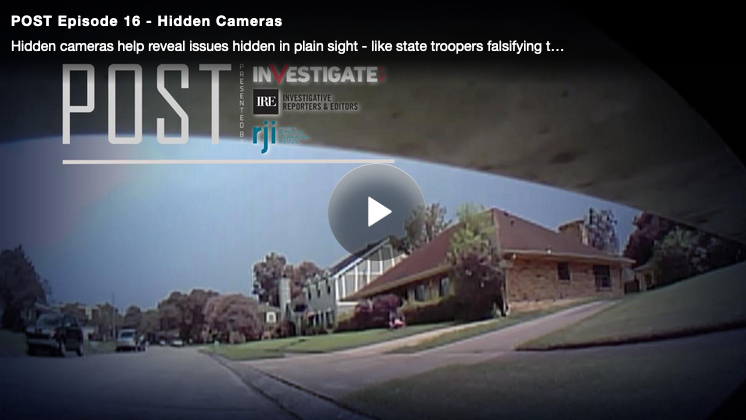 Hidden cameras help reveal issues hidden in plain sight — like state troopers falsifying time cards and dealerships selling cars with rolled back odometers. Journalists discuss the legal and ethical considerations of undercover work.
In Episode 16, Post discusses undercover investigative reporting utilizing hidden cameras. Journalists talk about legal and ethical considerations related to undercover work.
Television stations represented in the episode include WVUE-TV, KMGH-TV, WSB2-TV, WWBT and InvestigateTV. Through undercover work, journalists exposed fake medical professionals, cars being sold with rolled back odometers and public officials billing taxpayers for time spent at home.
Patti DiVincenzo, a trainer for IRE, joins the show to share her experience with undercover work and her advice for planning hidden camera investigations. Prior to working at IRE, DiVincenzo was an investigative producer and data specialist at WSB-TV in Atlanta.
She and her colleagues have worked on hidden camera projects, but she says the decision to go undercover is never taken lightly.
"Where I worked it was always: Is this the only way to get the story? That's the bottom line," DiVincenzo said. "You need to get the journalists involved, managers involved, maybe a lawyer involved and discuss why you want to do it."
DiVincenzo says planning is the biggest key to successful and ethical undercover investigations.
"You should never do something like this on the fly. This should involve a lot of meetings, discussions, thoughts about what could go wrong, how are you going to deal with it, why you want to do it that way," she said.
Finally, when considering viewer trust, DiVincenzo says reporters should always disclose their hidden camera techniques and methods in their reporting.
"You also need to be very transparent with your viewers about what you did and why," she said.
InvestigateTV's consumer investigative reporter, Rachel DePompa, also joins the show remotely from Richmond, Virginia to discuss one of her recent projects: Digital Rollbacks. The story showed cars with evidence of potentially rolled back odometers were being sold on dealership lots.
As part of the story, DePompa's team decided to go undercover to see if they could find cars on a local lot – and find out how those cars would be described to customers.
"We thought it was important to not only track down some of these vehicles to show how it's very prevalent across all sorts of auto dealers and lots, but also because we wanted to get the side of the auto dealer," DePompa said. "When these rollbacks happen, these cars are often passed around. So just because you bought a vehicle from one dealer doesn't mean that dealer is responsible for the rollback."
She says a producer went in wearing a pin camera to ask questions any potential customer would ask. DePompa, like DiVincenzo, says planning is key. Her team even rehearsed how the undercover taping would play out.
"We practiced with him different scenarios of what somebody could ask or say. The essential thing we said is, 'Do not lie. Tell the truth," DePompa said.
Stories discussed in Post, Episode 16
Post is a media review program from InvestigateTV, Gray Television's streaming channel dedicated to in-depth and watchdog reporting. Post is presented in partnership with the journalism organization Investigative Reporters and Editors. The monthly program is taped at the Reynolds Journalism Institute at the University of Missouri School of Journalism, a partner of InvestigateTV.
Episode written and produced by: Emma Ruby and Jamie Grey, InvestigateTV
Production by: Director Travis McMillen and assistants Grace Vance and Braden Kobeski, Reynolds Journalism Institute and University of Missouri
Editing by: Owen Hornstein, InvestigateTV
Comments