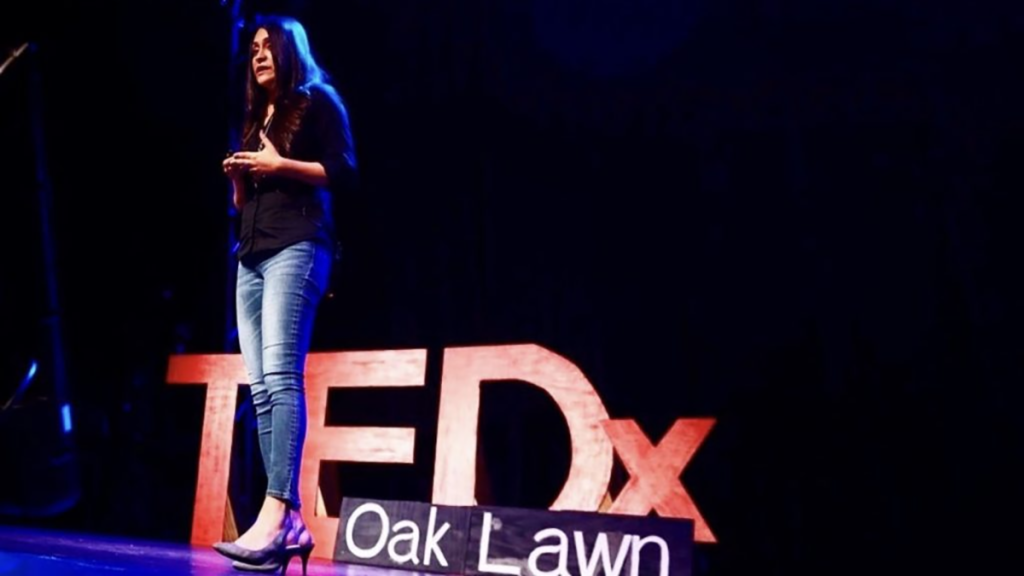 Public speaking: Unlocking leadership skills and a new level of career success
Upasna Gautam is an RJI Columnist whose column explores and shares actionable insights into different facets of leadership development.
A foolproof framework for getting your speaking pitches accepted
Public speaking is the skill that single-handedly accelerated the trajectory of my career and opened up doors of opportunity for me that I didn't know existed.
Over the last decade, I've given talks all around the globe: from local meetups and tech conferences, to major stages like TEDx and SXSW. Not only has public speaking opened up doors of career opportunity for me, but it's also supercharged my network by allowing me to build connections with people that seemed out of reach in my beginning networks. Public speaking is truly a force multiplier for career success.
3 ways becoming a public speaker accelerated my career
It taught me to fluently speak my mind and exchange my self-doubt with confidence. I became hyper-aware of the words I choose to speak and how they impact others. I learned to fine tune my communication skills.
I developed stronger critical thinking skills. Public speaking forced me to think through real problems and provide solutions, while learning how to analyze the costs and benefits. This dramatically enhanced my ability to conduct and analyze research. My critical thinking and curiosity started to drive each other, and I began to let my inquisitiveness guide me.
I gained the skills to become a leader. Leaders require the capacity to drive change, and I learned how to convey my thoughts in a way that could unite stakeholders and individual contributors around the same mission.
Remember: You don't need to wait until you reach a management role to become a leader.
6 questions to become a great public speaker
These are six questions for you to answer that will build trust, understanding, and influence with your audience. This set of questions will help you communicate clearly through verbal and written communication, as well as to any audience you speak to.
What am I really trying to say?
Why should people care?
What is the most important point?
What is the easiest way to understand the most important point?
How do I want the listener to feel?
What should the listener do next?
Answering these six questions is the key to delivering a memorable talk because they force you to define the effect you want to have on your audience, which will then better inform the presentation you craft.
Answering these questions is also a powerful way to force decomposition.Decomposition is the key to clear public speaking, and great communicators know that this is the way to build trust and understanding with their audience.
Shreyas Doshi does a great job of elaborating on the importance of decomposition, which I've paraphrased here: Take a specific topic, identify its main elements, describe those elements in clear terms, call out the elements that are really important, and (at times) expand on those elements by sharing concrete actions.
My foolproof framework for getting your speaking pitches accepted
My proposal framework is comprised of 3 requirements: The Title, Abstract, and Key Takeaways.
Requirement 1
The Title should convey the problem you are solving for the attendee. Keep it clear, concise and hyper-specific. Avoid jokes, puns and colloquialisms. 10 words or less is a good rule of thumb.
Requirement 2
The Abstract summarizes the scope of your talk. Keep your abstract to 4-5 sentences. Pose the problem your talk will provide a solution for and explain why it is important. Think of the abstract as your value proposition — the value that you will acknowledge, deliver, and communicate.
Requirement 3
The Key Takeaways are a bulleted list of 3-5 learning objectives that inform next steps for the attendee to take after they listen to your talk. Think of key takeaways as tactical action items.
Whether it's an email to an event organizer or submitting a formal CFP (Call For Proposals), this proposal framework is a template that you can continuously refer back to and reuse. I have a Google Doc where I keep a running list of all my proposals, and use that to iterate upon my ideas, as well as pitch them. Crafting a strong proposal becomes very simple once you've got this framework nailed down.
Remember: Everyone can help someone. There is always someone who knows more than you, and there is always someone who knows less than you. This means that you always have something to learn, and you always have something to teach.
Comments