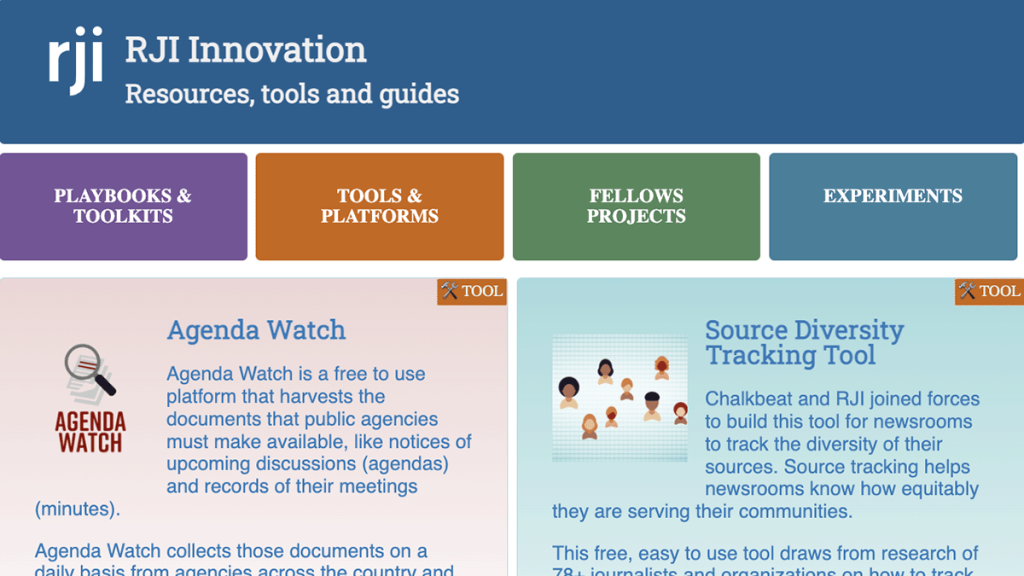 RJI Innovation Hub launches, brings together free resources for newsrooms
The Donald W. Reynolds Journalism Institute (RJI) has announced the launch of the RJI Innovation Hub, an interactive website where RJI's toolkits, guides and other resources for journalists and newsrooms are available in one place.
These free resources — such as Agenda Watch, a tool that gathers information from public government meetings, or a guide to sparking civic engagement with community-centered journalism — are now even more accessible through the Innovation Hub, which is designed to make a wealth of information easily digestible and navigable.
"Developing solutions to the industry's challenges is only part of the equation; those solutions have to be easy to find and easy to use," said Randy Picht, executive director of RJI. "The Innovation Hub is the next step in our efforts to give local newsrooms all over the country the tools to reach, engage and inform their communities."
The Hub was designed by William Lager, a senior editor and project manager on RJI's Innovation Team, to present RJI's content in engaging and bespoke ways. The aforementioned community engagement guide, created in collaboration with hyperlocal news outlet The Green Line, takes readers on a visual journey through a new editorial practice that encourages civic engagement, while a project with CISLM explores better hiring practices as a playbook, organized to allow both hiring managers and job applicants to find the information that is relevant to them.
"This was born out of the idea that the content can be more interactive than 'read this and follow the directions,'" Lager said. "It can be interesting and readable enough that reporters can take it on the go with them."
Other members of the Innovation Team involved in the creation of RJI's resources for newsrooms are Kat Duncan, director of innovation and Emily Lytle, the Innovation in Focus editor.
The Hub will receive regular updates as major RJI projects are completed; works-in-progress and other commentary from industry experts will continue to appear on rjionline.org. To learn even more about RJI's work, sign up for the Innovation in Focus Newsletter here.
Comments