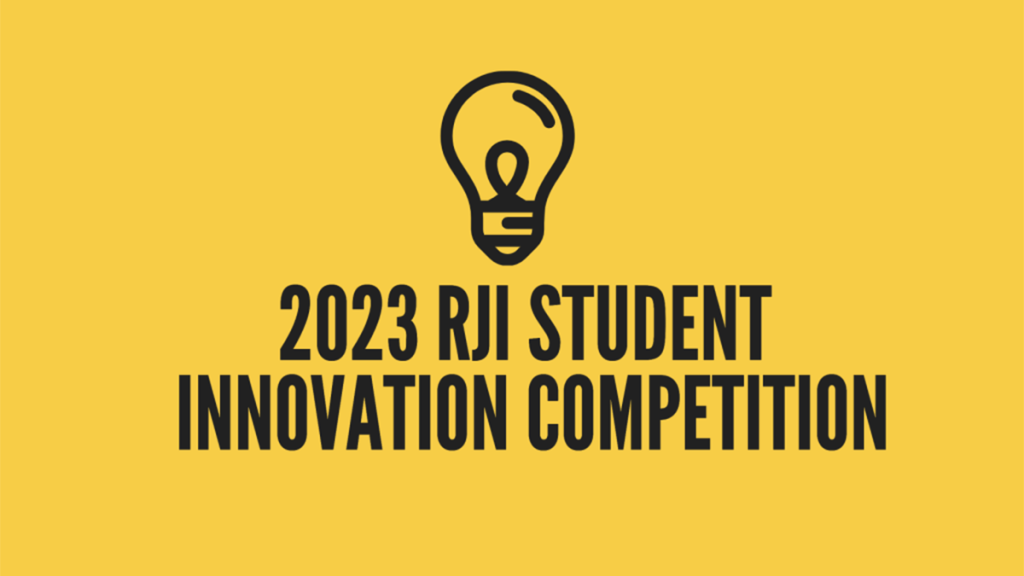 RJI Student Innovation Competition finalists using inventive journalism tools to connect communities with important services
Eight teams from universities around the country are competing as finalists in the Reynolds Journalism Institute's 2023 Student Innovation Competition at the Missouri School of Journalism. Each team is addressing a local need in their community through service journalism and related efforts that connect people with information in new and efficient ways.
"Community-centered news is such an important part of meaningful and engaging journalism that fills gaps and nourishes news deserts," said Randy Picht, executive director of RJI. "These students are making that work more accessible to the people who need it, and regardless of whether they win or lose, they are contributing to moving our industry forward with fresh ideas."
The top team will walk away with $10,000 when a panel of industry innovators pick the winning project in March, with the runners-up receiving $2,500 and $1,000, respectively. A fan favorite team, chosen by the public, will also win a special prize.
And the success doesn't have to stop there: last year's overall winner, Dana Cassidy, went on to an internship at the Washington Post, which ultimately turned into a full-time job at the newspaper.
"Great service journalism helps people in actionable and accessible ways, and it provides information that communities need to help them in their daily lives," said Kat Duncan, director of innovation at RJI. "I am looking forward to seeing how each of these team's ideas become a reality over the next few months in service to their communities."
Meet the judges
Dana Amihere, AfroLA
Dana Amihere is the founder and executive editor of AfroLA, a nonprofit digital newsroom and newsletter covering the Black community in greater Los Angeles that will launch in 2023. She also owns Code Black Media, a digital media consultancy that merges data, design and equity.
Andrew Hazzard, Sahan Journal
A Missouri School of Journalism alum, Andrew Hazzard is a staff reporter for Sahan Journal — a nonprofit digital newsroom — and a member of the Society of Environmental Journalists. His work examines civic issues related to environmental justice and climate change, distilling complex subject matter into informative reporting for the Journal.
Andrea Pineda-Salgado, Epicenter NYC
Andrea Pineda-Salgado is the community reporter at Epicenter NYC, which highlights culture, art, small businesses and civic life in New York City. Her work focuses in particular on the communities of Queens and offers actionable information on a variety of economic, social, health and governmental topics of consequence to her readers (and listeners — she's also the host of Epicenter NYC's weekly podcast).
Meet the finalists
Team Tipbot: Dana Chiueh of Stanford University
Dana Chiueh is due to graduate in June from Stanford with a bachelor's degree in computer science. Combining her tech-savvy background with a passion for writing, Chiueh is seeking to modernize news tiplines by introducing an interactive, newsgathering chatbot.
Team De Veras: Lauren Hubbard, Erik Galicia, Sharon Quintana Ortiz and Cristal Sanchez of the University of Missouri
This Missouri School of Journalism-based team aims to increase the accessibility of information about local government, education and health by providing Spanish-language resources to Columbia's Latino community. Having met each other through Mizzou's chapter of the National Association of Hispanic Journalists, the team is conducting research into the needs of the local community to ensure they provide the most relevant news and information that will make more informed and meaningful civic engagement possible.
"A lot of Hispanics or Latinos that live in the Columbia area aren't able to consume news because of language barriers," said senior Lauren Hubbard.
"Speaking for myself and my family, my parents never knew how city council people worked or who the mayor was," added senior Erik Galicia. "Providing digestible information in Spanish about the way the government works and how people can participate in it is really important."
The team is considering partnering with the School's NPR member station KBIA, which recently began airing brief Spanish-language newscasts, to distribute its content in podcast form.
Team Diamondgigs: Nataraj Shivaprasad, Rina Torchinsky and Srigananadh Kanipakala of the University of Maryland
A team of three from the University of Maryland is building a jobs guide for the community in and around the university's campus. The guide will not only post job listings but will enhance transparency around campus jobs specifically, which do not always readily publicize information like pay rates.
Through Freedom of Information Act requests and other due diligence, the team will centralize and contextualize information about available jobs to a create a one-stop shop for hyperlocal job information.
"We have job boards like Indeed, but we don't have one for the local campus community, which might have its own needs — especially with students trying to find part-time jobs," said Nataraj Shivaprasad, a junior studying engineering. "We know a lot of our friends and students in general are often searching for jobs, but there is no good way to compare those options right now and see what would work best for not only their schedule but their wages and skill set."
The team plans to host the information online through The Diamondback, the College Park community's independent student newspaper where Shivaprasad serves as managing editor and director of digital strategy.
Team NYU Studio 20: Jeff Poirier of New York University
Jeff Poirier will graduate from NYU with a master's degree in digital journalism in December. As an associate product manager at Axios, he wants to create a series of town halls that will bring together Axios Local reporters and community members to learn more about community needs and create more informed and representative coverage.
"We shouldn't be asking ourselves what our local community needs — we should be asking them, because the people who read, listen to or watch your journalism are really the ones who should have the answer to that question," Poirier said. "A lot of times, when reporters and newsrooms assume that they know what their audience wants, that's where you get into trouble. You make assumptions without supporting data and assume, based on the makeup of your newsroom, that the makeup of your audience is similar, and that's not necessarily true, especially as we continue to see diversity issues in newsrooms."
Team Bulletin Board: Christina Sherman of the University of Missouri
Christina Sherman, a sophomore at the Missouri School of Journalism, is creating a digital source for information about pop-up events and small business promotions that can otherwise be difficult to discover except by happenstance. She hopes to use a combination of methods, such as printed QR codes in public places and widgets or plugins on local news sites to keep people informed about fleeting or underpublicized happenings in Columbia, Missouri.
"As a Columbia native, I notice that there is a pretty severe lack of any type of consistently updated site that tells you where those cute little pop-up things are, or if there is a little sideshow or even a food truck," Sherman said. "If they only exist in a pop-up form, they don't really have anywhere to put that information that says, 'we're going to be here.' So the idea is, the user could go on and pin tabs like, 'I want to know where every food truck is, or I want to know where every music festival is.'"
The project aligns well with Sherman's career goals, as she hopes to help companies that are not relatable or difficult to market more consumer-friendly through strategic communication.
Team Yuli: Maria Fernanda Bernal of the University of California, Berkeley
A graduate student at UC Berkeley and current intern at NPR member station KQED in San Francisco, Maria Fernanda Bernal is working on a modern twist on the newspaper vending machines that were once ubiquitous on the streets of towns and cities across America. She is creating an interactive news kiosk that will allow people to read and download news about their local community in Richmond, California.
Though the kiosk will take advantage of the digital age in collating digital news and allowing users to download stories to their phones, the kiosk itself is envisioned as a physical entity that people can interact with without the need for a subscription.
"The kiosk will be programmed to collect data on how people are using it so that it can promote more relevant articles," Bernal said. "It's potentially like a huge iPad that people can walk up to, except that it's focused on providing accessible, equitable news."
Bernal will place particular emphasis on ensuring that the kiosk is accessible to differently-abled individuals, seniors and those who are not tech-literate — she hopes to hire community members who can assist with technical questions on-site. The kiosk will also post notices about missing people to address disparities in the coverage of missing people of color.
Team Fat Fish: Heather Wang of the University of Missouri
Heather Wang is a transfer student from China and a senior at the Missouri School of Journalism, and she is creating an interactive toolkit for immigrants who lack familiarity with America's news industry, lack access to the news due to language barriers or have no experience with the U.S. social media ecosystem. She hopes to make the toolkit multilingual to provide access not only to Chinese immigrant communities, but to a wide variety of people who find themselves largely left out of the loop of the mainstream news cycle.
"Immigration newsrooms are invisible in the mainstream, because people who speak English tend to just cover English-language news," Wang said. "But Latinos, Chinese, Vietnamese, they are also a part of the community, and when you read the news, you prefer your native language."
In tandem with the creation of the toolkit, Wang is working with St. Louis Chinese American News, which bills itself as the oldest, largest and most widely-read bilingual newspaper dedicated to the Chinese community. Wang will help the newspaper update its social media and other content to appeal to younger generations.
Team Drip Forest News: John Ferrara of Northwestern University
A freshman studying journalism and computer science at Northwestern University, John Ferrara is creating a platform for crowdsourced information in small communities. The format differs from other attempts at citizen journalism as a kind of hybrid between hyperlocal social media platforms like Nextdoor and more traditional media outlets, with contributors writing one or two-sentence "leads" rather than full stories.
"The idea is to create a crowdsourced platform where users themselves become the journalists," Ferrara said. "A big reason why news deserts exist is the fact that trained journalists aren't interested in going to small counties to get paid low wages. To counter that, this platform enables anyone in a small county to post or consume news about what is going on around them."
Ferrara plans to implement several systems to increase the reliability of information posted on the platform, including identity and local residency verification and a rating system for posts.
Comments