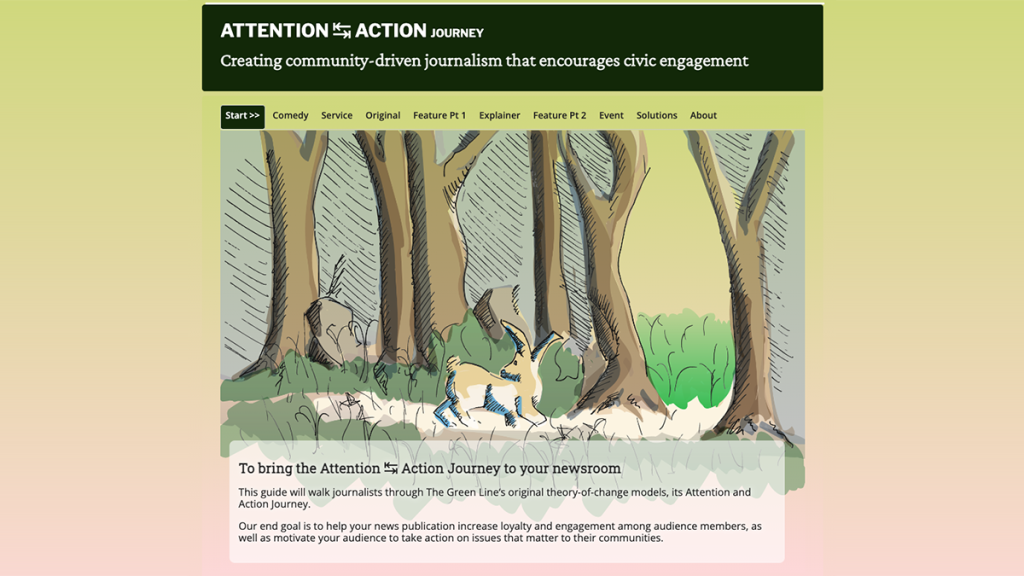 The Attention ↹ Action Journey resource
Utilize this guide to stimulate civic engagement through community focused journalism
The Green Line and RJI have officially launched our eight-step guide that teaches newsrooms how to increase civic engagement through community-focused journalism.
This guide walks journalists through The Green Line's original theory-of-change models, its Attention ↹ Action Journey. Our goal is to help news publications increase loyalty and engagement among their audience members, as well as motivate them to take action on issues that matter to their communities.

At the top of the guide, under the header, is a navigation bar with buttons for each stage of the journey. It starts on the left-hand side with the Attention Journey (i.e. Comedy/Opinion/Behind-the-Scenes to Service Journalism to Original Journalism to Feature: Part 1), and continues on to the Action Journey (i.e. Explainer to Feature: Part 2 to Event to Solutions).
Then below that, there is an accordion menu with three menu items; from top to bottom, they are: "How we build it," "Examples and our impacts" and "How you can experiment."
"How we build it" details exactly that — The Green Line's process for creating a given stage. Specifically, we share the workflow for creation, including the team members and other stakeholders needed to complete the stage.
"Examples and our impacts" includes Green Line examples of the kind of work produced at a given stage, as well as the impact of the work, such as traction (e.g. engagement and reach) and community impact (e.g. reader responses and solutions).
Finally, "How you can experiment" features recommendations for how newsrooms can adapt a given stage to best suit their needs and purposes by playing to their own strengths and expertise.
Will Lager, senior editor and project manager of the Donald W. Reynolds Journalism Institute's Innovation Lab, was my steward and cheerleader during this guide-development process. He also created all the beautiful original art, which features curious rabbits trying to problem-solve their way towards getting the ultimate prize: carrots.
In other words, they went down the rabbit hole to address a problem by taking action and coming up with a solution. It's a perfect (and perfectly adorable) metaphor to sum up the Attention ↹ Action Journey.
During previous Community Conversations, we collected feedback on our initial framework for the guide before it was finalized. In the upcoming Community Conversation on July 26th, we'd like prospective users to give feedback on the final versions of both our Attention and Action Journey.
Here's what to expect
Setting the stage: Why we created our guide and why it's important
Presenting the draft Attention and Action Journey guide, section by section

After each section, there will be an opportunity to provide feedback; we'll be asking the following questions:

How valuable would this resource be for you and/or your newsroom?
What would it take to motivate you and/or your newsroom to use this resource regularly in your work?
Please share your feedback. Our hope is that we will eventually building a working group of community journalism leaders focused on iterating on and evolving this guide, so please email The Green Line editor-in-chief Anita Li if you're interested in joining.
Comments