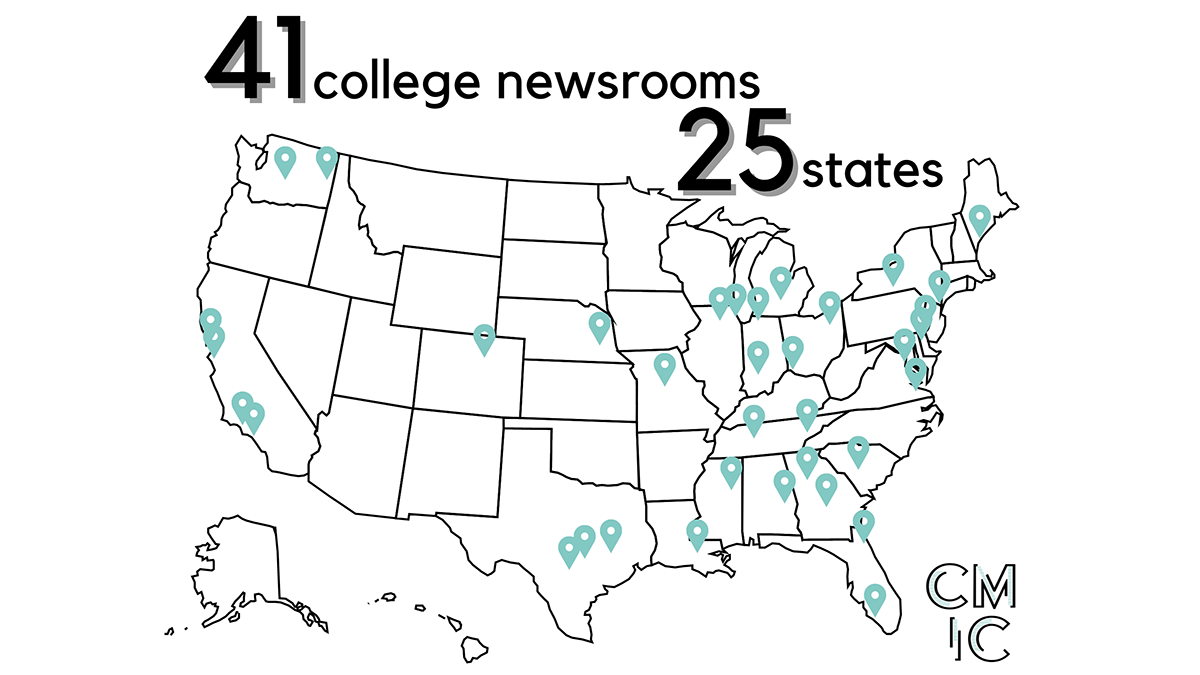 Three college media challenges and how we plan to solve them
Student newsrooms must collaborate and innovate to improve their journalism
I launched the College Media Innovation Coalition with the goal of building a community of college newsrooms in Fall 2022. Today, we have 41 newsrooms from 25 states, and CMIC is continuously growing.
I've heard from many student newsrooms about the challenges they're facing. While the list could go on for a while, these are the three topics that repeatedly came up:
Finding diverse, consistent streams of funding
Keeping up with high staff turnover rates
Divesting from print and shifting toward digital
Over the next few months, I'll dive into each of these topics by doing research and conducting interviews with student journalists across the country. I'll synthesize all the research and outline innovative solutions for college newsrooms that will be in the toolkit that I publish in May.
Here is a preliminary breakdown and timeline for each of these issues:
February: Consistent funding
While many professional newsrooms have adopted a funding system that depends on both advertising and subscriptions, that model is not feasible for many college newsrooms whose primary audience is students. Some college newsrooms are financially independent from their universities, while some receive consistent university funding. Some are official 501(c)(3) nonprofits and some are university-sponsored student organizations.
With college audiences mostly unwilling to pay to read student journalism, these newsrooms must get creative with where they get their funding. In February, I'll talk to newsrooms that have found success with advertising, fundraising and more unconventional ways of finding revenue.
March: Staff turnover
High rates of staff turnover are not uncommon in the journalism industry, but in college newsrooms, that turnover can be as frequent as each semester. With this challenge, I'm seeking to address two distinct challenges: increasing retention when possible and constantly onboarding new staff.
Between paying their staff, culture and additional opportunities, there are many ways college newsrooms can keep student staff around for more than a couple semesters. But even with the best retention methods, new staff are likely joining each semester, and the only way for them to be successful is with great onboarding and training.
In March, I'll talk to newsrooms who have found interesting ways to keep staff around and hear how some newsrooms successfully onboard staff throughout the year without it being a drain on their limited resources.
April: Divesting in print
Not every college newsroom is ditching print completely, but many are scaling back production and looking for new ways to reach their audience digitally. Studies have shown that 18-22 year olds access news through social platforms on their phones, and college newsrooms have a unique advantage over professional newsrooms in relating to their primary audience.
Some newsrooms opt for replacing their print product with a digital product like a newsletter, push alerts, or e-edition (in addition to having a website). Others stick to the website as their main digital platform and use social media to disseminate information.
In April, I'll talk to newsrooms who have found innovative ways to reach their college-aged audience.
Next steps
I'm looking for student journalists, professional journalists, organizations and scholars who have an innovative approach to solving these challenges. I'm looking for people who think outside of the box and are willing to get creative with problem solving.
If that's you or someone you know, feel free to reach out to me via email at svlewis02@gmail.com or on Twitter @svlewis02.
Comments