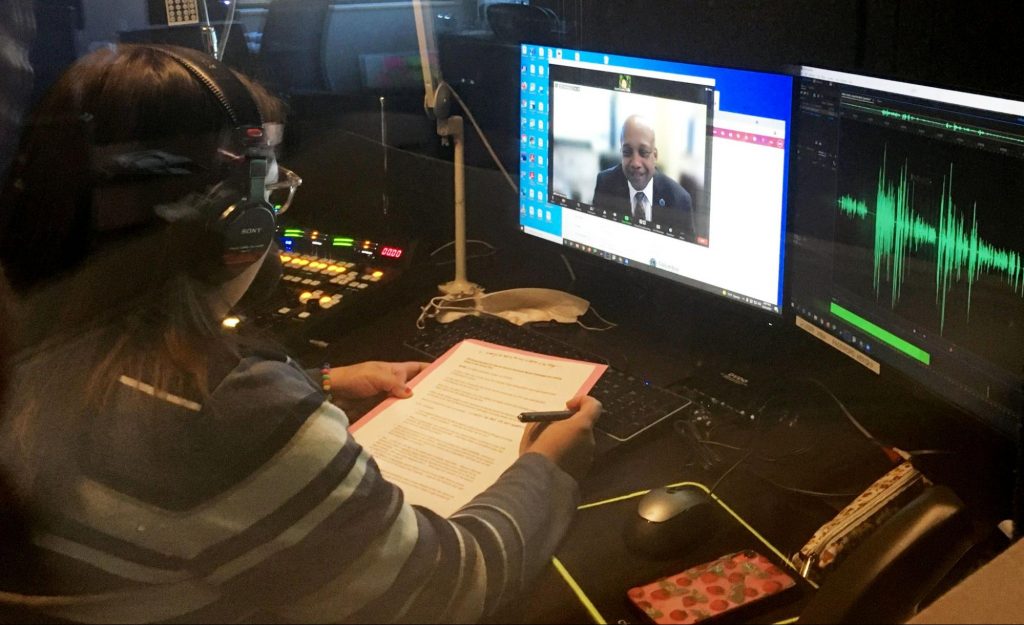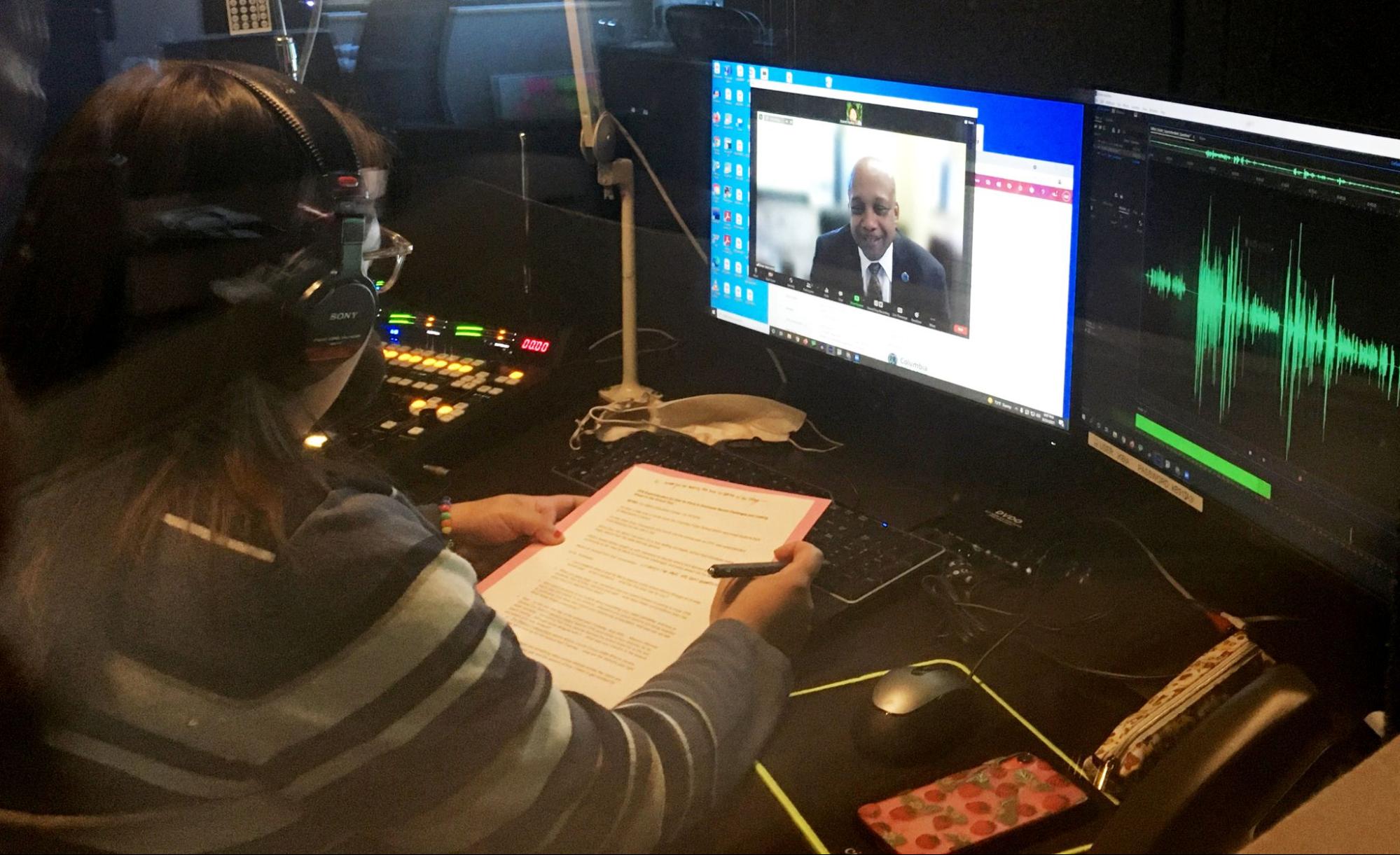 Troubleshooting in a newly converged newsroom
Takeaways from combining a radio, TV, newspaper and magazine staff into one space for collaboration
It has been three months since the Missouri School of Journalism reconfigured the space for the One Newsroom, a converged hub for five newsrooms: the Columbia Missourian, a daily community newspaper; KOMU, an NBC affiliate TV newsroom; KBIA, an NPR member station; Missouri Business Alert, an online business-focused news service; and Vox, a city magazine.
The five newsrooms have made steady progress toward collaborating on breaking and enterprise stories in our community in Columbia, Missouri. At the same time, they are steering away from the overlap that was inevitable when independent newsrooms dispatched separate reporting teams for the same stories.
Editors now meet each weekday morning to plan coverage, work together on stories, share each other's content, funnel most social posts through one desk and have impromptu conversations in the hallway that almost always lead to smarter journalism.
Yes, there have been bumps along the way. Most have been navigated successfully, although a few challenges remain to be resolved.
Here are the highlights from what we've learned so far:
1. A daily morning meeting during the work week brings ideas and plans to the table to share.
Nailing down a time when each newsroom would be ready to report was initially a concern: One newsroom works with early deadlines, another has late deadlines, one is a monthly, another has a daily digital product, and the radio station invests in long-term projects.
Spending 15 minutes at 10 a.m. seemed to be early enough to jump on stories, but also late enough so everyone was prepared. It was also short enough to keep from interrupting the workday. The meeting has been a successful way to organize content without overlap, as well as make sure all the reporting bases are covered.
At the end of the day, most needs were accommodated, and the newsrooms have the capability they need to produce their best journalism. Jeimmie Nevalga, the KOMU news director, called the morning meeting one of the most successful outcomes of the converged newsroom.
2. Nearly every newsroom has adopted the same content management system.
KOMU, Vox magazine and the Columbia Missourian all use the TownNews Blox content management system, a cloud-based interface that serves advertising and editorial needs for web and print.
Each newsroom system is separate, and it requires toggling back and forth to exchange content, but the effort is minimal. Using the same CMS allows fairly seamless content sharing across all platforms.
It also simplifies training. Students can move more seamlessly between newsrooms without having to learn a new system for posting web stories. Each newsroom has slightly different workflows and processes, but the basics are consistent.
An outlier is KBIA, which is networked into the NPR Grove content management system. That allows collaboration among all relevant public media, rather than relying on a patchwork of platforms.
According to KBIA News Director Ryan Famuliner, it would not make sense financially or strategically to adopt Blox as the station's content management system. It's easier to cut and paste while retaining different systems, especially since content sharing is not likely to be significant.
Missouri Business Alert is also not using Blox as its content management system right now but is in the midst of converting from WordPress to TownNews.
Missouri Business Alert Editor Michael Stacy is looking forward to the change: "We anticipate that it will help share our journalism more broadly."
3. Social media output is on track to be consolidated into one news desk.
The newsrooms work in one social media scheduling tool to share content to their various social platforms. The digital director can easily monitor and check social for the newsrooms from one dashboard.
The audience engagement team for the Missourian and digital producers for KOMU sit together in the newsroom space and compare notes on what is being shared and posted. The team is also posting for KBIA and will add Vox social media and digital responsibilities in the spring.
Even if students are working on different publications, using the same scheduling tool makes it easy to switch and help the other newsrooms, and also cross post collaborative content.
4. Reconfiguring space to accommodate the needs of all newsrooms is still a work in progress.
KBIA, the NPR affiliate, needs soundproof rooms for its daily reports. KOMU, the NBC affiliate, requires a TV production studio and sets to produce its newscasts.
The Columbia Missourian newspaper needs significant room for its 100+ reporters, editors and photographers. Vox magazine would like to retain a tighter desk configuration for maximum efficiency.
To date, the newsrooms have made significant steps toward converging while still having independent operations within the shared space:
KOMU (NBC-affiliate TV station)
The TV studio and station remain 10 miles from campus, but an office in the converged newsroom holds a rotating set of television managers and student digital producers during the week. They attend the collaborative meetings and are present each day for impromptu conferences. Plans to set up a camera in the newsroom later this fall will give KOMU the equipment to conduct live reports and interviews and share them with other outlets.
KBIA (NPR member station)
The radio station staff moved to the converged newsroom in August and is housed on two floors, with the business operation on one floor and the newsroom spread out on the floor above. It's not ideal, Famuliner said, but it's workable. Plans are in place to reconfigure the space again during the winter to bring more staff together.
Columbia Missourian (daily community newspaper)
The Missourian has ample space for its staff but couldn't give every editor an office in the main newsroom. It may seem like a luxury for a newsroom to have editors in private offices, but professors say it is important in an academic setting where working with students privately is often critical to their education. During the winter, adjustments will be made to carve out more offices in former classroom space that has not yet been allocated.
Vox (a city magazine)
The Vox staff operates out of its former offices close to the merged newsroom. Some of that space is shared with the KBIA, which allows more collaboration for longform stories.
"We're still figuring out how to best use our space," said Editorial Director Heather Isherwood. "It's a work in progress." She said being plugged into the One Newsroom culture and sharing space with KBIA has been a bonus. "But we're still ramping up, and it will take some time before it's all figured out."
Missouri Business Alert (a daily digital newsletter)
It was an adjustment to move from a more spacious center to a single office in the newsroom, but the payoff in collaboration has been worth it, Stacy said. The closeness has made conversations organic, he said, and has reduced the friction of collecting information from a series of news partners.
5. The newsrooms still need one standard method of communication.
Slack has been the internal communication tool inside the KOMU television newsroom at the Journalism School, as well as inside the Columbia Missourian newsroom, the KBIA public radio newsroom and Vox magazine.
Integrating the messaging app as a tool to communicate among the newsrooms has proved slow, so far. Users at KOMU, KBIA and the Missourian must toggle between each newsroom's slack channel app to send a message. We may create one for everyone to collaborate in.
Everyone could also switch to the Microsoft Teams app, which the University of Missouri supports, but almost everyone is comfortable with Slack and reluctant to learn a new tool.
Comments