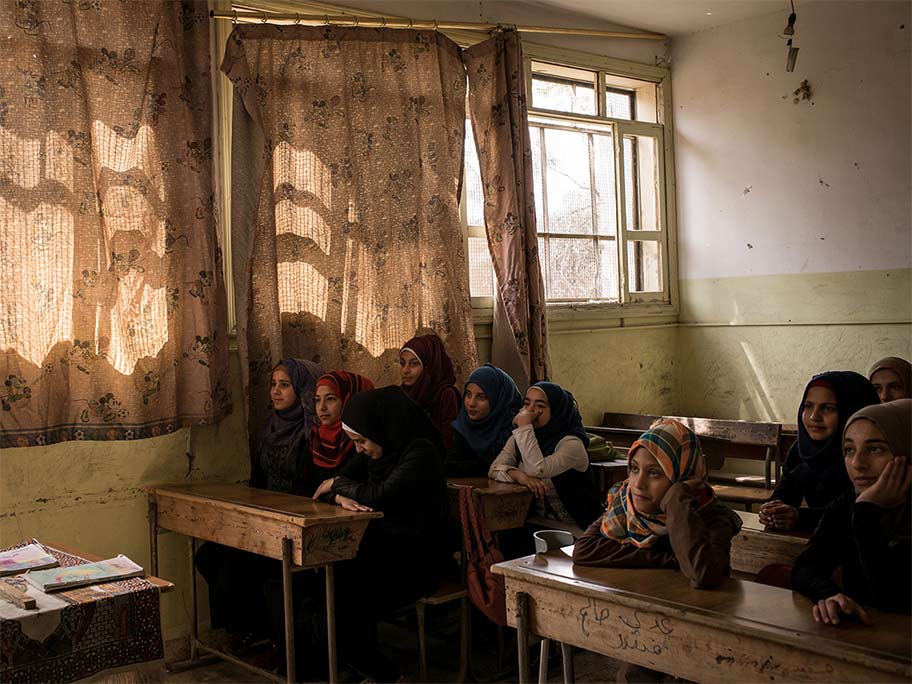 Pictures of the Year Asia launch provides view into everyday life throughout the continent
The Donald W. Reynolds Journalism Institute at the Missouri School of Journalism announces the launch of Pictures of the Year's new program POY Asia.
The new effort opens up more opportunities to visually reflect the nuances and experiences of everyday life of this region better than POY can do alone as a huge international photojournalism program and competition, which typically attracts about 40,000 images and stories coming in from nearly 100 countries, says Lynden Steele, co-director of POY Asia and director of POY.
They've learned this firsthand in launching the POY Latam program. Since former Missouri School of Journalism professor Loup Langton and photographer Pablo Corral Vega launched the program in 2011, it has grown to be the largest program of its kind in the region.
"One of the drawbacks of an international program like POY is that we miss some of the local stories and voices," says Steele. "POY Latam has shown the need and value of a more local competition. It is a program that is tailored to the cultures in Latin America and to the issues important to the region. While there is really strong work represented in POY by photographers working in Asia, it is simply not enough."
POY Asia is being organized and managed by photographers and editors living and working in Asia, says Steele. MU graduate Kay-Chin Tay of Singapore will serve as the program's co-director. Prashant Panjiar of India and Tanya Habjouqa of Jordan will serve as founding advisers. MU grads Daniel Mung of India will work as a chief coordinator and Zhihan Huang of China will be a coordinator.
It is Kay-Chin Tay's goal that POY Asia will be more than a competition, it will become a reliable place to learn about and research the representation of Asians in photojournalism, he says.
In its inaugural year, the POY Asia contest will include stories from COVID-19 that will convey visually how people are living day to day in the age of COVID. This effort is shared between all the POY programs to preserve these stories and memories of how we are collectively living through this historic time.
POY Asia will be accepted entries Feb. 15 to March 15. POY's call for entries is Dec. 14 through Jan. 18 and POY Latam is accepting entries now through Jan. 2. All POY programs entry sites can be found at https://app.picter.com/contests.
POY Asia is free and open to anyone who has been living on the continent for at least three years and wants to enter photos. Those who enter photos in POY Asia are also invited to enter their photos into POY as well. There is a onetime $50 submission fee to enter POY.
"I believe the photographers in Asia have a lot to learn in terms of how they make their work known outside of our region and participating in POY Asia competitions can lead to them entering POY, which will naturally expand their reach to a more global audience," says Kay-Chin Tay, who was also a 2020 POY judge. To learn more about POY Asia and the upcoming competition, visit POYAsia.org.
About POY
Pictures of the Year International is the oldest and the most prestigious photojournalism program and competition in the world. Each year, POY recognizes excellence in photojournalism, multimedia, and visual editing. There are four programs in the POY family: College Photographer of the Year, CPOY, POY Latin America, POY Asia and POY. All of the POY efforts are committed to engaging citizens worldwide with great documentary photography by sponsoring educational public programs.
POY believes that photojournalism helps us interpret the news and issues that face our world with insight and empathy. It connects all of us in a uniquely powerful way that simply not possible in any other medium. When photojournalists enter Pictures of the Year, their work reflects life worldwide and becomes part of our shared visual history. As set forth by POY founder Cliff Edom, our guiding principal remains, "Show truth with a camera."
For specific information on the POY programs, please visit them directly:
Comments