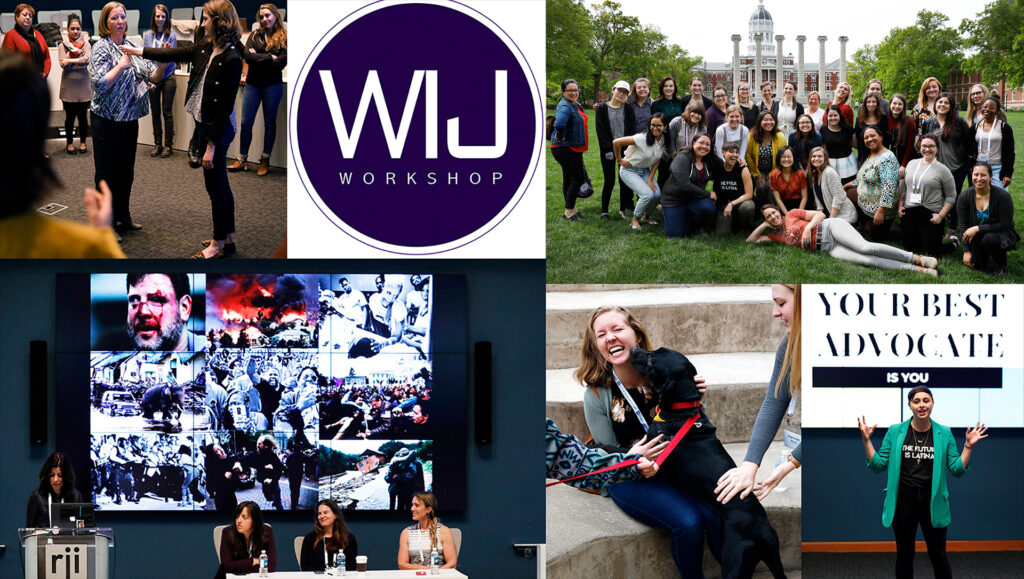 Women in Journalism Workshop
The Women in Journalism Workshop is an annual workshop that focuses on challenges, accomplishments and issues specific to women in the journalism industry today. We want to help build safer, more diverse and innovative newsrooms to serve our communities worldwide. You will learn how to innovate the way you cover stories, the management of newsrooms and teams and be trained in emerging skills and tools.
Upcoming workshops
Questions
Contact Director of Innovation & Founder of WIJ Workshop Kat Duncan at duncank@rjionline.org.
Past workshops
Testimonials from past participants:
"The field of journalism is rapidly becoming a more diverse landscape. WIJ is a premiere workshop that speaks to the growing demands of journalists to have a more healthy and balanced approach to their work. As a professor in the school of journalism, an award-winning photojournalist who covers conflict extensively and one of the presenters whose identity intersects at being Black and woman, discussing safety through a culturally competent and trauma-informed lens moves the field forward. For too long, the safety of those on the frontlines bringing us stories that help shape our understanding of the world has been an afterthought. Kathleen Duncan and her team's intentional and profound work of bringing women journalists from all walks of life and at various stages in our careers together to grapple how to take ownership of our safety and ourselves through practical skills and advocacy ensures that the next generation of journalists can continue to participate in this significant part of upholding our democracy." – Vanessa Charlot
"As a session leader the past four years, I've learned so much about journalism leadership and how to bring my authentic self and skills alongside women in journalism who do completely different things. It's a rare community that allows all of us to be smart journalists who learn from each other and is invaluable to keep going in a difficult, male-dominated industry. It's one of my favorite conferences of the year." – Elite Truong, VP Product, American Press Institute
As an attendee, planner and participant in many an educational journalism gathering over my 20-year career in news media, I can say with confidence that the RJI Women in Journalism workshop was one of the most empowering, informative and engaging spaces I've attended. It was incredibly diverse in both participants and speakers, intersectional in its approach to journalism practices/tools/skills and holistic in its planning of what topics might work well together over a 3-day experience. It is rare indeed to be a woman journalist and find a space to learn new aspects of our craft while meeting new people from all over the world and to be encouraged to stretch the limits of our comfort zones and our knowledge while being completely supported in doing so. We need more spaces like WIJ to create a better news media and to show the news industry what is possible when you uplift all people in doing this important work of journalism. – Tara Pixley
"WIJ is different. It is a curated and thoughtful experience that gives attendees and presenters an opportunity to take a breath. We still tackle difficult topics like how to bring your full-self and embrace your identity at work, or arming ourselves against very real physical and digital threats. But WIJ also gives us space to connect with each other and unwind through art, physical activity and, yes, puppies. The Online News Association was so inspired by the puppies at WIJ that they added a social event that included adoptable dogs at their 2022 convention in Los Angeles.
WIJ is much more affordable for many more women and non-binary journalists than traveling to an expensive conference like ONA. The small intimate space means that students and professionals can connect. As a local journalist working in Missouri, it is vital to me that I am able to come and connect with the other journalists at WIJ. I've formed lasting professional and mentorship relationships with other local journalists and students who I hope to recruit to my news organization in the future — something that would not be possible if Mizzou was not facilitating such a wonderful and joy-filled workshop." – Hannah Wise, Audience Director McClatchy