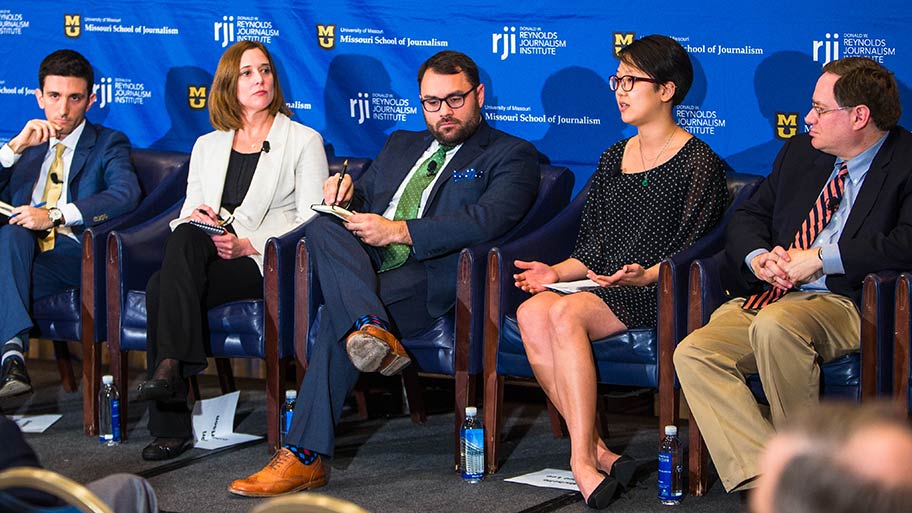 Fact-checkers believe appetite for accuracy will grow despite a lack of trust in news
WASHINGTON — Journalists for the three leading fact-checking organizations say their role is to examine the claims of politicians and present the facts, not persuade the public of certain conclusions.
The fact-checkers spoke Thursday at the 2017 Hurley Symposium titled "Fact-Checking, Fake News and the Future of Political Reporting," hosted by the National Press Club.
"We may change some people's minds, but I don't think that's necessarily our job," said Lori Robertson, managing editor of FactCheck.org. "I think our job is to help people see through spin and separate fact from fiction. And then what readers do with that information … is completely up to them."
According to the American Press Institute, readers are flocking to the websites of fact-checking organizations and broke viewership records during the presidential debates and 2016 election.
Moderator Aaron Sharockman, executive director of PolitiFact and a 2016-2017 fellow at the Donald W. Reynolds Journalism Institute, asked the panel if they felt a degree of responsibility for the election of a presidential candidate known for spreading misinformation.
Washington Post Fact Checker Reporter Michelle Ye Hee Lee said she "accepts" there's a portion of people who will not read fact-checks and want to believe everything a politician says.
"I think where we succeed is reaching people who are open to seeing other points of view … the full set of facts," she said. "Those are the kind of people we can reach and should try to reach more."
A September 2016 survey conducted by Rasmussen Reports found that 29 percent of "likely U.S. voters" trust media fact-checking of what candidates say.
Alexios Mantzarlis, director of the International Fact-Checking Network at The Poynter Institute, attributed some of this distrust to "ridiculous" fact-checks that are nitpicky.
He pointed to examples like an NBC News tweet that Democratic nominee Hillary Clinton did not literally use bleach to clean her email server. Or, Politico's announcement that President Donald Trump did not have a "personal Mount Rushmore."
"That kind of 'gotcha' fact-checking that doesn't use methodology undervalues the work by others on other occasions," Mantzarlis said.
Members of the panel maintained that despite repeated claims from the White House that journalists aren't trustworthy, reporters need to stay above the fray.
Mantzarlis said President Trump "has a much better sense of audience than anyone in the media business," and reminded the media professionals of the risks of being dragged into a pit by "someone with an enormous microphone."
He said the media should not think of themselves as adversaries of the president because it will raise distrust among Trump's supporters.
Lee said this objectivity needs to extend to accusations of bias. It's important that fact-checks remain "agnostic" and that scrutiny is not just concentrated on Trump, she said. She asked readers to look at the full body of her work before deciding if she's biased.
"[We] hold the powerful accountable and the people in power right now are Republicans," Lee said.
"Half of what we fact-check is driven by readers' suggestions and what they want to know. And right now what they really want to know is what Trump is saying."
The panelists also talked about the challenges they're facing in fact-checking in the new administration.
"The sheer volume is probably the most difficult thing for us," Robertson said. "I think we're still working things through [about] what decisions we should make and what things we're picking to fact-check."
She said the fact-checkers have experienced difficulties getting responses from the current presidential administration but channels of communications have improved with time.
"Not only do we want to know what the claims are based on, you know, so do our audiences," she said.
Lee reminded her colleagues that the logic used in fact-checking could easily fail to convince people when they're swamped by their own feelings.
She said the media should "acknowledge the emotions the readers and audiences might be feeling" could make it hard to believe facts.
Louis Jacobson, senior correspondent for PolitiFact, said the most complaints they get about their coverage is on the ratings. They range from "Pants on Fire" to "True." He said it happens because many readers only see the ratings rather than reading the full explanation in their stories.
Sharockman said fact-checkers are a "collegial group" and often come to the same conclusions.
"I don't think there's ever been a case where we've said something's true and they said it's false," Sharockman said. "We often come to the same conclusions."
Lee encouraged readers to be their own fact-checkers.
"As long as people are skeptical consumers of news and know fact-check journalism, they can exercise their right to know and learn more," she said.
Comments