A sensitivity editor takes on my tweets
What it looks like when a small newsroom tries a little harder
Not long ago, I began writing social media copy for a story that had just aired on Science Friday, the type of task familiar to digital and audience engagement roles the world over. I had in hand a fully recorded interview and transcript of a two-way discussion about the "Standards of Care," a set of guidelines written by the World Professional Association for Transgender Health or WPATH that health professionals are encouraged to consult when providing gender affirming care. It was April 2023, and 16 states had made moves to restrict or ban access to gender affirming care for trans kids and teens. The interview was planned as a two-way conversation between a gender studies scholar who had authored multiple books on queer identity and the trans experience, and a guest host who had an established reputation for producing gender-inclusive science coverage.
From an audience perspective, I had many reasons to believe that we were moving into this discussion with intention. The producer and host had hired a sensitivity consultant to manage and minimize harm. On the first meeting with the editorial team, the guest host had led an impromptu and open editorial conversation about the nuances of coverage of the trans community and the ways that science is frequently weaponized against members of that community. Our editorial team had produced multiple trans health segments in years prior, and had a strong working relationship with both the consultant and host.
I watched the work of my colleagues closely in Slack and editorial meetings as it unfolded over two weeks. During story development, the consultant provided suggestions for possible guests with expertise on the history behind WPATH, recommended sources to consider and some examples of exemplary coverage, and confirmed the "no-go" boundaries of expressions, narratives, and framings that do active harm to trans communities and individuals.
By the time our guest was booked, the script had been refined and rewritten. By the day the segment aired, the hed, dek, and web copy supporting the audio had also been through a gauntlet of revisions, our style guide was updated for what felt like the millionth time, and a featured image was selected by a digital producer with sign offs from all involved. For all these reasons, I felt confident that I was going into social media copywriting mode in good shape, borrowing heavily from the framing of multiple polished editorial artifacts. But as our consultant would say… "Whoops."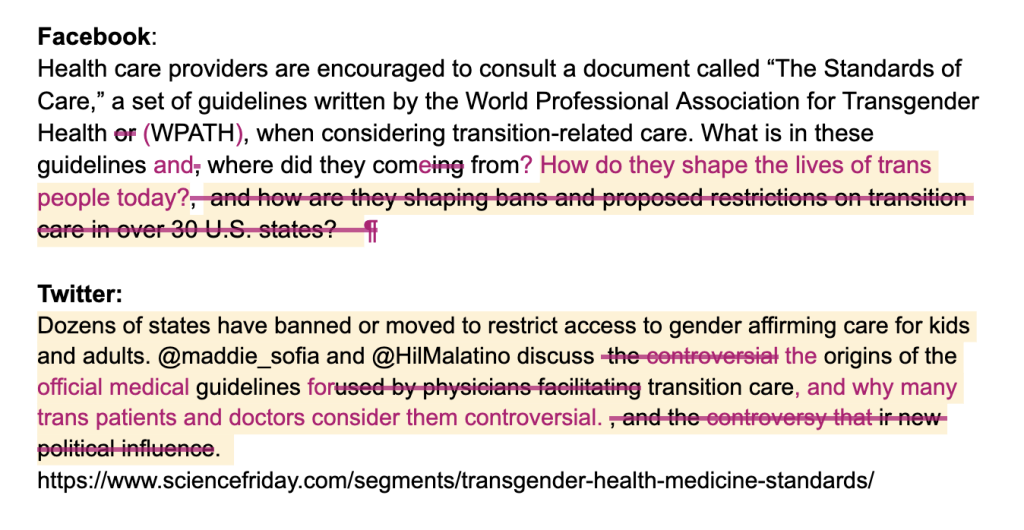 In the spirit of desperately not wanting to mess up a good thing, I wrote my copy early and carefully, checking in with the discussion and scripted language, our style guide, and the producer. Still, I asked that the social copy be included in the consultant's scope of work for a quick once-over before scheduling socials for the week. The feedback was swift and exact. A comprehensive series of comments and revisions were quickly delivered, arriving in the shared document within hours.
"Rewrote this whoops, was trying to solve for a similar problem re: not positioning the guidelines as if they themselves have political power." wrote our consultant, "My thesis here is that the people who are restricting trans medicine are NOT interested in medicine, so the guidelines are to the side of their actual actions."
In just one of several "whoopsies", I had reinforced a destructive narrative inadvertently, suggesting that the people crafting anti-trans legislation had consulted, or were in any way moved by, the World Professional Association for Transgender Health and their "Standards of Care." There were more edits, and it was clear that my whoopsies were (as they literally always are) shaped by my identity and biases as a white cis hetero woman, and my consumption of other media narratives and social influences. My careful work under the safety blanket of a team of gender- and sexuality-representative colleagues (who frankly are better at this than I am) was absolutely helpful. However, trying hard in a diverse newsroom wasn't enough. Ultimately I needed to ask for help.
Before you throw up your hands about how freaking hard this all sounds (A different host? A team of committed and inclusive journalists? A consultant?! BACK AND FORTHING?!) you should know that we don't do all this for every topic, or even in every week or month of our journalism. We're a small nonprofit, like so many newsrooms are, and so we make choices about when and where to level up. The work described above happened because this is a topic that as an organization we care deeply about getting right. Trans health coverage had become, and remains, especially critical in the face of a wave of anti-trans legislation. This 12-minute audio segment was something we felt we needed to make, and we had to get it right.
The other thing you should know is that it wasn't that hard. The effort mostly took extra communication, and a little resourcefulness for finding and compensating help from a qualified consultant and an attentive host. It took some money, but it wasn't that much harder. It's the type of effort that we can make again and again, and have.
Yes, there are newsrooms committed to doing these types of stories more frequently, with even greater effort, with dedicated missions to serve queer communities, and journalists who are gender scholars in their own right. The number of both new and very very well-established outlets dedicated to LGBTQ coverage is only growing. But the existence of these 100% expert-staffed and representative newsrooms does not displace the importance of addressing these topics in a science (or any other small) newsroom.
We should cover stories at the intersection of science and marginalization, and we should ask for help when we do. Asking for help, whether from a slackbot or a scholar, or through a multi-year grant-funded newsroom collaborative, is better than relegating inclusive coverage to other newsrooms or dedicated verticals, putting it all on a single staffer who co-identifies with your sources, or waiting until your next budget cycle to improve.
So go get those freelancers. If you're good at this work with by-lines and scholarship to support it, pitch yourself to journalists. Spy on the work of other newsrooms who are doing great and inclusive reporting, and pay them to train or partner with your newsroom.
Comments