Grant funding helps journalist tell stories about adverse childhood experiences and grow niche news
ACEs Connection Network is offshoot of Jane Stevens' 2008-2009 RJI Fellowship
One way to prevent childhood trauma and the adult social and health problems that often follow is to raise awareness. This mindset led health journalist Jane Stevens to create her own niche health news network. Story ideas began piling up faster than she could keep up with.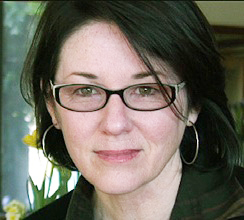 The Robert Wood Johnson Foundation saw the need for Stevens' work and decided to support her efforts with a $384,000 grant. As founder of the ACEs Connection Network, Stevens writes about the prevalence of childhood trauma – adverse childhood experiences (ACEs) – and its effect on the social, physical and mental health of people. Her network consists of two websites:
ACEsConnection.com is a community of practice social network that "links people – online and face-to-face – who are implementing trauma-informed and resilience-building practices based on adverse childhood experiences research," says Stevens.
(According to Stevens, a community of practice social network is one where "people work together to set and implement goals. It often is the go-to place for the latest information in a particular field, and offers resources and background information on practices that network members are implementing. A community of practice is different from a traditional social network where people only share information and have discussions.")
Stevens believes the network is a "fast and efficient way to inform and engage thousands of people across the U.S. in efforts to prevent childhood trauma and to change education, medical, criminal justice and social service systems to stop traumatizing already traumatized people."
ACEsTooHigh.com provides news stories to inform the general public about the research around adverse childhood experiences and the solution-oriented practices being used by organizations, agencies and communities, says Stevens.
Stevens quickly learned she couldn't keep up with the flood of story ideas in her in-box or the large number of people flocking to her network. After 18 months, more than 1,000 people had joined the network, despite a lack of promotion.
But thanks to the grant, Stevens will tell more stories and have help doing so, and she'll be able to grow her network from its current 2,000 members to 8,000 members. She's already hired two community managers/journalists, a graphic designer, an information specialist, a network marketing strategist and an intern.
The ACEs Connection Network is an offshoot of work Stevens did as a 2008-2009 Reynolds Fellow when she developed a prototype social journalism health news site called Health Commons. Stevens created the site with a desire to create a low- or no-cost content management system. After the fellowship, the Lawrence Journal-World in Lawrence, Kansas, asked Stevens to join the organization to oversee the company's 15 websites and develop a health news site based on HealthCommons. The result was WellCommons.com, the first local social journalism health site.
The ACE Study
Stevens' present work is inspired by the ACE Study, which is tracking the medical status of 17,000 participants who completed a confidential survey in the 1990s that included questions about childhood maltreatment and family dysfunction. The study shows that severe trauma in childhood greatly increases the risk of adult onset of chronic disease, including heart disease, cancer, diabetes and depression. Subsequent research shows that trauma affects children's ability to learn in school.
The study is a collaboration between the Centers for Disease Control and Prevention and Kaiser Permanente San Diego.
Further plans for development
With the additional funding, Stevens also plans to upgrade the ACEs Connections interactive map, which identifies members and relevant organizations and committees based on geographic location.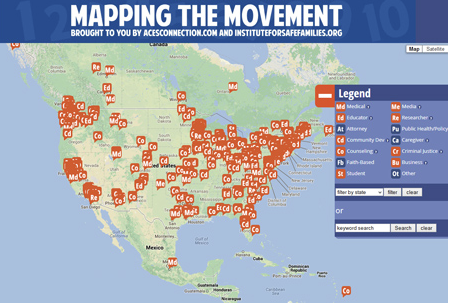 Due to lack of funding, Stevens wasn't able to keep the map updated with new content. The map is "an easy way" to search for people in a particular profession or geographic area, says Stevens. "The map definitely increases the usefulness of the network in helping people find each other."
Successes so far
In 2012, Stevens wrote an article about an alternative school in Walla Walla, Washington that implemented a trauma-informed school discipline policy. The new approach resulted in an 85 percent drop in suspensions. The article hit a nerve with readers and went viral, receiving more than 692,000 page views.
The school's principal realized there were underlying issues to many of the students' behavioral problems. He discovered that talking to the students and asking them about what was going on in their lives was more effective than immediately suspending them.
The story of Lincoln High School is now being made into a documentary film by James Redford, son of Robert Redford, and will be released this fall.
Just one of many connections
Two years ago mental health professional Steve Stone, an ACEs Connection member in Ohio, contacted Stevens in search of training resources centered on the ACE Study. She referred him to the Academy on Violence and Abuse (AVA), which had produced a high-quality DVD containing extensive interviews with principal investigators and others involved with the ACE Study. Stone attended AVA's annual meeting and developed working relationships with several AVA leaders.
He created the Northeast Ohio ACEs group within ACEs Connection and recruited people to join. Last fall Stone dropped Northeast from the name.
"We're using ACEs Connection to bring people from our state together who have a common interest in this and begin building a learning community and a network of people," he says.
Stone made several connections in April when he and AVA leaders presented the first Regional Academy of the Academy on Violence and Abuse event in Ashland, Ohio. He promoted Ohio ACEs at the conference to help usher the group "to the next phase of evolution of our network." About 600 people attended the regional AVA Academy conferences in Akron and Ashland, Ohio.
"It was a really good way to bring national leaders, content experts and local community leaders and advocates together at the same time on the same day and really provide a forum for some excellent discussion," says Stone. The event has inspired Stone to speak with AVA leaders and others about having similar events in other parts of Ohio, as well as other parts of the country.
Comments