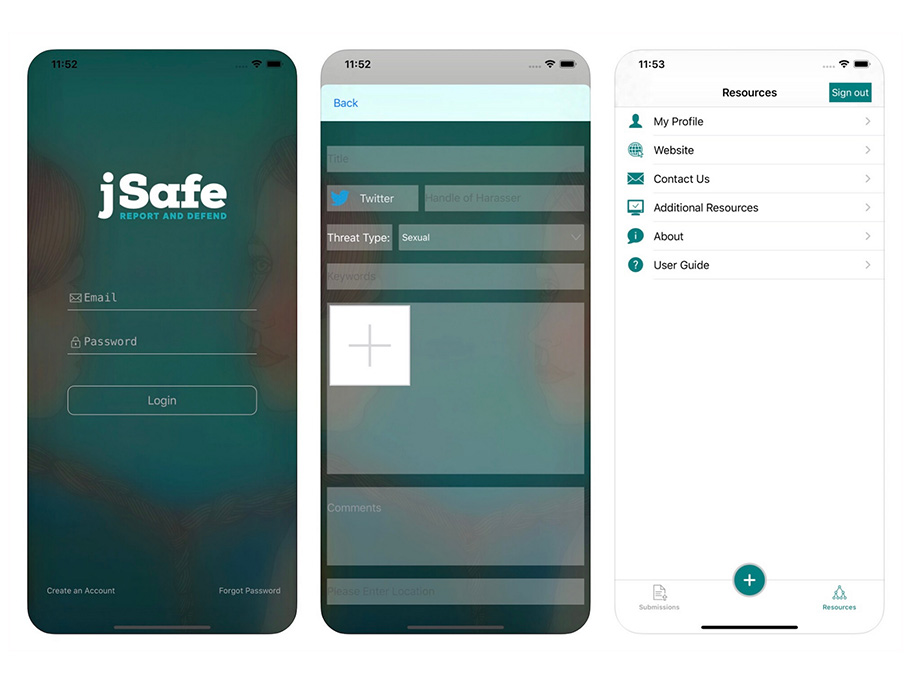 Newly launched app empowers journalists to fight against harassment and assault
A new app, JSafe, built to help female journalists fight against harassment, bullying and assault, launched today in the Apple Store and Google Play Store.
The Donald W. Reynolds Journalism Institute launched the app to help journalists fight against threats against them and find the resources they need when they find themselves in threatening situations.
Once inside the app, users can document incidents by uploading the attacker's email or social media handles. The app also allows users to store any photo or video evidence they might have and indicate the level of threat they are experiencing.
The journalists can also request a follow up for resources from the Coalition For Women In Journalism whether it's to seek out a lawyer, therapist or other assistance, says Kat Duncan, interim director of innovation at the Donald W. Reynolds Journalism Institute.
The Coalition for Women in Journalism, which works with women reporters and has tried various techniques to support reporters when they face harassment, will manage the app, says Kiran Nazish, founding director.
Duncan says she came up with the idea for the app after a long discussion with other female journalists about the abuse and harassment they often face online and in the field.
"As technology advances, so do the opportunities and methods of harassing female journalists," says Duncan. "Female journalists overwhelmingly face more harassment and assault than male journalists online and in the field. I wanted to help journalists combat this and get them the resources they need to help them be safe and taken care of when these incidents happen."
She recruited the help of the University of Missouri College of Engineering to develop the app and the Coalition to manage the app after it is launched. She also recruited the help of about 90 journalists who beta tested the app.
RJI is always looking for new partnership projects that could benefit journalists. Feel free to contact Duncan if you have a project idea.
Comments