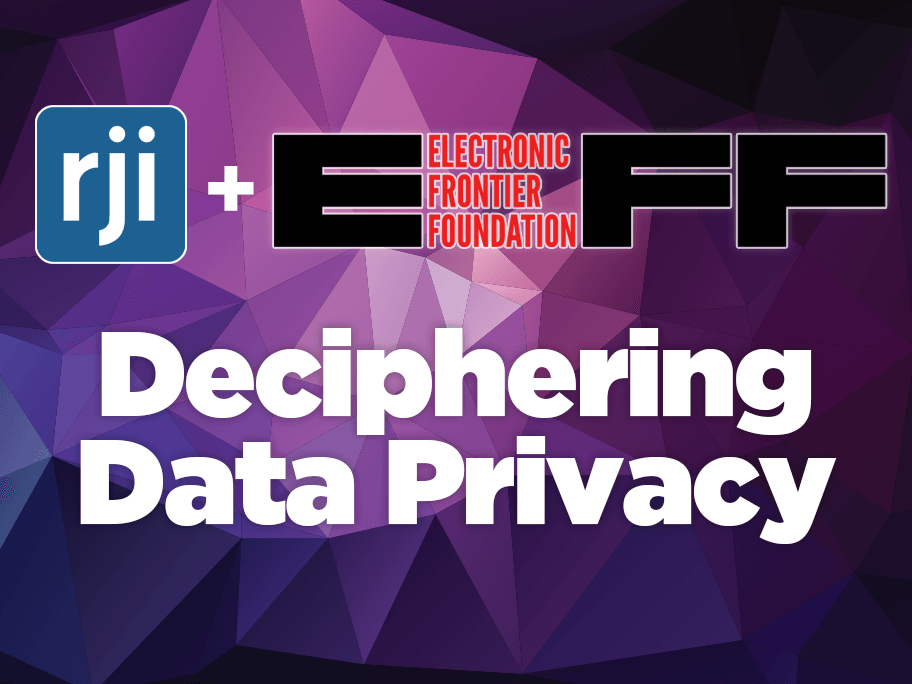 RJI, Electronic Frontier Foundation to help journalists 'decipher' data privacy for consumers
The issue of data privacy became an even more urgent issue to understand and talk about when people's school, work and social lives turned to the internet even more during the pandemic. Unfortunately, it can be complex for journalists and consumers to understand and fully understand the impact when data is collected or shared.
To help, the Donald W. Reynolds Journalism Institute is collaborating with Electronic Frontier Foundation, a 30 year old nonprofit that defends digital privacy, free speech and innovation, to help provide journalists with the tools and resources they need to educate the public in a way they'll understand. The two organizations plan to host a virtual event "Deciphering Data Privacy," beginning at 11 a.m. CT on Wednesday, Nov. 18 via Zoom.
Covering data privacy is crucial because it helps consumers not only understand tech giants such as Facebook and Google, but also retail, business, finance, health, criminal justice and politics, says Hayley Tsukayama, a legislative activist with Electronic Frontier Foundation.
"Data is the fuel for many companies and understanding how that information is collected and passed around — and who feels the benefits and harms of that system – is absolutely necessary to understanding how these sectors operate," she says.
As a previous tech reporter from The Washington Post, Tsukayama says she understands the struggles journalists can face covering these complex issues. She had to learn as she went, she says.
"I think it's difficult both to wrap your own head around how data flows and which privacy protections are true and which are just lip service," she says. "That, in turn, makes it even more difficult to explain to readers, listeners or viewers."
During the event, attendees will hear from speakers from EFF, RJI, Discernible and The New York Times on subjects including "Understanding how companies talk about data privacy" and "Understanding how companies engineer data privacy."
The goal is to provide journalists with practical takeaways to help them "decipher" this critical issue that matters to people, but is often hard to understand, says James Gordon, RJI senior editor.
"If they understand the issue better, they could cover the issue with more insight in ways that would help the public grapple with the issue better and hopefully lead us to some substantive changes in the systems that surround this like the regulatory systems," says Gordon. "We want to make the issue more real to people in a way that helps them. But first we need to make the issue more real for journalists."
Comments