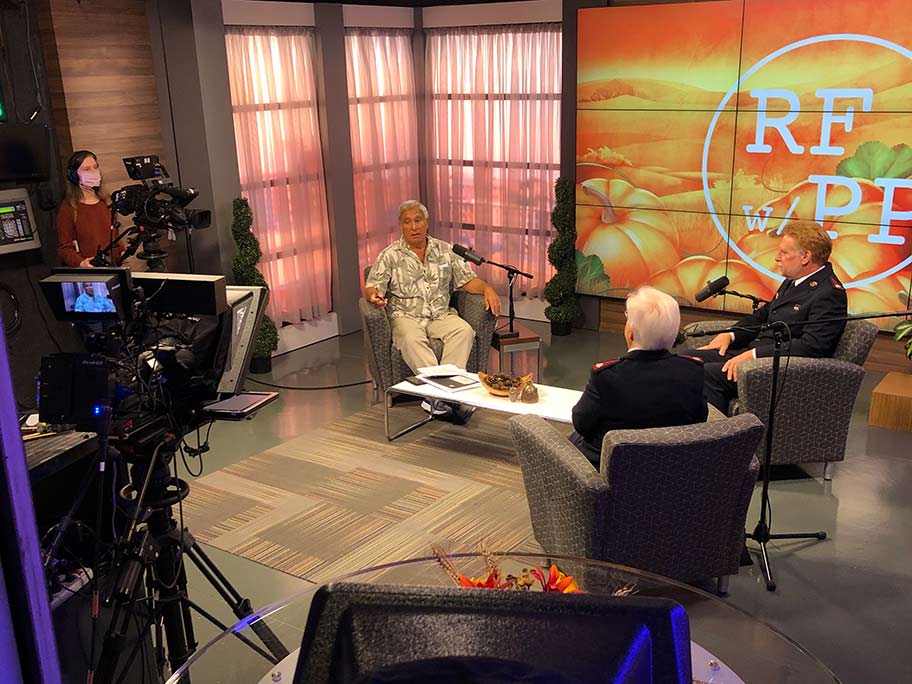 Production studio at RJI receives facelift
The production studio at the Donald W. Reynolds Journalism Institute at the Missouri School of Journalism has received a facelift. Thanks to the upgrades, staff will now be able to deliver a product more in line with what audiences are accustomed to seeing online and on television in the 21st century, says Travis McMillen, senior media producer.
Staff and administration reimagined the space from scratch and moved everything out of the studio to "be ready for anything," particularly now in a COVID-19 world.
"Gone are the days of needing expensive trucks to carry a microwave or satellite dish in order to do a remote interview, and these days it's more than just the interview subject joining virtually, it's the audience as well. So why not take advantage of that and create a hybrid world where you can host in-person but also long-distance, and actually put them on set."
The new set, designed and fabricated by Philadelphia-based Erector Sets, takes up all but 10 percent of the studio's available wall space and includes a large video wall on the west wall and a 65" inch TV on the north wall. Previously, half of the studio was a green screen and the other half was a three-sided custom-built set.
Over the years, McMillen says he found that he couldn't accommodate larger groups of people because he routinely ran out of set space. He could only shoot so many angles before the green screen would make an unwanted appearance, he says. Now he's able to shoot almost 360 degrees. He also previously ran into limitations when it came to finding new looks and feels for each show produced.
The two screens can be used together or independently to project different graphics, backgrounds, demonstrations, talking heads or whatever else is needed for a project, he says.
The new dynamic set will allow staff to do more:
With a variety of backgrounds,
With directing or staging options,
By permitting more people on stage at a time.
"The new set is just a fresh palette to work with," says McMillen. "It provides a renewed energy. The video wall is the next best thing — perhaps even better — to a full-on virtual set. You get the best of both worlds — a physical set and large screen for video information. Or one or the other by themselves. For me, the best part of working in a studio is creating that illusion of space, of what's real. We have this window now that looks out onto downtown Columbia. It's, of course, fake, and it'll be very cool to use for the right project."
The studio has been used for multiple video projects including RJI Fellowship announcements, "Futures Lab," video updates, interviews with industry leaders and "Post," which is a media review program from InvestigateTV, Gray Television's streaming channel dedicated to in-depth and watchdog reporting and KBIA-FM programs such as "Views of the News" and "Radio Friends with Paul Pepper." The studio has also served as the backdrop for a number of interviews on national news outlets such as C-SPAN and MSNBC.
The studio upgrades received funds from RJI and the Missouri School of Journalism.
Comments