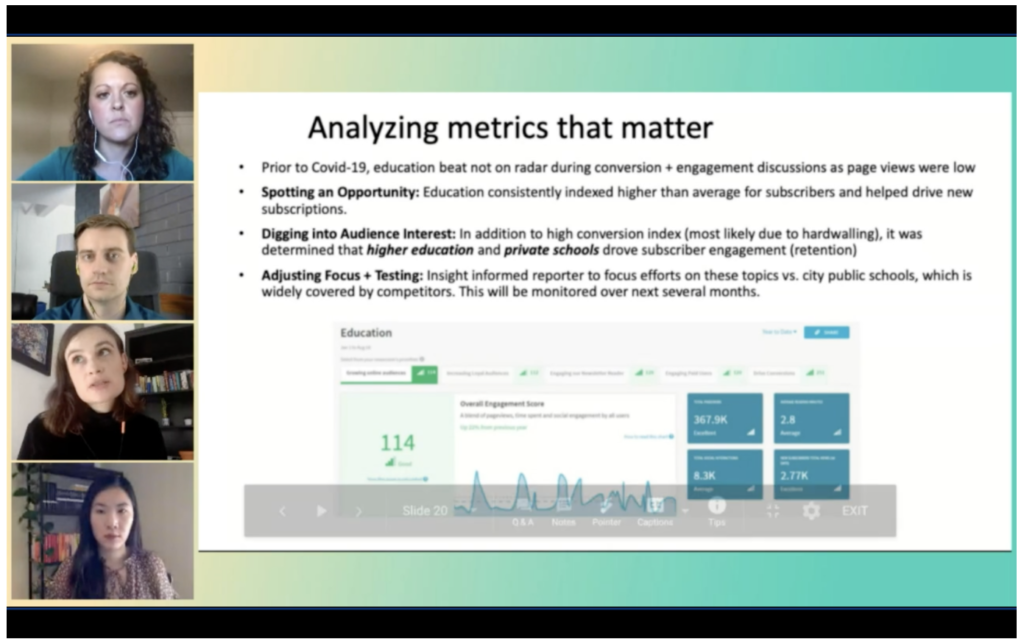 Managing metrics that matter for subscriptions
Managing metrics that matter
Mike Denison, audience engagement editor at Science News, sees analytics and metrics as a tool to "cut through the noise and look beyond page views." This year at ONA20, learning about the importance of analytics and metrics has shown to be of growing interest for the industry at a time when newsrooms are looking to deepen connections with their audience and expand revenue possibilities.
Using data to gain insight on what resonates with your intended audience
Taking the time to communicate with editors and reporters in your newsroom about metrics on what they're covering is extremely beneficial, according to Adrienne Shih, audience engagement editor at the Los Angeles Times. Not only does the editorial side learn more about the newsroom's audience, but they're also deepening their understanding of what their audience wants. By using data as an audience listening tool, you have the ability to create strategies on how best to allocate resources or what topics to pursue that readers have historically shown high interest. Denison noted that this approach helps free "reporters from high-volume, low-reward stories" and onto a project or product that you know will do much better.
Collaboration of ideas between all of the newsroom
At the LA Times, Shih uses a working document to organize anything and everything related to a project, product, story and investigation to build engagement plans. Within the document, Shih recommends including: names of everyone involved and their respective roles/duties, lots of links, headline brainstorms and SEO-optimized headlines.
Having everything in one place makes it easy to gain insights on the internal storytelling process and any engagement experiments that are attempted. Another benefit is that the collaboration process is documented and relatively public for everyone in the newsroom. The engagement plan can be used to recruit more editors and reporters who are skeptical and show them what they're missing and how the collaboration works.
Page views don't tell the whole story
It's easy to think that high page views are the tell-all metric indicating interested readers, but Sarah Zimmerman, Deputy Digital and Audience Engagement editor at Crain's Chicago Business warns against that mindset. Through a case study of Crian's performance with paid readers vs. unpaid readers, Zimmerman found a difference in the types of content each group prefers. In this case, paying attention to page views provided insight on the types of articles paid readers engaged with the most. However, since subscribers make up only 5% of Crain's traffic, it would have been easy to view those stories as underperforming rather than seeing the value in engaging paid readers and driving new subscriptions.
Advice for newsrooms new to analytics and metrics
Mike Denison: "When talking about analytics with the rest of the newsroom, point to action items that are not numbers based. This changes how we write headlines."
Adrienne Shih: There's no exact formula to a successful, highly engaged story. Tracking metrics now, means access to internal insights and historical behavior by the audience. "In the spirit of experimentation, not everything will pay off but that doesn't mean you shouldn't still try."
Sarah Zimmerman: "Don't focus so much on numbers. Analytics should be used to see trends, long-term decision making and behaviors of the audience. Focusing on one number for one story at one time in one place is not super helpful."
Tatyana Monnay is a junior at the University of Missouri. She is reporting on sessions at ONA20 for the Innovation Lab at the Reynolds Journalism Institute.
Comments