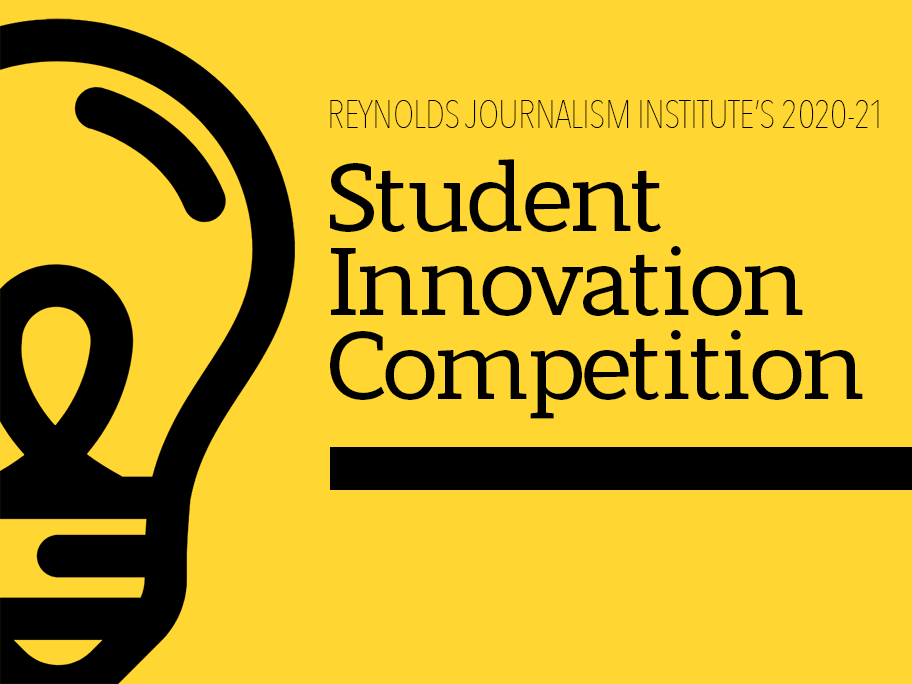 RJI announces finalists for annual student innovation competition
Ten student journalism finalist teams from colleges across the country will be partnering with local newsrooms as part of the Donald W. Reynolds Journalism Institute's 2021 Student Innovation Competition.
During the 14th annual competition, teams will work with their selected newsrooms on new ideas to engage and connect with audiences. Competition organizers are wanting to help newsrooms reconnect with audiences, particularly now during a season of isolation, says Kat Duncan, interim director of innovation, who organizes the competition. Teams have the opportunity to win up to $10,000 during the final project judging, which will take place in February after they implement their ideas at the organizations.
At least 50 students submitted ideas to the competition, says Duncan.
"This year we had more teams enter our competition than ever before," she says. "I loved reading the variety of ideas entered by student teams to help their local newsrooms connect with their communities. And they weren't all digital. We have a lot of fun engagement ideas that are going to be implemented for these newsrooms to interact with their communities in creative and collaborative ways in person. I am very excited to see the outcome of all of our finalists' projects."
Here are this year's finalist teams:
Clark Kents: Alexander Johnson, Kate Klonowski and Amanda Shaha of Kent State University
College Park Here and Now: Lauren Rosh of the University of Maryland
COMM Cardinals: Tim Cohrs of Lamar University
Fantastic Two: LaRissa Lawrie and Indah Setiawait of the Missouri School of Journalism
Mag Class Heroes: Ashley Blanco, Madeline Johnson and Hannah Martin of Syracuse University
NYU Epicenter: Alex John Beck, Ralph Thomassaint, Xavier Bartaburu and Lavanya Aleena Ghani of New York University
Remains to be Zine: Caitlyn Hernandez, Astrid Kayembe, Laura Gonzalez and Melody Waintal of the University of Southern California
Scripps: Delaney Murray, Theo Peck-Suzuki and Bharbi Hazarika of Ohio University
Team A: In the loop with NWPB — Alana Lackner, Albert James, Heather Stribling and Cheryl Aarnio of Washington State University
The People's Podcast: Sarah Andersen, Waqas Ahmed and Lee Carter of NYU
"I'm excited to see what the students bring to the table," says judge Hannah Wise, social strategy editor at The New York Times. "Engagement journalism is a community of practice. The larger the community grows, the more we all have to learn from each other. I look forward to seeing news organizations and students working together to make these ideas a reality.
The finalists will work with the following news outlets:
The Port Arthur News (Lamar University), The Stand (Syracuse University), Northwest Public Broadcasting (Washington State University), The Athens News (Ohio University), NYU Epicenter (New York University), College Park Here and Now (University of Maryland), The Land (Kent State University), LA Taco (University of Southern California), FAQ (NYU) and the Missouri Business Alert (Missouri School of Journalism).
"I decided to enter the RJI journalism competition because I care very deeply about our industry and want to help make as many improvements to it as possible," says Alexander Johnson, a senior at Kent State University of the decision to participate. "As journalists, it's our responsibility to help people get the information they need to make critical decisions in their day-to-day lives. That is not a responsibility that I take lightly, and I want to put all of the skills and technological resources necessary to use to make sure the job is done right."
"The professor had assigned us to draft an audience engagement plan for The Stand, a local paper that covers the south side of Syracuse, and my team immediately started thinking of ideas," said Hanna Martin, a senior from Syracuse University. "I'm excited for this opportunity to not only help the paper gain readership but also to engage with my local community. This is a great opportunity to actively practice audience engagement skills that I've learned in the classroom in a real-world setting."
Finalists will be given three months to implement their ideas with their chosen news outlet. They will then share their ideas and results virtually in front of the public and a panel of judges from organizations including The New York Times, KQED and the Axios on Feb. 26, 2021.
Judges will be looking at several criteria including how well the idea helped the newsroom and its community, if the idea could be implemented in other newsrooms and if the idea was new and innovative for the partner newsroom.
"I'm looking for projects that demonstrate a keen understanding of the community being served," says Wise. "I want to see that students have thought about the information needs of the community and how to reach individual members. I hope to see students who are thinking about the long-term sustainability of a project and how they will measure success both for the news organization they partner with and the community they are serving."
Three top winners will be announced after the competition. This year's prizes are: first place, $10,000; second place, $2,500 and third place, $1,000.
Comments