Firing neurons, building relationships: Washington D.C. Conference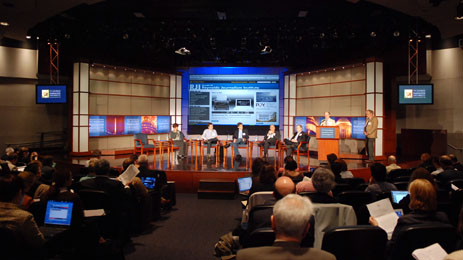 Washington, D.C. — The Radio and TV Museum inside George Washington University displays journalism's past: a Philco Model 42-350, a 1942 radio to first offer FM broadcasts. Its fame soon faded: the museum notes 1945-57 was "dismal," as television ate up once-loyal FM audience and advertisers.
Dusty radio relics reminded journalists, bloggers and software geeks gathered here Wednesday of something very important: change or take your seat beside the Philco.
"From Gatekeeper to Information Valet: Work Plans for Sustaining Journalism," brought together more than 100 folks to swap ideas on new media models. Veteran journalist Bill Densmore, one of the inaugural Donald W. Reynolds Fellows, gave the audience some hints about his new news company: CircLabs Inc.
CircLabs' first venture is called Circulate, an online matchmaker that will unite readers who want information, the news Web sites that publish stories, and the advertisers who want shoppers to spend their cash.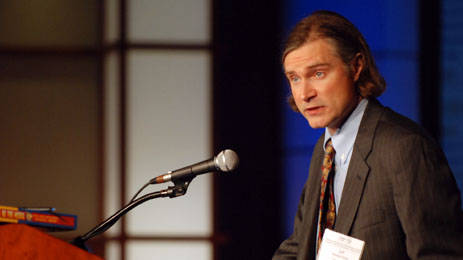 Circulate, which expects to have other backers and investors in addition to RJI, plans to launch later this year. The Associated Press is already cooperating with the project. Beyond that, Densmore and his partners didn't offer many details, citing confidentiality issues. Jeffrey Vander Clute, co-founder and technical advisor, said Circulate will accommodate both micropayments for information and subscriptions.
The concept of Circulate should appeal to both publishers and editors. Consumers who sign up for Circulate register their interests, whether its cars or cats, to begin receiving stories and advertising. They agree to pay a fee for premium content. That database of consumers is great fodder for advertisers who want to refine their pitch based on the demographics.
"Newspapers should explore charging for online content when the content is both scarce in nature and of high utility to a segment of the audience," Vander Clute said.
News organizations realize they have to adapt in order to survive. "We have to find a way to fund journalism," says Randy Picht, AP bureau chief for Kansas City. "We are no different than all 1,400 of our publishers."
Still, it's clear that some content will always need to be free. "The cows have left the barn," says Mark G. Contreras, senior vice president/newspapers of the E. W. Scripps Company.
He believes the news industry should learn a lesson from the music industry, where intermediaries funnel profits back to musicians, making it easier for consumers to focus on getting the tunes they want.
After hearing various presentations from entrepreneurs, Contreras remained skeptical that anything can replace the classified advertising that's "melting off."
"There are no silver bullets. Just lots of shell casings."
He said he would "absolutely sit down with" Densmore's team to learn more about Circulate. "We'll be helpful and part of the solution," he says.
For consumers, Circulate does have a filter that allows them to get what they want, when they want it, and then can opt out if no longer interested. Densmore, a veteran journalist, emphasizes that Circulate will incorporate "stringent protections for consumer privacy through transparency and full control, ownership and portability of their data."
For diehard news people, the key to any of these future platforms is to keep it high-quality content. Walter Issacson, president of the Aspen Institute in Washington, D.C., and former managing editor of Time magazine, says he didn't get into journalism to "simply serve advertisers." He believes the solutions must save "digital creativity," whether stories, songs, movies or books. "You need business models to sustain it" and make sure its "done by professionals, not hobbyists."
There's no lack of trying among entrepreneurs, like Scott Karp, co-founder and CEO of Publish2, a venture capital funded enterprise that's working on a model where news organizations collaborate, thus driving more traffic back to their own news sites. "Aggregators like Google and Yahoo are making all the money," Karp says. "News companies are all asking: 'where's our share?' ''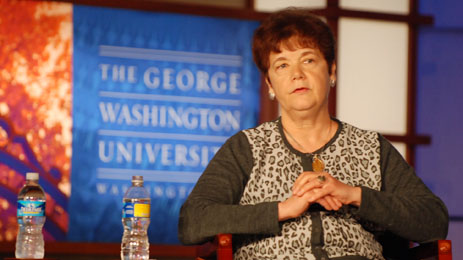 At the "trust the reader" end of the spectrum is Cynthia Typaldos, founder and president, of Kachingle, a developing site that will allow users to voluntarily donate when they find a story they like. Typaldos says she's in talks with cable companies and a "big word game" site about partnerships. Typaldos, who has a background in computers and business, has been skeptical about the marriage of news and advertising. "It makes no sense. If I'm reading about famines in Darfur, I'm not in the mood for refrigerator ads."
Still, there's something in between the old advertising-supports-all model, the all-paid and all-free sites. "There's a middle ground,'' says Vander Clute. "We have to run a number of experiments to figure it out."
Bottom line, says Vander Clute: "We have to dive in and do something."
Comments