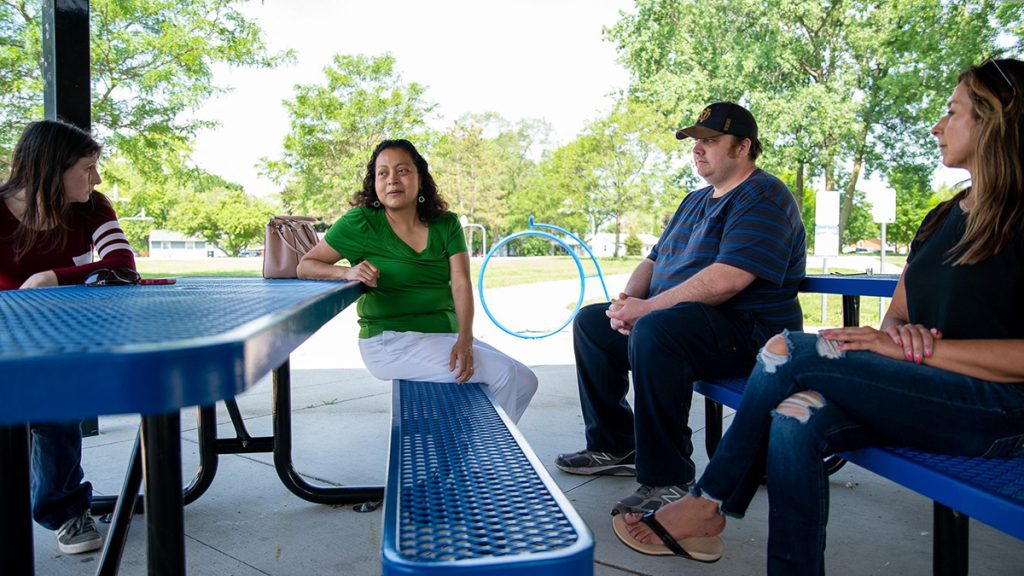 How a Chicago News outlet changed its approach after community listening
Listening is just the beginning. News outlets must also make changes to their editorial and engagement strategies in response to what their community says
Borderless Magazine is a small (but mighty!) nonprofit news outlet based in Chicago. We cover immigration and immigrant communities, and about half of our online audience reads our work in Spanish. In order to stretch our modest resources and better serve our audiences, we borrowed a page from community organizing and hired field canvassers to connect with our community last year. We believe that using community organizing techniques can be a gamechanger for news outlets, particularly ones like ours who are serving communities often neglected by legacy news outlets.
Listening is just the beginning. News outlets must also make changes to their editorial and engagement strategies in response to what their community says.
Throughout my RJI fellowship, I've shared why and how we went about using these community listening techniques in the hope that other newsrooms will learn from our experiences. But listening is just the beginning. News outlets must also make changes to their editorial and engagement strategies in response to what their community says. If not, our readers are just shouting into the void.
Here's how Borderless changed its approach over the last year in response to what we heard from our community members. Our changes were tailored to our specific audience, so we encourage news outlets to talk to their own communities before making changes.
More first-person stories
Borderless got its start in 2017 as a rapid response storytelling project that uplifted the voices of people impacted by Trump's Muslim Travel Ban. Six years later, first-person "as-told-to" stories still are some of our most popular stories. In our outreach, readers asked for even more of these stories, which we produce through a collaborative reporting method.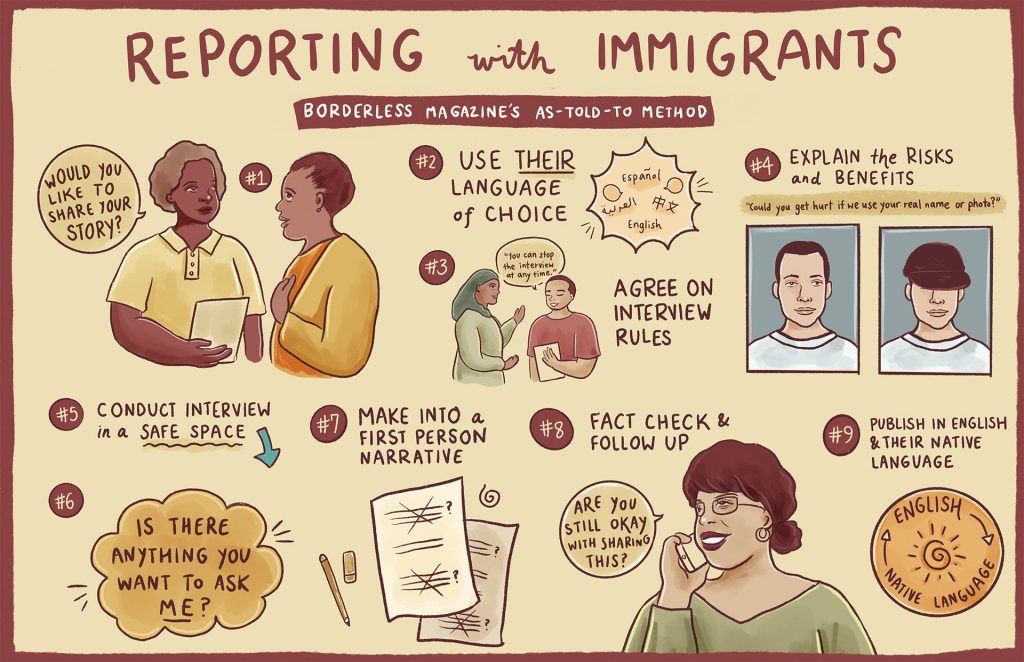 In response to this request, we did two major as-told-to series in 2022. The first was produced by our Afghan reporting fellows, Saleha Soadat, and featured the voices of Afghans who were displaced by the fall of the Taliban in August 2021. We published this series, called Broken-Winged Birds: Afghans in Exile, in English, Spanish and Dari/Persian, the most commonly spoken language by Afghans here. The stories were widely read both in the United States and in Afghanistan.
Our second major series, produced with Block Club Chicago, followed 10 of the migrants bused to Chicago as part of Texas Gov. Abbott's political stunt last year. We published the series, called After the Buses, in English and Spanish. The L.A. Times included it in its must-read stories section twice, and we saw some great impact with Chicagoans organizing donation drives in response to the series.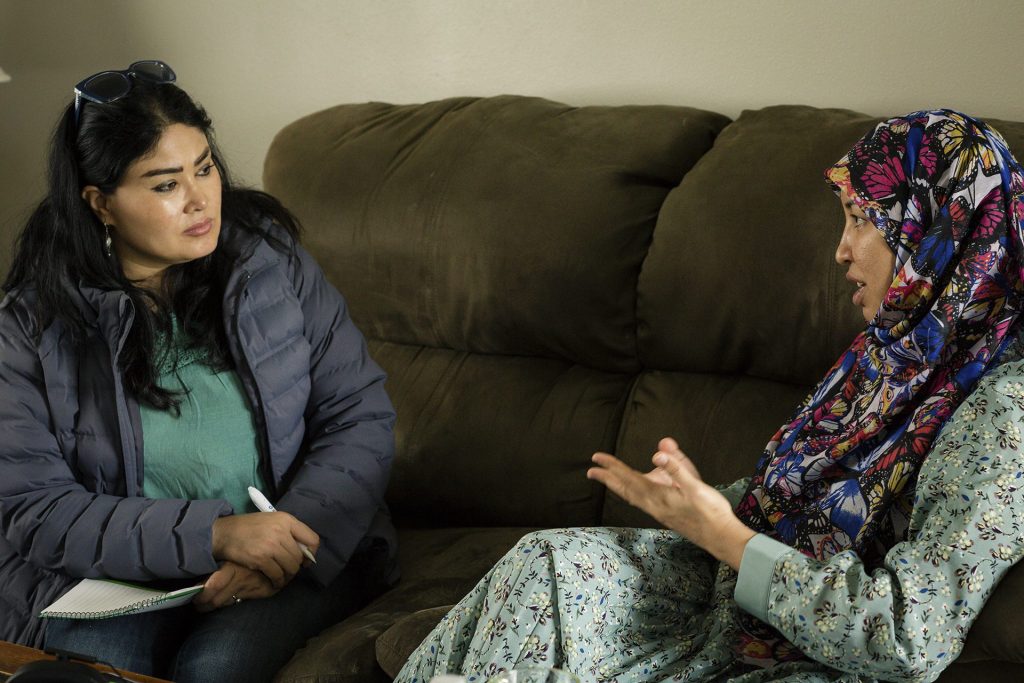 Borderless Reporting Fellow Saleha Soadat interviews former Afghan district governor Salima Mazari in her current home in the American Midwest, May 4, 2022. Michelle Kanaar/Borderless Magazine
Beyond resource guides
We decided to take a cue from our audience and start building guides out of the questions they regularly submit to us over social media DMs, our phone line and email.
The result is our Who/Where/How/Why series. We are now working on creating a workflow to make sure that these guides stay up to date, which is always a challenge with a small team. We are also thinking through ways to get these resources in front of audiences who might not come to our website by experimenting with simple flyers with QR codes, for example.
More health and environment coverage
Health coverage might not seem like a natural fit for a publication covering immigration and immigrant communities, but, as COVID showed us, immigrants and communities of color are uniquely vulnerable to health and environmental inequities. We began covering health issues in a serious way during the pandemic and dove deep into the impact of environmental pollution in our award-winning comic book, "Reclaiming the Sacrifice Zone."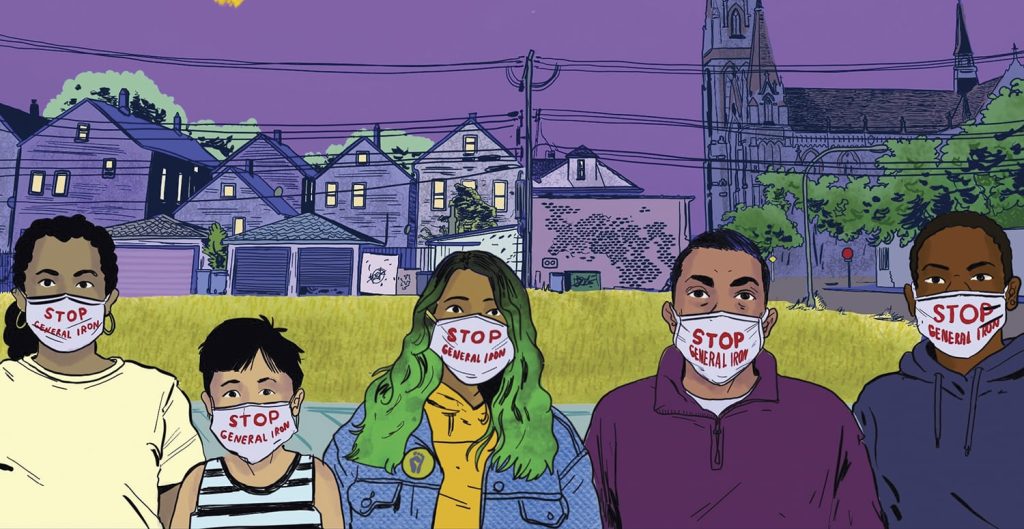 In response to reader requests for more environment and health coverage, we published a major investigation last year looking at the lingering impacts of thorium pollution in a Latino-majority Chicago suburb.
In response to the story, readers wrote in telling us about health problems they experienced which they didn't realize may have been linked to living in what was once called the "radioactive capital of the Midwest."
We are continuing to follow the story as the government finishes its final environmental remediation work in West Chicago.
What's next?
Our work is just beginning. We plan to continue experimenting with field canvassers as both an impactful method of listening and a means to deliver news to our community this year. We're also building our own social network, which leverages existing networks of trust in our communities – such as WhatsApp groups, community newsletters and more – to deliver news and information from Borderless.
Want to learn more about our work? Reach out to us at info@borderlessmag.org to talk!
Comments