How to curate product kits with resources you already have
Repackaging past work into helpful tools for your audience
Samantha Walker is a 2022 RJI Student Innovation Fellow partnered with Trusting News. The RJI Student Fellows will be sharing their product work throughout the summer in Innovation in Focus.
Trusting News puts their mission statement on the homepage of their website so journalists and newsrooms know exactly what they offer.
As part of their work, the staff of Trusting News have written hundreds of newsletters, blog posts, handouts and video resources for journalists. From these we wanted to create something for our audience where they could utilize the information they need, when they need it.
This is where the idea for the Trust Kits came from. Trust Kits are product kits that will help guide journalists and newsrooms through specific problems and or questions they might have regarding how they can improve audience trust. These kits can be added to and changed over time depending on what Trusting News produces in the future, and the content included is all evergreen and produced or endorsed by the organization.
I spent nearly the entirety of my summer fellowship creating these Trust Kits (with help from the entire Trusting News team).
Here's how we did it
Step One: Understand what your audience wants/needs
Trusting News heard feedback from multiple journalists and newsrooms that they would love it if our resources were more accessible. We had places on our website for some resources and examples from partner newsrooms — but for certain questions, you really had to search for the content.
Another thing we took note of was that people would email the Trusting News team looking for resources on a specific problem they were experiencing. A team member would respond, but they didn't always send the same resources because we didn't have a consistent list curated.
We put these two problems together and brainstormed a solution. We needed to create a resource that could specialize in specific areas, had consistent content to be sent out, and was easily accessible to those who needed it. From there, we came up with the idea of trust kits.
Step Two: See what others have done
Once we had the idea for Trust Kits, we needed to thoroughly research what others have done. We had never developed something like this, so it was important for me to see what product kits like we were creating typically looked like, and what we liked and didn't like about them. We made sure to focus on kits that focused on issues similar to what Trusting News was doing, such as The Trust Project resource page, and those that were completely different from us.
I took notes on the design and layout, type of content and the wording of each product kit to see what worked and what didn't. We took a lot of inspiration from both the News Product Alliance product kit and the Community Tool Box project.
Step Three: Make a plan
Once we had a better understanding of what others had done, it was time for us to figure out what ours should be like. We held a meeting with the rest of the Trusting News team to discuss what we had found during the research phase and to plan out what we would put into ours. As a team, we decided it was best to have specific categories for different problems a newsroom might have. We separated out our planned trust kits in categories such as engagement, opinion and transparency.
We pre-planned some layout elements, such as including written sections to introduce each kit and what we wanted the flow to be on each page. During our planning meeting, we also decided we should curate two trust kits using our proposed system so that way we could make sure that it would work for all future kits. We didn't want to unintentionally plan a process that only fit one kits and not the rest.
Step Four: Take inventory of what you have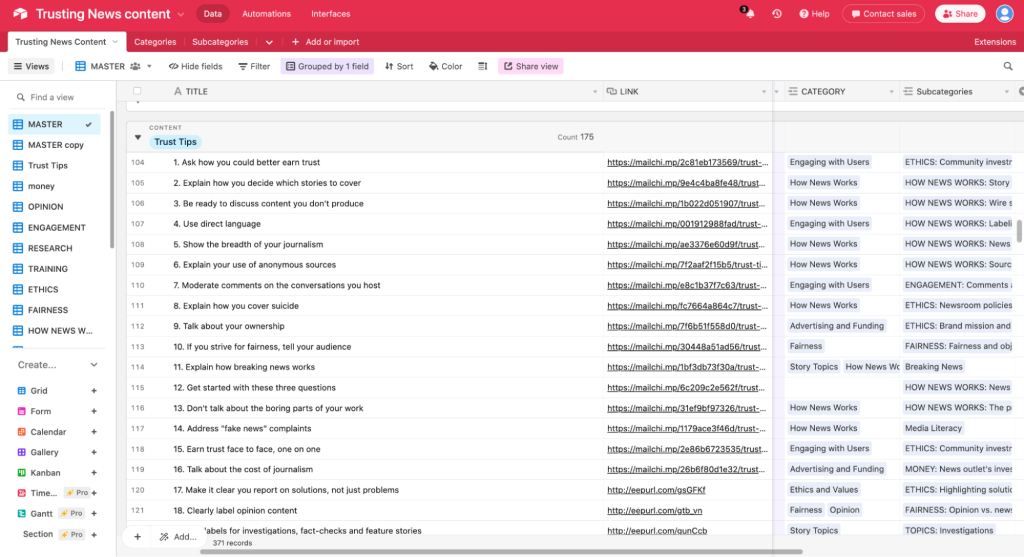 Part of what made Trust Kits such an ideal product idea for Trusting News was that it allowed us to use the resources we already had to make them more useful and accessible to our audience.
I initially just pulled every resource I could find based on the topic that specific trust kit was focused on and linked it into a google doc. I highlighted different forms of content as different colors so that way I could tell if it was a blog post, a newsletter, a handout or a video without clicking on it. As part of our goal was to have a variety in the type of content in each kit, this was really important.
Not only did conducting an inventory of our content like this allow for me to pull the resources I needed, it also allowed me to see where we needed to make improvements to our database. As I worked on a kit about reaching new audiences, I realized Trusting News had almost no resources available for reaching BIPOC communities. This is an area that our team feels is really important and have created content about it, but this told us we somehow hadn't published it in a public facing way. Since this inventory, Trusting News has been able to schedule the publication of these resources.
Step Five: Refine it
One of the biggest struggles we had creating the trust kits was figuring out how to refine them. My team and I had already discussed that we didn't want to overwhelm our audience with an insane amount of resources on each page. Like an article, we had to put the most important information first. How we refined it was by going through each resource and determining its importance.
Once we determined if a resource would actually work for a trust kit, I sorted it into the specific section I thought it would work best in. From there, we removed repetitive content and only kept in the resources that were concise and to the point. Since each trust kit was trying to solve a specific problem, so should each resource.
Step Six: Get Feedback as you go
After we had created an initial draft of resources for the trust kits, I met with the team to discuss how it can be improved before we move on.
One of the biggest takeaways from my team's feedback was that some of our trust kits were too big even though they contained only necessary resources. They looked entirely too text heavy and felt overwhelming, so they weren't that user friendly. We took that feedback and decided to break up some of our bigger trust kits, such as engagement into smaller trust kits under the category of engagement. This feedback not only helped fix the problem, but also made it so that we could create and categorize future kits more easily.
Step Seven: Visualize it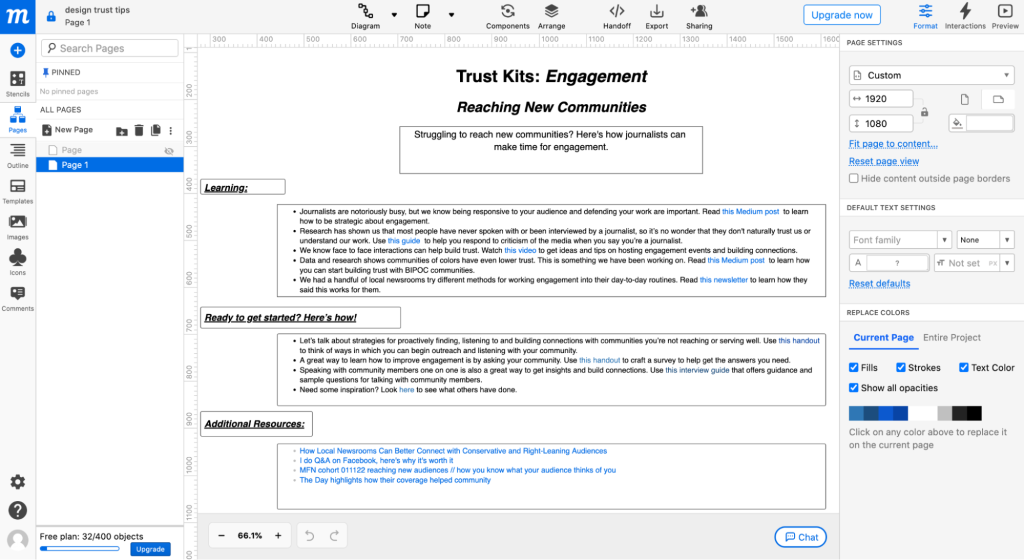 As I had discussed design with the team from the beginning of the process, I was excited to finally see the trust kits come together on a screen, even if it was just a plan. I used my notes about what we thought would work and created a design mock up. I found a lot of success using Moqups, as it allowed me to easily create multiple design pages and click between them. I used one of our trust kits in my prototype so that way my team and I could more easily visualize what it would look like, even on a black and white page.
Now that I had a design plan, I was able to share this with the team and we made adjustments to the kit designs. This kind of mockup is a great place to start in terms of web page design, as it gives you a plan to what to do, or it's a great visual you can offer the designer if you chose not to create it yourself. Since Trusting News doesn't have an in-house designer, they will continue to work with another team to create the necessary graphics for the trust kits.
Going forward
When Trusting News is prepared to launch the trust kits, they will promote it across all their platforms, such as on Twitter, the website, medium page, and in the Trust Tips Newsletter to help inform people the kits are coming. Since the audience is specifically journalists and newsrooms, this is a resource they are likely to be interested in, so they can cross-promote it to make sure they reach everyone who could utilize it.
The "Trust Kits" will officially launch this fall. Keep an eye out on the Trusting News website and social media for more updates.
Comments