Need a radio license quickly? GMRS will help
The General Mobile Radio System can be used to transmit and collect information from the heart of communities affected by natural disasters
Getting a ham radio license, especially for those without a science background, may require some time and study. However, natural disasters operate on their own schedule, regardless of our preparedness. They can strike at any moment and in any location. The urgency of establishing reliable communication channels is paramount for both newsrooms and communities. This is when GMRS steps in to assist journalists covering natural disasters.
On September 23rd, three days after Hurricane Maria's sixth anniversary in Puerto Rico, "Guayanés al rescate" (Guayanés to the rescue), a group of community leaders in Yabucoa, in the south of the island, provided a training session on how to use GMRS. The GMRS training was conducted by Puerto Rico Community Communications (PRCC), a non-profit that provides training, leadership, and community capacity building for effective emergency communications to establish a network between regions in the archipelago, and the U.S. Virgin Islands, during natural disasters.
"The reason why we organized this event is because we live in front of the beach, where hurricanes make landfall," says Nilsa Márquez, the woman behind "Guayanés al rescate" and the GMRS training session. Márquez remembers vividly how Hurricane María, the most devastating cyclone in Puerto Rico's history, left Yabucoa without power for 11 months. "We want to be ready for the next hurricane in case something like this happens again," she explains. For "Guayanés al rescate," the priority is to become a communication hub in the region to assist neighbors, especially the elderly people who live in the community. "There are people who are bedridden, might need medical assistance, or have special needs," Márquez added.
"Guayanés al rescate" brought together a group of about 20 people in an abandoned school building that Yabucoa's neighbors are working to renovate and transform into a community center. Among the peeling but firm walls, people were introduced to a ham radio alternative communication system, the GMRS.
The General Mobile Radio System is a licensed radio service that uses channels around 462 MHz and 467 MHz. The most common use of GMRS channels is for short-distance, two-way voice communications using hand-held radios, mobile radios, and repeater systems. It uses radio equipment as cheap as ham radios (from as low as US$30), and its channels cover the whole archipelago.
The Federal Communications Commission, or FCC, also regulates GMRS and to operate in this radio spectrum, people also need a license. The difference between GMRS and a ham radio license is that there's no need to take an exam, which saves much time and effort, and helps newsrooms onboard more reporters into radio operations.
The requirements to get a GMRS license are straightforward:
Being 18 years or older
Not a representative of a foreign government (bold emphasis added)
Pay US $35 required by the FCC
That's it. In about 24 hours, one gets a GMRS license and can jump into the airwaves. Licenses are issued for a ten-year term and are renewable. "Immediate family members are the licensee's spouse, children, grandchildren, stepchildren, parents, grandparents, stepparents, brothers, sisters, aunts, uncles, nieces, nephews, and in-laws," says the FCC. Up to 10 people, regardless of age, can use the same GMRS radio license. The only requirement? They have to live under the same roof. Newsroom workers can apply for it, too.
There are other benefits that come with the GMRS license: "Any individual who holds an individual license may allow anyone to operate his or her GMRS station if necessary to communicate an emergency message," says the FCC. Yes, anyone.
Additional preparations
In 2017, after Hurricane Maria left most of the 3.7 million residents without power and 95 percent of cellular sites were out of service, The founder of PRCC, William Planas, a ham radio operator with ten years of experience, made his radio station at home available to neighbors to help them contact family members in the United States and across the island to let them know they were okay.
Planas and his team explained to the community of Yabucoa how to do the same and how to organize themselves to help each other. "You might have a road blocked, and someone on the other side of the community might have a truck and tools to remove the tree blocking the road. Why will you wait days for assistance when you can solve this problem yourself right away?," Planas asked them and shared other examples of how to use the radio to request for blood, report floodings or bridge damage.
P.E.C.E.S. an NGO that provides prevention services, education and entrepreneurial training to communities in Puerto Rico's southeastern region, assisted thousands of people in 23 of the 78 Puerto Rican municipalities with food, water, hygiene and cleaning products, shoes, clothing, solar lamps, and batteries, among other supplies, in the aftermath of Hurricane María. They joined the training event as well.
Radio coverage
The GMRS has a limited radio range that carries both advantages and disadvantages. On the positive side, the relatively short distance between users minimizes the potential for no interference from others using the radio waves due to their proximity. The drawback is that certain areas within the desired coverage zone may remain inaccessible from a specific location.
How to get the GMRS license
One of the things that the PRCC team explained during the training session was how to get the GMRS license. The first step is to register at the FCC's website here and to apply for an FRN or FCC's Registration Number (Click on "Register New FRN.")
Once you get it, on the left side of the screen, you'll see "Apply for New License." Then, select "ZA – General Mobile Radio Service" from the drop-down menu.

Then, answer the questions you are asked.

Fill in your personal information and review the application. Once you confirm everything is okay, click "Continue to certify."
On the Certification page, sign your application by typing your name in the boxes provided and click the "Submit" button.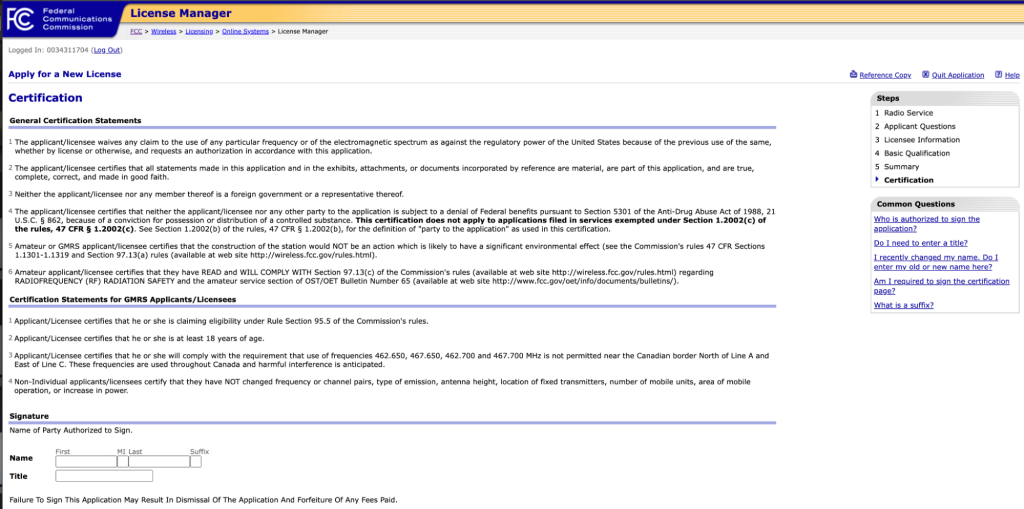 The system will calculate the fees, and the payment for the online application must be received within ten calendar days of application.
Click the "Continue" button for payment options to choose your payment method.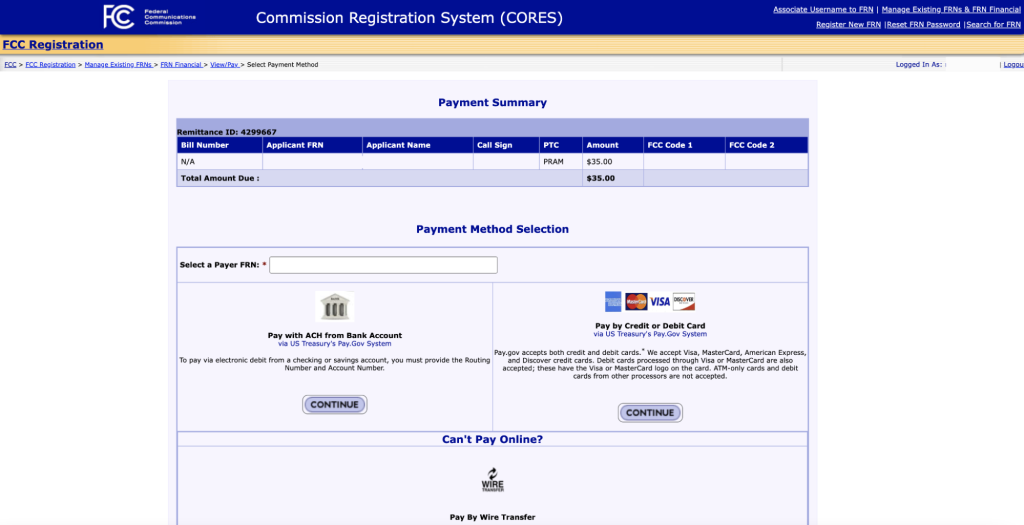 Complete the payment information. That's it. Usually, the license is ready to download within 24 hours. Later, you will receive a copy by mail to the address you entered.
How GMRS can help reporters (and communities)
Like any on-air transmission, anyone can listen to GMRS communications as long as one knows the channels used for it.
The FCC's regulations establish that "any GMRS channel may be used for emergency communications or for traveler assistance. Operators of GMRS stations must, at all times and on all channels, give priority to emergency communications." Consequently, in the event of a natural disaster, journalists, like the neighbors in Guayanés or any other individuals, can obtain this license.
Reporters can employ their GMRS, nothing prevents them from transmitting information during emergencies such as hurricanes, earthquakes, or floods. They can gather and transmit information concerning isolated neighborhoods, damage status reports, medical equipment requirements, weather, and environmental alerts, or even mobilize volunteers to address issues like blocked roads that isolate communities.
On the opposite side of the island, another journalist holding a GMRS license and equipped with a station can hear and document these messages, using them to write articles for publication. (International distress signals, such as the word "Mayday" can be transmitted only when on a ship, aircraft, or other vehicle in immediate danger to ask for help).
What the GMRS licensee can't do is conduct an interview over the Global Mobile Radio Service as if it were on an AM or FM radio show. It also can't be used to provide "messages in connection with any activity that is against Federal, State, or local law; false or deceptive messages; music, whistling, sound effects or material to amuse or entertain; advertisements or offers for the sale of goods or services; advertisements for a political candidate or political campaign," among others. PRCC highlighted these do's and dont's during the training session in Yabucoa.
"Don't forget that every message is accessible to anyone and can be replicated by others," Planas said and invited attendees to exercise extreme caution regarding the nature of information transmitted, as FCC personnel consistently monitor the airwaves and they should only be utilized for emergencies.
Non-compliance with the federal regulations may result in fines of up to US $10,000. But if journalists and neighbors properly use the GMRS, there's nothing to be worried about. This radio system will make their work and life much easier and will help them communicate during natural disasters.
For further insights into FCC rules for GMRS, refer to 47 C.F.R. Part 95 Subpart E.
Comments