How to get started with a ham radio license
From in-person classes to books, apps, and shortcut guides, here's how to get a license a journalist will need to work in the aftermath of a natural disaster
Now that we know that journalists and ham radio amateurs have so much in common, the next milestone during my RJI fellowship was getting a ham radio license.
Ernest Shaw is a ham radio operator in Columbia, Missouri. He's part of the ARES (Amateur Radio Emergency Service) team in the area and one of the experts I interviewed to better understand how to start with a ham radio license.
After explaining to him that I wanted to create an alliance between newsrooms and ham radio operators to help each other in the aftermath of a natural disaster for my project at RJI Fellowship, Shaw said: "If you have someone plug into the ham radio community that it's part of broadcast (or newsrooms), it would be the best. Because then you will have someone speaking both languages."
So, how should journalists who want to be ham radio operators start? Yes, I know. You'll say, "google it." Well, it's not that easy. When searching for "how to get a ham radio license," you get 16,000,000 results and still many questions.
The Federal Communications Commission (FCC) regulates the ham radio spectrum and all its activities, including licensing people who want to get into this hobby that has no pecuniary interest.
Even though the FCC issues six license operator classes, Shaw says that getting the basic Technician amateur radio license is the way to start. Then, most ham radio operators advance to the General Class or Amateur Extra Class operator licenses.
The class for which each licensee is qualified is determined by the degree of skill and knowledge in operating a radio station that the person demonstrates during a very affordable examination done by volunteer examiners in their communities.
"The privileges of a Technician Class operator license include operating an amateur station that may transmit on channels in any of 17 frequency bands above 50 MHz with up to 1,500 watts of power," explains the FCC. This license gives access to all amateur radio frequencies above 30 megahertz, allowing these licensees to communicate locally and, most often, within North America. It also provides for limited privileges on the HF (called "short wave") bands used for international communications.
The General Class license grants some operating privileges on all amateur radio bands and all operating modes. This license opens the door to worldwide communications. Once these hams get this license, they "can also administer certain examinations," according to the FCC.
The privileges of an Amateur Extra Class license allow one to broadcast in all amateur bands, including the HF bands mentioned above (high-frequency radio is in the 10 to 160-meter wavelength band). In addition to having the two previous licenses, people seeking the Amateur Extra license must answer correctly at least 37 questions on a 50-question written examination. The test covers specialized operating practices, advanced electronics theory, and radio equipment design. There's no need to get this license to operate after a natural disaster.
It is vital to keep in mind that for any of these licenses, there's no need to know Morse code, as it used to be before 2006 when the FCC modified amateur radio service rules, eliminating it from exam requisites.
To get any of these licenses, there are basically three ways to study and learn to prepare for these exams. The Technician and General Class test can be taken on the same day.
Books and guides
For William Planas, a ham radio operator with ten years of experience and 31 serving in the Army as a State Spectrum Manager based in Puerto Rico, the best way to learn is to study from the three books published by the American Radio Relay League (ARRL). Each book corresponds to an amateur radio license level (Ham Radio or Technician, General Class, and Extra Class).
Planas also recommends attending virtual or in-person classes taught by other hams that usually last seven to eight weeks, a couple of hours per week. And to take the ARRL online exams as practice. Local classes all over the U.S. can be found here.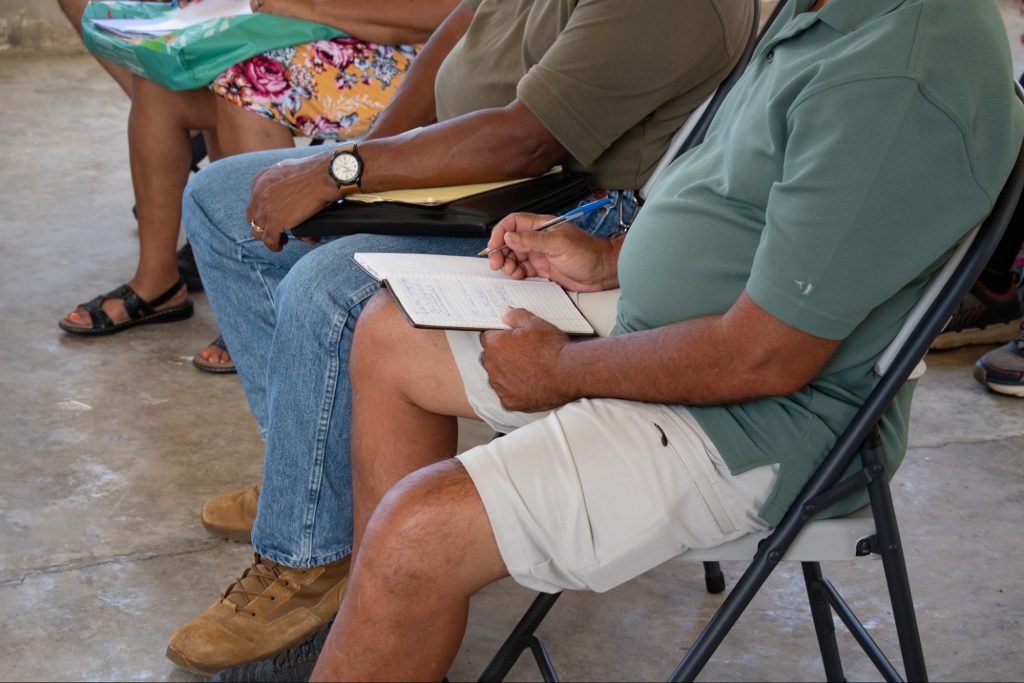 Once the person feels prepared and has passed these practice exams satisfactorily, "they would be ready to go to one of the in-person exam sessions and take their first license," says Planas. The exam cost is usually $15 plus the $35 fee the FCC charges. Each license is granted for ten years, and it is renewable.
Another way to prepare is with study guides that provide a complete list of the 100 multiple-choice questions that can be asked on the exam with their answers. In the test, only 35 questions are asked, and 26 of them must be answered correctly to pass the first two classes. The correct answers in these guides are usually highlighted in bold to help you remember them. The order of the choices can be mixed in the different versions of the exam. The questions and answers are public, and anyone can access them. Studying with these guides does not mean cheating.
But to study with those guides, you need to have some science background as they do not explain the topics in detail and only provide the answers. For those who don't have these backgrounds, learning the answers to the 100 questions by heart is possible, but it will not actually provide the knowledge to operate a radio.
"Getting a license, it's kind of procedural. It's like getting a driver's license without the road test," says Don Winsor, a ham radio operator with ten years of experience based in Ann Arbor, Michigan.
"There's a little bit of disconnect between what you have to do to get a license and what you have to do to function on the air," Winsor says.
If you study with these guides, "you've taken the shortcut. These guides assume you have some science, physics, or electronics background," warns John Palmisano, co-station manager of W8UM at the Electrical Engineering and Computer Science Building, University of Michigan.
"My favorite way to learn is to watch other people do it. I find people in a radio club who orient me so I can orient others. I rely on others," Palmisano says.
Radio clubs
Radio clubs are groups of radio amateurs who meet regularly and exchange experiences about their hobby, repair equipment, and even do emergency or weather spotter communications, passing information collected in the aftermath of storms or natural and man-made disasters.
"Google your radio club in your city or vicinity, find out when their meeting is, attend it, and have a one-on-one conversation. They'll guide you through it," says Palmisano, who hosts a monthly meeting in the Ann Arbor area.
"The most important thing is to get on the air, and you can do it with 20-dollar Chinese radios, which are totally adequate for this (for Technician and General classes), and most places have local clubs that are pretty friendly," agrees Winsor.
Another way to prepare is to download apps for Android or iOS with questions and answers linked to each class's exam. However, remember that they work similarly to the guides, and practicing with them may mean you will need help understanding the concepts.
Shaw, Planas, Winsor, and Palmisano have scientific knowledge and background, and for them, it was effortless to get their licenses, but they know that for other people, it can be a little bit more challenging. That's why they insist on touching base with local amateur radio operators who can help you determine the best way to learn for you. Stay calm by technicalities. Kids are allowed to get ham radio licenses. (And the ARRL covers the FCC fees for them.)
---
Cómo obtener la licencia de radioaficionado
Desde clases presenciales a libros, apps y guías de estudios, así se consigue la licencia que un periodista necesitará para trabajar tras una catástrofe natural
Ahora que sabemos que los periodistas y los radioaficionados tienen tanto en común, el siguiente paso durante mi fellowship en el RJI fue conseguir una licencia de radioaficionado.
Ernest Shaw es un radioaficionado en Columbia, Missouri. Forma parte del equipo ARES (Servicio de Emergencias de Radioaficionados, en español) de la zona y es uno de los expertos a los que entrevisté para entender mejor cómo empezar con una licencia de radioaficionado.
Después de explicarle que quería crear una alianza entre las redacciones y los radioaficionados para ayudarse mutuamente tras una catástrofe natural para mi proyecto en el RJI Fellowship, Shaw dijo: "Si tienes a alguien en la comunidad de radioaficionados que forma parte de la radiodifusión (o de las redacciones), sería lo mejor. Porque entonces tendrás a alguien que hable los dos idiomas".
Entonces, ¿cómo deben empezar los periodistas que quieren ser radioaficionados? Sí, ya lo sé. Dirás, "búscalo en Google". Pues no es tan fácil. Al buscar "cómo obtener una licencia de radioaficionado", se obtienen 16.000.000 de resultados y muchas preguntas.
La Comisión Federal de Comunicaciones (FCC, por sus siglas en inglés) regula el espectro radioeléctrico de los radioaficionados y todas sus actividades, incluida la concesión de licencias a las personas que quieren introducirse en este hobby que no tiene ningún interés monetario.
Aunque la FCC expide seis clases de licencia de operador, Shaw dice que obtener la licencia básica de Técnico de radioaficionado es la forma de empezar. Después, la mayoría de los radioaficionados avanzan hasta las licencias de operador de Clase General o de Clase Extra de Aficionado.
La clase para la que está calificado cada titular de licencia viene determinada por el grado de destreza y conocimientos en el manejo de una estación de radio que la persona demuestra durante un examen muy asequible realizado por examinadores voluntarios en sus comunidades.
"Los privilegios de una licencia de operador de Clase Técnica incluyen operar una estación de aficionado que puede transmitir en canales en cualquiera de las 17 bandas de frecuencia por encima de los 50 MHz con hasta 1.500 vatios de potencia", explica la FCC. Esta licencia da acceso a todas las frecuencias de radioaficionados por encima de los 30 megahertz, lo que permite a estos titulares comunicarse localmente y, en la mayoría de los casos, dentro de América del Norte. También proporciona privilegios limitados en las bandas de HF (llamadas de "onda corta") utilizadas para las comunicaciones internacionales.
La licencia de Clase General concede algunos privilegios de operación en todas las bandas de radioaficionados y en todos los modos de operación. Esta licencia abre la puerta a las comunicaciones en todo el mundo. Una vez que estos radioaficionados obtienen esta licencia, "también pueden administrar ciertos exámenes", según la FCC.
Los privilegios de una licencia de Aficionado de Clase Extra permiten transmitir en todas las bandas para aficionados, incluidas las bandas de HF mencionadas anteriormente (una radio de alta frecuencia está en la banda de longitud de onda de 10 a 160 metros). Además de poseer las dos licencias anteriores, las personas que deseen obtener la licencia de Aficionado Extra deben responder correctamente al menos a 37 preguntas de un examen escrito de 50 preguntas. El examen abarca prácticas operativas especializadas, teoría electrónica avanzada y diseño de equipos de radio. No es necesario obtener esta licencia para operar después de un desastre natural.
Es fundamental tener en cuenta que para cualquiera de estas licencias no hace falta saber el código Morse, como ocurría antes de 2006, cuando la FCC modificó las normas del servicio de radioaficionados, eliminándolo de los requisitos del examen.
Para obtener cualquiera de estas licencias, existen básicamente tres formas de estudiar y aprender para preparar estos exámenes. El examen de Técnico y el de Clase General se pueden tomar el mismo día.
Libros y guías
Para William Planas, un radioaficionado con diez años de experiencia y 31 sirviendo en el Ejército como Manager Estatal de Espectro con base en Puerto Rico, la mejor manera de aprender es estudiar con los tres libros publicados por la ARRL. Cada libro corresponde a un nivel de licencia de radioaficionado (Radioaficionado o Técnico, Clase General y Clase Extra).
Planas también recomienda asistir a clases virtuales o presenciales impartidas por otros radioaficionados que suelen durar entre siete y ocho semanas, un par de horas cada vez. Y realizar los exámenes online de la American Radio Relay League (ARRL) como práctica. Las clases locales en todo EE.UU. se pueden encontrar aquí.
Una vez que la persona se siente preparada y ha aprobado estos exámenes de práctica, "estaría lista para acudir a una de las sesiones de examen en persona y obtener su primera licencia", dice Planas. El examen suele costar 15 dólares más los 35 que cobra la FCC. Cada licencia se concede por diez años y es renovable.
Otra forma de prepararse es con guías de estudio que proporcionan una lista completa de las 100 preguntas de multiple choice que pueden plantearse en el examen con sus respuestas. En el examen sólo se hacen 35 preguntas, y hay que responder correctamente a 26 de ellas para aprobar las dos primeras clases. Las respuestas correctas en estas guías suelen estar resaltadas en negrita para ayudarte a recordarlas. El orden de las opciones puede mezclarse en las distintas versiones del examen. Las preguntas y respuestas son públicas y cualquiera puede acceder a ellas. Estudiar con estas guías no significa hacer trampa.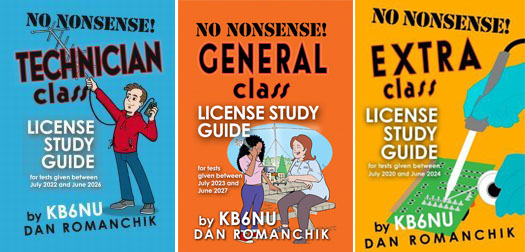 Pero para estudiar con esas guías, es necesario tener cierta formación científica, ya que no explican en detalle los temas y sólo proporcionan las respuestas. Los que no tienen esa formación pueden aprenderse de memoria las respuestas a las 100 preguntas, pero eso no les proporcionará los conocimientos necesarios para manejar una radio.
"Obtener una licencia, es algo procedimental. Es como sacar la licencia de conducir sin el examen de manejo en la carretera", dice Don Winsor, radioaficionado con diez años de experiencia en Ann Arbor, Michigan.
"Hay un poco de desconexión entre lo que hay que hacer para obtener una licencia y lo que hay que hacer para funcionar en el aire", dice Winsor.
Si estudias con estas guías, "has tomado un atajo. Estas guías dan por hecho que tienes conocimientos de ciencias, física o electrónica", advierte John Palmisano, codirector de la estación W8UM en el Edificio de Ingeniería Eléctrica e Informática de la Universidad de Michigan.
"Mi forma favorita de aprender es ver qué hacen otras personas. Busco gente en un radioclub que me oriente para que yo pueda orientar a los demás. Me apoyo en los demás", dice Palmisano.
Radioclubes
Los radioclubes son grupos de radioaficionados que se reúnen periódicamente e intercambian experiencias sobre su hobby, reparan equipos e incluso realizan comunicaciones de emergencia o de observadores meteorológicos, pasando la información recogida tras tormentas o catástrofes naturales o provocadas por el hombre.
"Busca en Google el radioclub de tu ciudad o alrededores, averigua cuándo es su reunión, asiste a ella y mantén una conversación cara a cara. Ellos te guiarán", dice Palmisano, que organiza una reunión mensual en la zona de Ann Arbor.
"Lo más importante es salir al aire, y puedes hacerlo con radios chinas de 20 dólares, que son totalmente adecuadas para esto (para las clases de Técnico y General), y la mayoría de los lugares tienen clubes locales que son bastante amigables", coincide Winsor.
Shaw, Planas, Winsor y Palmisano tienen conocimientos y formación científica, y para ellos no supuso ningún esfuerzo sacar la licencia, pero saben que para otras personas puede ser un poco más complicado. Por eso, insisten en ponerse en contacto con radioaficionados locales que puedan ayudarte a determinar la mejor manera de aprender para ti. Mantén la calma ante los tecnicismos, hasta a los niños se les permite obtener licencias de radioaficionado. (Y la ARRL cubre los costos de la FCC para ellos).
Comments