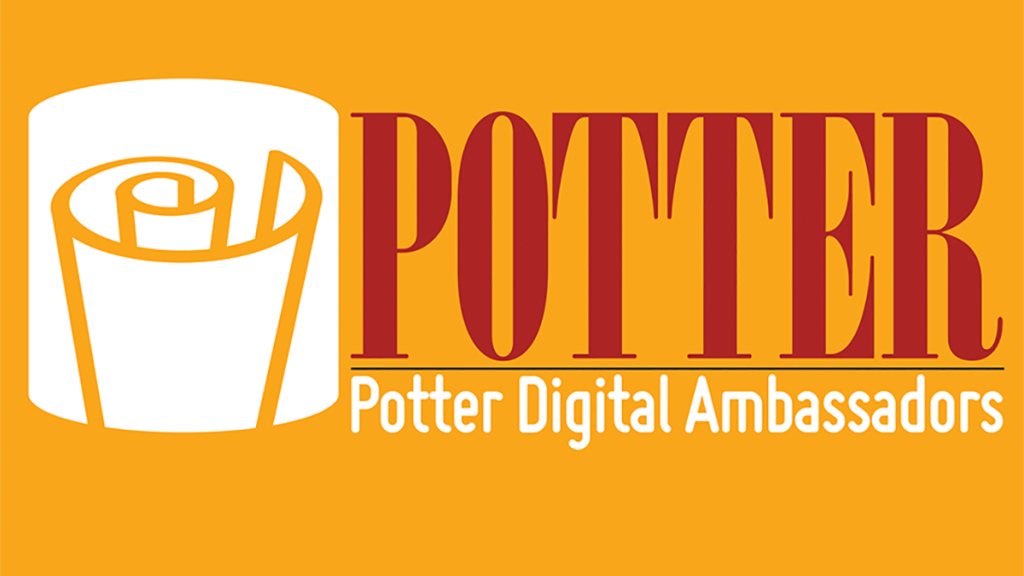 Potter Digital Ambassadors 2022
In January 2022, eight MU journalism students were paired with eight community weekly or daily newspapers in Missouri to upgrade tools and strategies that would maximize their multimedia and social media presence.
These Potter Digital Ambassadors were the fourth set of students dispatched to newspapers under a program affiliated with the Reynolds Journalism Institute and underwritten by MU alum and community publisher Walt Potter. Because of COVID-19 restrictions, no program was held in 2021.
The students' projects ranged from the straightforward, such as setting up social media schedules, to a subscriber perks program and readership survey. Editors learned to apply programs such as Hootsuite, TweetDeck and WeTransfer.
The ambassadors are selected through an application process that emphasizes their digital skills as well as their personal background. They have a three-hour training session that prepares them to hit the ground running when they set foot in their newsrooms.
Each newspaper was selected through an application process that focused on their digital needs, their willingness to welcome the students and their ability to follow through on the program objectives.
Students were matched with newspapers according to how well their skill sets were likely to meet a newspaper's needs, and how closely their backgrounds coincided with the size and nature of the community.
All of the students either lived in the communities for a week or commuted to the newspaper from Columbia. They spent five full days in newsrooms, gathering information, training staff in digital tools and practices, and leaving behind written routines that would sustain the initiatives they brought to the news organization.
(Note: Positive COVID tests among some of the students caused some of the visits to be postponed.)
One takeaway from this year's experience is the need to refine the training to make it clear that some newspapers are barely surviving in the digital world and others are leagues ahead in their digital capabilities. The digital divide is growing in newspapers, so the training needs to be more layered to address different needs at different levels.
Here's a look at the work:
Centralia Fireside Guard
Student: Skylar Laird
Editor: James Smith
Location: Centralia, Missouri
Population: 4,192
Publishes: Weekly
Contributions and results
Walked the editor through WeTransfer for videos.
Created a social media schedule.
Developed a TweetDeck system.
Made graphics templates in InDesign, Illustrator and Canva.
Set up a weekly analytics report for the staff.
Taught the editor how to edit sports videos.
Scheduled Facebook posts to promote the weekly news edition.
Shared ways to use Adobe to convert .mov files to .mp4 and embed video on the website.
Created tipsheets with how-to guides for Twitter, Tweetdeck, Canva and social media.
Taught the editor how to embed YouTube videos on the site and how to use iMovie to upload audio clips to the site.
Created a routine for staff to follow going forward.
Clinton Daily Democrat
Student: Tristen Rouse
Publisher: James Mahlon White
Location: Clinton, Missouri
Population: 9,118
Publishes: Weekly
Contributions and results
Set up an active Twitter account, @clintondailydem
Set up a Tweetdeck spread.
Set up a Hootsuite account (social scheduling platform).
Wrote a job description for a new digital editor position, which includes knowledge of social posting and understanding analytics.
Upgraded the newspaper's website.
Created an "Editor's Picks" section near the main carousel so more headlines are easily viewable.
Relocated links to e-editions.
Got Google Analytics up and running.
Drafted "How to Live Tweet" for the staff.
Established a beat system for the staff.
Helped the newspaper transition to a daily, digital-first production to be complemented by weekly print.
Fayette Advertiser
Student: Madi Winfield
Publisher: Justin Addison
Location: Fayette, Missouri
Population: 2,693
Publishes: Weekly
Contributions and results
Drove a popular print history feature (Way Back When) to the web with social promotion.
Conducted social media training.
Explored more print-to-web opportunities with the staff.
Compiled a guide to social analytics and conducted a session on best social media practices.
Conducted a training session about best photo practices.
Scheduled analytics reports.
Fulton Sun and California Democrat
Student: Margo Wagner
Editor: Layne Stracener
Location: Fulton, Missouri and California, Missouri
Population: 12,779 (Fulton) and 4,405 (California)
Publishes: Weeklies
Contributions and results
Spent time with photographers and reporters to improve video techniques.
Taught sessions on video shooting and editing.
Gave lessons on cropping and toning images.
Created Google analytics accounts.
Made bumpers for web videos.
Jefferson City News Tribune
Student: Kaylee Schreiner
Editor: Gary Castor
Location: Jefferson City, Missouri
Population: 21,489
Publishes: Daily, Tuesday through Saturday
Contributions and results
Worked with the editor, online director and engagement team on ways to maximize events that the News Tribune sponsors.
Designed a readership survey and marketing subscriber perks for a Coffee With the Editor series. At the end of the first day, the readership survey drew 139 responses.
Added Facebook and Instagram promotions for the coffee event, which drew an unprecedented 60 likes.
Developed an in-depth website analytics guide.
Made flyers for subscriber perks program for 22 local businesses. (The goal is to have the businesses gain exposure through the program.)
Created an in-depth social analytics guide.
Created an in-depth website analytics guide.
Created a guide to Qualtrics.
Moberly Monitor Index
Student: Anna Kutz
Editor: Tim Schmidt
Location: Moberly, Missouri
Population: 13,709
Publishes: Daily, Monday through Friday
Contributions and results
Set up weekly analytics report.
Created a Buffer account (social media scheduling platform) to organize posts.
Developed a digital news budgeting system.
Reorganized the website back end to move in a "web first" direction.
Set up a Canva site and templates for graphics.
Worked with the editor to move social posting, news budgeting, CMS/website production to the editor's supervision.
Created and shared CMS and social guides for long-term reference.
Poplar Bluff Daily American Republic
Student: Grace Cooper
Editor: Donna Farley
Location: Poplar Bluff, Missouri
Population: 17,023
Publishes: Daily, Tuesday through Saturday
Contributions and results
Created and shared a social media best practices guide.
Set up a Buffer account for Instagram, Facebook and Twitter accounts.
Arranged tutorials for staff in analytics, social posting, advertising on social platforms and Canva design.
Made a list of 50 content ideas for social posting.
Introduced Airtable and other content planning platform alternatives to the staff.
Developed a guide for Google Analytics to study readership habits.
Created Canva templates for Instagram posts.
Warren County Record
Student: Paola Rodriguez
Publisher: Tim Schmidt
Location: Warrenton, Missouri
Population: 35,649
Publishes: Weekly
Contributions and results
Revived the newspaper's Twitter account; last usage was in 2019.
Created a manual guide to move the newspaper in a digital-first direction.
Developed a guide about interpreting analytics reports.
Started an Instagram account.
Set up a Hootsuite account (social scheduling platform) and created a social scheduling guide.
Compiled a guide about taking better visuals.
Set up a weekly analytics report.
Comments