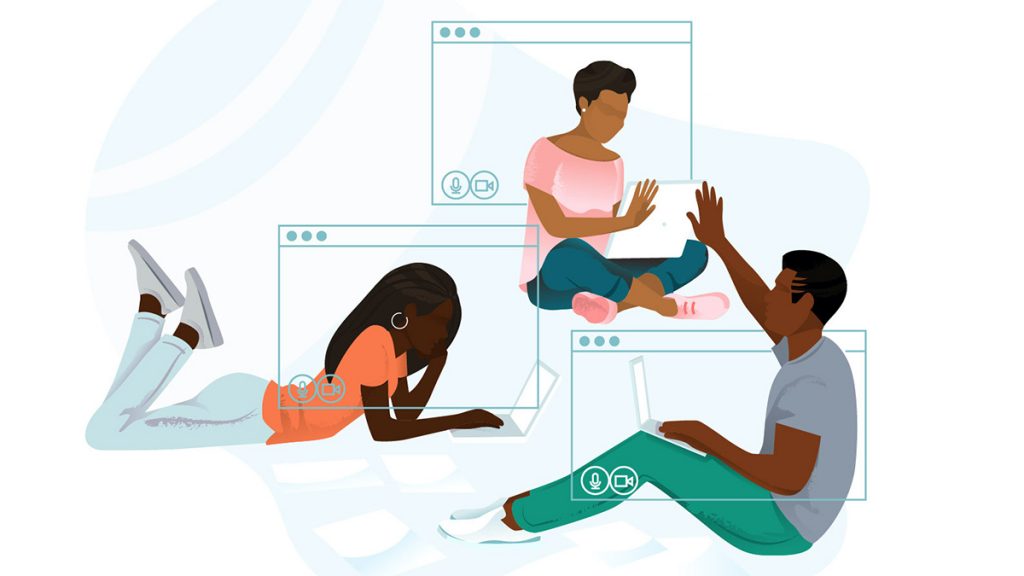 Redesign your live meeting agenda doc with these templates
How to prioritize people who are participating on their own time
Last month, I shared why designing brainstorming meetings to value asynchronous and synchronous participation equally can be a game-changer, and the non-scientific 8 steps I recommend for designing more equitable and accessible meetings.
In this piece, I'm going to dive deep and focus solely on one step: how to redesign your live meeting agenda doc into a worksheet that prioritizes people who are participating on their own time.
If you're interested in getting some concrete examples of any of the other steps, I recommend joining the OpenNews teams on one of our community calls. If you've never seen what a shared, interactive document can add to a meeting (or in this case, a live community podcast), you'll get a great first-hand experience just by showing up.
🔨 Remodeling an agenda into a worksheet
Most of the steps I shared about how to design more equitable and accessible meetings I learned from my colleagues at OpenNews, who have been doing this for 10 years. But the step I had never tried until recently was redesigning a live meeting agenda into a worksheet that asynchronous participants could go through on their own time.
Since I was already used to having an interactive agenda, I was also used to meetings always producing a helpful artifact for later reference. But with just a couple of tweaks, I learned that you can also turn that artifact into something that anyone can respond to, iterate from, and build upon.
After referencing some of my own live agendas and remodels, I've created two documents to demonstrate what a redesign can look like.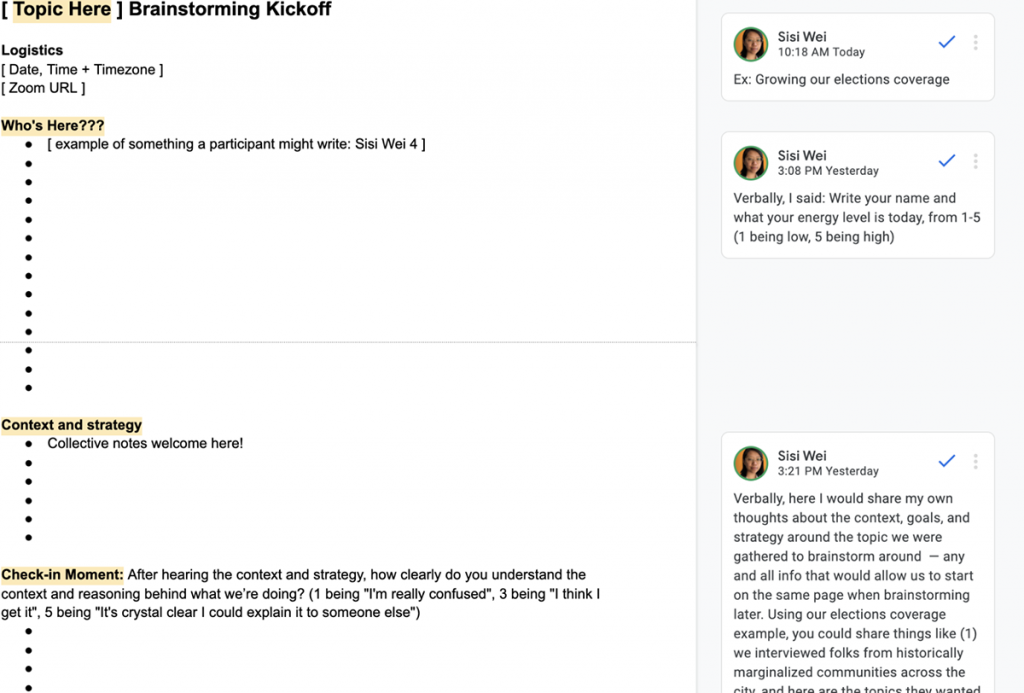 In this first template, I share one method by which I've run brainstorming meetings, often pulling in techniques I've learned from or brainstormed with my Co-Executive Director Erika Owens, or from AORTA, the Anti-Oppression Resource & Training Alliance. I annotate in my comments what I would say out loud, and give you some basic examples for how you can fill in the template.
Meeting design is its own craft on so many levels, so I'm purposefully not going deep on how I designed each step of this brainstorming process, but instead, focusing on how you can remodel a brainstorm agenda and shared doc into something that is geared toward your asynchronous participants. Which brings us to…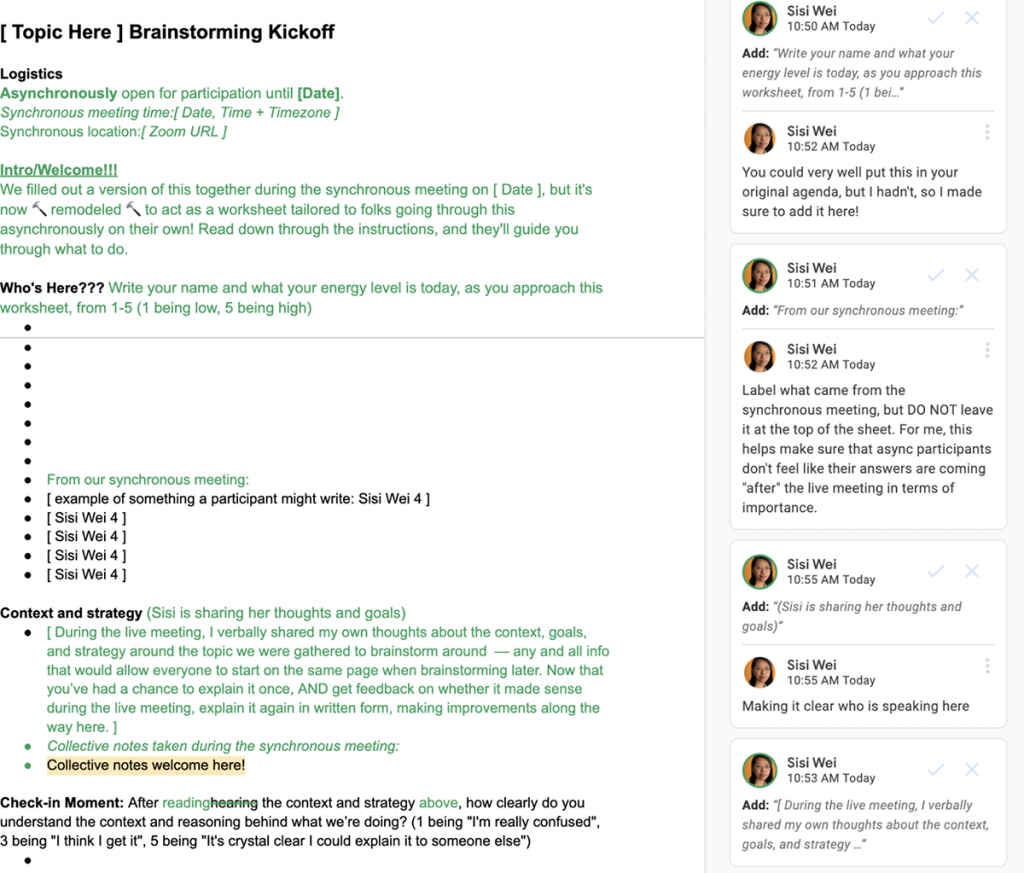 Using suggestions mode, I've highlighted all the changes I'd make after the live meeting has ended, but before I redistribute the document to people who will be participating on their own time. All my changes are focused on:
Preserving, but deprioritizing answers and instructions from the live meeting;
Creating new instructions that are clearly written for our asynchronous participants, because in this period, they are taking center stage;
Creating a new written description of anything I said orally during the live meeting, so that async participants can start on the same page. During the live meeting, I also ask participants for feedback on how clearly I've explained something, so this is also an opportunity to improve your explanation for async participants.
Having a way for people to go through the brainstorming process on their own time also gives anyone who prefers to write down their thoughts or process ideas before immediately reacting another chance to participate — and in a way that best suits their working style.
During live meetings, especially when everyone is remote, we've found that giving people a way to share their answers through writing instead of speaking means more people will participate. And because everyone can write at the same time, but everyone cannot speak at the same time, it allows us to design exercises that help people participate without needing to put anyone "on the spot." As an added benefit, by reworking the agenda and leaving it open for participation for a week or more, it also allows your live participants to come back and add additional thoughts.
Some tools visually distinguish participants from one another, which can add a fun atmosphere to written participation
Normally, I use Etherpad instead of Google Docs for agendas, because it's part of OpenNews' culture, and because all participants get assigned unique colors that make live and asynchronous typing really fun to look at — like getting to see a live artifact of how many people are responding at the same time. Everyone also has the option to change their color to anything they'd like, and if people choose to add their name to their color, participants can hover over a color and see the name of who authored the comments. We use Etherpads at our annual conference SRCCON as well (and people love it!), but outside of our events, it's rare for me to see software like Etherpad used in the journalism industry.
That said, I've hosted plenty of agendas on Google Docs, and with suggestions mode and comments, I've always been able to have great sessions. The OpenNews team also frequently uses Google Docs as a backup to Etherpad, just in case we get an overwhelming number of people or responses in a given meeting or conference session.
Have questions? Let's talk
If you're designing and remodeling your meeting agendas using the templates above and have questions, come ask me your questions live during our Q&A session on Oct. 27 at 1 p.m. CST!
About this series
In March 2021, OpenNews and more than 100 members of the journalism community launched the DEI Coalition. It now has more than 900 members who are committed to learning and taking action to make the journalist industry more anti-racist, equitable, and just. Through this RJI Fellowship, Sisi, the coalition's founder, will be sharing techniques for facilitating community in a more equitable way, as well as creating and sharing guides and other resources you can use to implement this work in your own newsroom or organization.
Comments