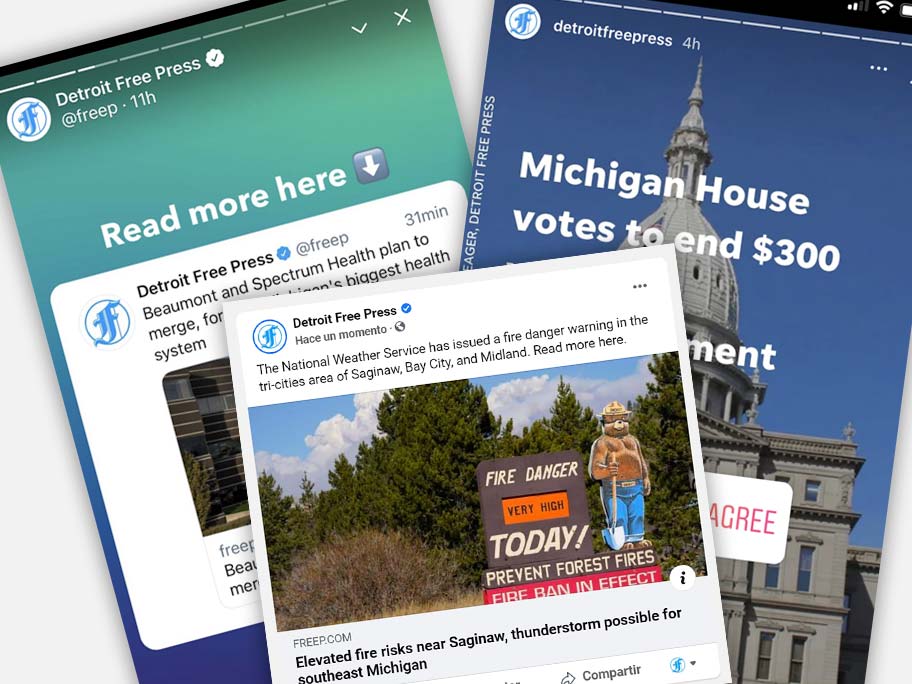 Some social media perks you should know about
Third party design apps and tools for social media are your allies in engaging with audiences
Sometimes, it seems like the more you use social media, the more you realize you don't know about social media. Here are three tips for making the most of social media platforms:
Facebook: The advantages of scheduling content
Facebook Pages have been around for years, as they offer businesses the chance to connect with their audiences, and media organizations use them to share news links, videos, images and infographics.
It is perfectly possible to publish content on behalf of your page using the regular, familiar Facebook interface. However, using Creator Studio gives you many more options and greater flexibility. The tool allows community managers to publish, schedule posts and access statistics about the performance of your page.
Scheduling posts on Creator Studio is a great way to keep readers engaged with content being released on a regular basis without having to have someone posting manually 24/7. At the Free Press, I am part of a team where I spend a couple of hours managing posts that then will be posted automatically over the day. Editors and managers can reorganize, edit and move content around if there's something to change.
The main advantages of Creator Studio? Content is easier to share and allows multiple users and roles.
Instagram: Adding links to stories to drive traffic
The Detroit Free Press uses its Instagram account to share images from its photojournalists, memes about Michigan culture and sports, and informative social cards on breaking news or relevant events. Its content reaches a community of 125,000 followers.
Aside from creating a community of followers, the Detroit Free Press uses Instagram Stories to lead visitors to its website. Any Instagram account with over 10,000 followers, or any verified account, even below this number of followers, gets the chance to add links to their Stories.
I started promoting daily stories from the Free Press in Instagram Stories in June. Every Story is then published with its respective link, and we invite users to swipe up to access the full content. Results so far have shown an increase in web referrals coming from Instagram. By June 15, web traffic from Instagram was close to reaching November 2020's traffic, Election's month.
And if you haven't yet, it is a good idea to apply for a verified badge for your newsroom which can open up the possibility of future features getting added to your account first. To do so, go to Settings > Account > Request verification. Further details can be found here.
Another area I have been trying to test, using Instagram, is reaching Spanish-speaking communities. Using social cards, we're experimenting with alternate versions written in Spanish, as in this example where we provided tips for saving on an energy bill.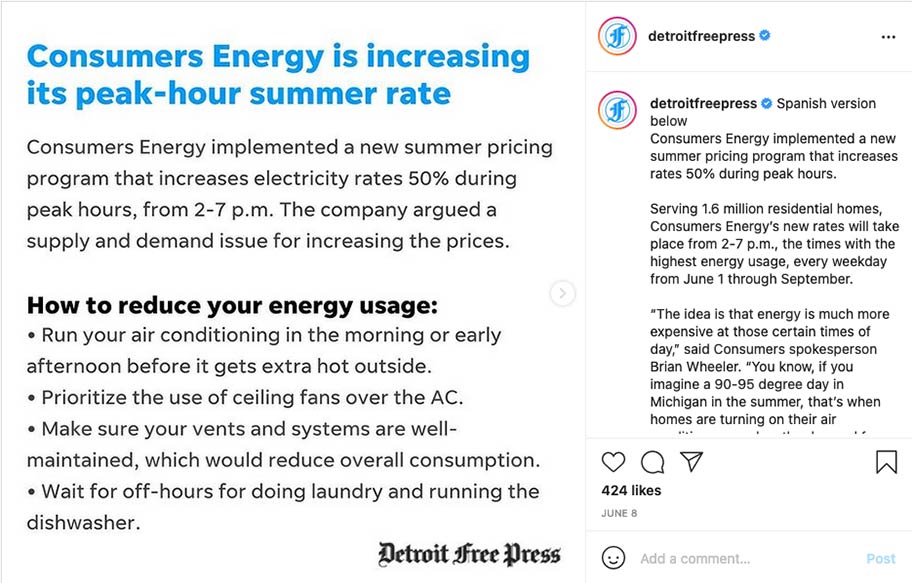 Twitter: Exploring Fleets and Spaces
You might already know Fleets, Twitter's take on Instagram Stories, that shows up at the top of your Twitter space in the familiar highlighted circle around the user's profile image. Twitter Fleets does not allow embedding direct links, but it's a great tool for highlighting certain tweets, recording and sharing video, images or plain text in another format.
I have been using Fleets at the Detroit Free Press for sharing the front cover of the Free Press printed edition each day. I also share breaking news with a format similar to Instagram Stories, and then I highlight the tweet where the link for the story is.
Jose Adriano is the RJI Student Innovation Fellow at The Detroit Free Press in Michigan. This summer our student fellows will be sharing dispatches from their fellowships in newsrooms across the country as a part of Innovation in Focus.
Comments