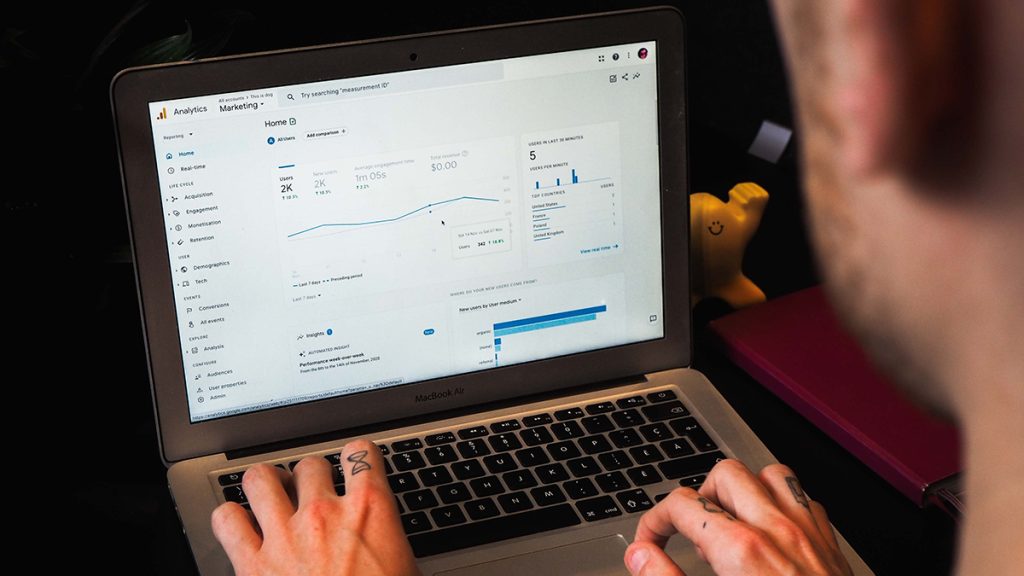 Thinking about the GA4 switchover? Here are some things we learned
Elizabeth Stephens is the executive editor of the Columbia Missourian and the Missouri Community Newspaper Management Chair at the Missouri School of Journalism.
In the newsroom analytics world, there's not a more talked-about topic right now than Google's new analytics tool — GA4 — and the end of the popular Universal Analytics this summer.
After setting up GA4 here at the Missourian, we wanted to see if we could help some smaller newsrooms around the state with the transition. And an annual program offered by RJI and the Missouri School of Journalism that sends students to newspapers around the state to help them with digital opportunities seemed like a terrific way to get started.
That happened in January and, in addition to helping some newsrooms, we learned a lot about the newsroom analytics landscape for smaller newspapers. Here are a few highlights:
Folks are still learning the value of analytics for all sides of the business
One of the newspapers had been relying on data from its content management system, but it didn't have direct access to data straight from Google Analytics. Once we set the site up with a GA4 tag, they were able to see real-time data and explore additional metrics they didn't have before.
"We have already been using the data to help drive decisions made in our supervisory meetings, and plan on using it to drive circulation, marketing, sales and editorial initiatives in the future," said Ethan Busse of the Washington Missourian.
At the Springfield (Mo.) Business Journal , Google Analytics were primarily used in the newsroom which was a little surprising to the student who visited them because there is so much to gain by using it on the advertising and marketing side. She set up some dashboards focusing on that part of the business for them.
"On the newsroom side, we mostly use it to gather the most popular stories of the week for a section in our paper and for a Saturday newsletter called The Rundown," editor Christine Temple said. "We also look to most popular stories in our year-end review and to discover trends."
News publishers are not aware of the urgency of setting up GA4
While Google has changed the final final date for the end of Universal Analytics several times, there is one very important date to keep in mind. The Universal Analytics data will be available for six months after July 1, 2023, but it stops collecting new data on July 1. There is no way to bring historical data into the new GA4 platform.
Publishers using the paid Universal Analytics 360 have until July 1, 2024, to make the switch.
Not all news publishers were aware of this upcoming change or why they need to start collecting data through GA4 as soon as possible.
With the change, publishers will lose historical data. The sooner they begin collecting data on GA4, the more data they will have when Universal Analytics goes away. If newsrooms wait to switch, they won't be able to make month-over-month comparisons, and it will take much longer to collect a year's worth of data to do year-over-year comparisons.
Peggy Scott of Leader Publications in Festus, Mo.,said the communication from Google was not clear about the urgency of this transition.
Editors and publishers didn't realize how easy it could be to set up
At this stage, the goal is to get the GA4 tag added to a site to begin collecting data. The[PR2] GA4 tag can run simultaneously with Universal Analytics. The tag is what allows Google to track the traffic to your various web pages.
Google has made the setup process as straightforward as possible. If a site is already using Google Tag Manager, it is easy to add the tag through your account there. In some cases, Google can utilize an existing tag on your site, making the process even more seamless.
Google has just announced that it will automatically add a GA4 tag and basic settings to sites using Universal Analytics beginning in March.
Google has a guide available and instructions for a variety of different content management systems.
Over Zoom calls, I was able to set up three newspapers on GA4 in less than 30 minutes. Those newspapers were using Google Analytics, TownNews' Blox CMS and Google Tag Manager.
"Their knowledge of how to structure the backend of GA4 and the correct way to implement it into our site structure made the whole process painless," Busse said about the backend work by myself and Potter Ambassador Clayton Steward.
One hurdle, not surprising, was that some newspapers did not have control of their destiny
Some of the newspapers the ambassadors worked with rely on analytics' reports handled by a corporate division or the ownership group. For those editors and publishers, patience is a virtue.
It makes sense for a chain of newspapers to have the GA4 properties set up as part of a corporate account. But the information available through Google could be utilized at the local level for more real-time decisions on SEO, coverage priorities and advertising opportunities.
There are more possibilities for customizations and targeted reports
In the newsrooms that had made the jump to GA4, the ambassadors set up an audience dashboard created by Ned Berke. The ambassadors created different audience segments to allow sites to drill down to their more loyal users.
"I set up specific parameters for analytics to be pulled by first time visitors within the last 30 days, as well as 2-5 visits, or 6 or more in the same time frame," said Clayton Steward, ambassador for the Washington Missourian. "The benefit of this is to help see how many website visits or page visits occurred off of 'viral' stories and also how many 'loyal' readers they have and what they are viewing the most."
Once that dashboard was set up, some ambassadors created additional reports in GA4 specific to their site's requests and the different publishers have found additional uses for the tool.
"I made detailed reports for news and sports and overview reports for news and sports," said Michelle Gutierrez, ambassador for Leader Publications. "I figured out I had to make summary cards which are basically graphs on the details reports and then go to the overview reports to add all the cards together."
Overall, newspapers said their sales divisions were utilizing demographic data, location details and engagement time to help advertisers understand users of their sites.
In newsrooms, staff members were tracking progress on search engine optimization strategies, social media campaigns and other engagement efforts.
Comments