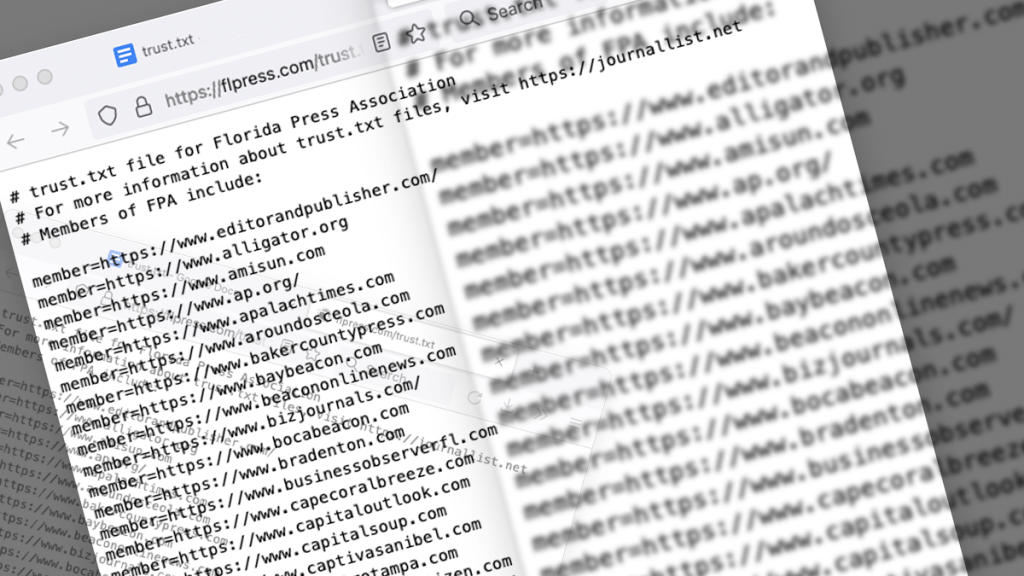 Trust.txt puts the robots to work fighting misinformation
Interest appears to be growing in the "simple and elegant" solution
The idea that a simple text file and a basic membership in a news industry association can be an effective way to solve the misinformation dilemma facing the country has been gaining some traction and believers.
It's called trust.txt, and it's modeled after a staple page for many websites called robots.txt. Both of these provide critical information to search engines, web crawlers and the like to ensure that they understand what the site is all about.
The inspiration for trust.txt was supplied by founder Scott Yates, a journalist and serial entrepreneur from Colorado. He has established a non-profit organization, JournalList, to encourage and support the trust.txt framework.
Currently, there are 93 industry groups, from the Associated Press to the Florida Press Association, that have endorsed the concept, and the list is growing as word spreads. Last week, the effort got a big boost when the Alliance for Audited Media, the former Audit Bureau of Circulation, told Yates it was on board.
"I'm a startup guy and so I feel like from a startup perspective this is moving kind of slow," Yates said, "but everyone tells me from an international standards and governance perspective this thing is moving at rocket speed.
"So, it's somewhere in the middle, I guess."
What's the attraction to trust.txt? Maybe it's that its purpose, to verify the integrity of news websites, takes advantage of structures already in place and is easy to implement.
Anybody could put up a trust.txt file and claim whatever they want, but unless the other organizations are willing to vouch for them, it won't do much good.
"I would say it's simple to get started and it offers great value to our members," said Jim Fogler, chief everyone officer of the Florida Press Association. The association has had a trust.txt file on its site for about a year. (You can see it in action here.)
Jason Kint, executive director of Digital Content Next and an early fan of trust.txt, said this solution creates a "simple and elegant" opportunity for a trusted publisher to have a digital datapoint that can have multiple uses down the road.
"We have always pushed the value of a publisher's brand and we believe that a brand is a proxy for trust," he said.
Digital Content Next, which uses the tag line "advancing the future of trusted content," is a 20-year-old organization with some of the largest and most respected news organizations and media companies in the world.
You'll hear the words "simple" and "easy" often when you talk with early adopters and folks sold on the concept. Here's a quick primer on how trust.txt works:
A news organization creates a webpage on its site that includes the URL of industry associations it belongs to, such as the Colorado Press Association. The Colorado Press Association creates a webpage that lists the URLs of all of its members.
When a search engine comes to visit a news organization, the first stop can be the trust.txt file. When it detects the URL for an association, it can visit that association's webpage to "verify" that the news organization's claim of membership is true.
Making that "relationship of trust" machine-readable, as they say, is really the secret sauce of trust.txt. Anybody could put up a trust.txt file and claim whatever they want, but unless the other organizations are willing to vouch for them, it won't do much good.
That doesn't mean there are no potential bumps in the road. Online innovations that don't fully guard against bad actors will be subject to hacking and nefarious or mischievous manipulation, said Missouri School of Journalism Professor Damon Kiesow.
"The rewards for someone to figure out how to game the system and get a misinformation site verified through this could be great, so I think somebody will work pretty hard to find that soft spot," Kiesow said. "It's definitely something to be vigilant about."
Meanwhile, another issue to watch occurred last week when Yates announced plans to be the Democratic candidate to run against Republican Lauren Boebert in Colorado's 3rd Congressional District. Stay tuned.
Comments