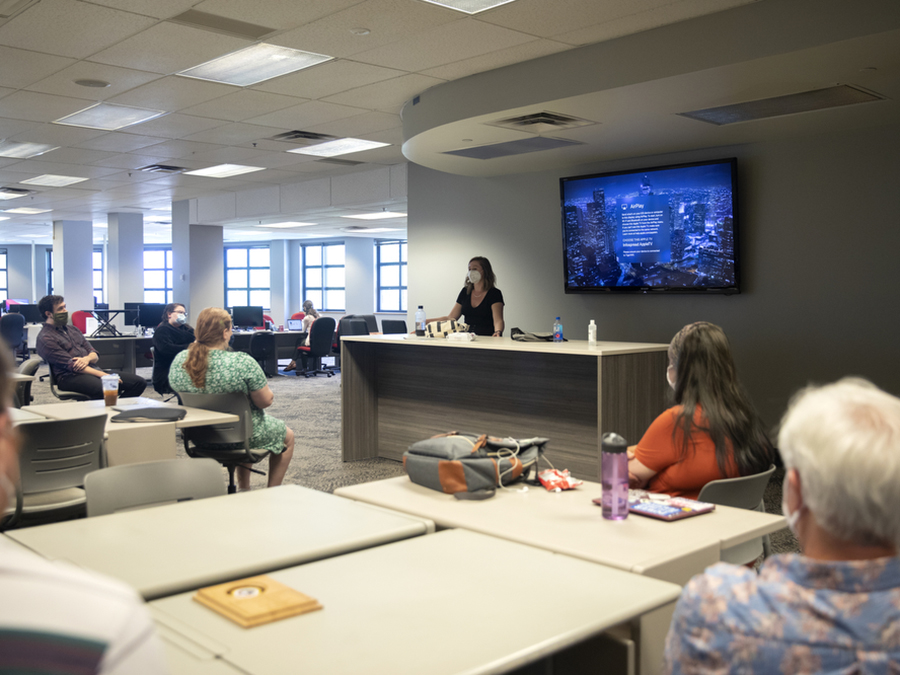 Utilizing RJI resources to take next steps
The Covering Your Community project prepares for our first listening session
The goal of my fellowship project, the Covering Your Community project, is for journalists to come together to hold regular journalism community outreach sessions in different areas of Chicago. These sessions will be free and held at venues within different neighborhoods. We want to be transparent about the publication process and to hear from community members about current coverage as well as ways we can improve in the future.
The Reynold Journalism Institute was gracious enough to welcome me and the cohort of RJI fellows to Columbia to meet each other and collaborate with professors, staff and students. This was a really invaluable experience to learn more about how RJI operates, have some great discussions with the other fellows and speak to some of the students at Mizzou.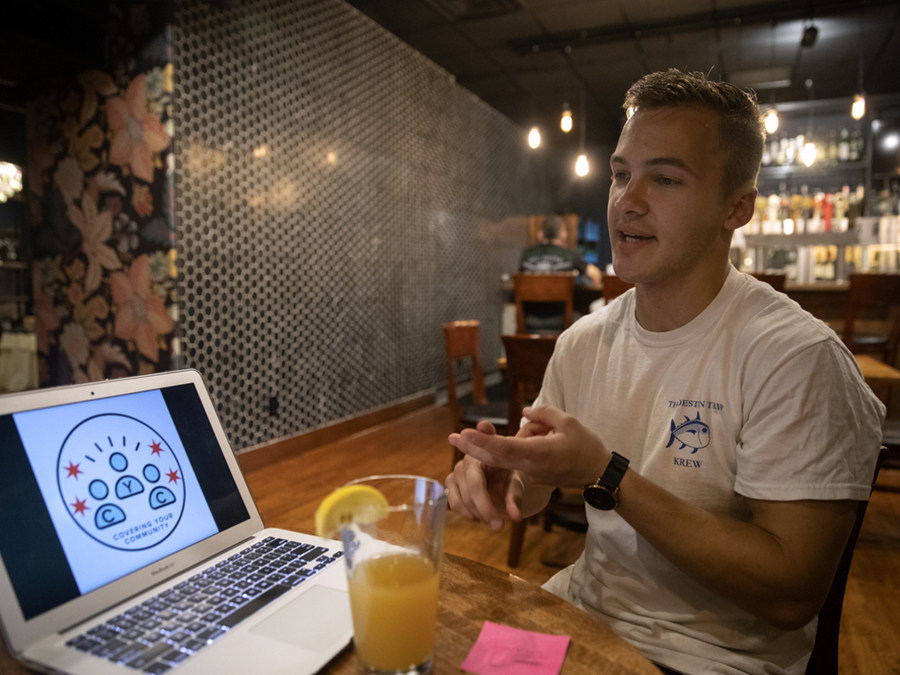 Every conversation was valuable, but here are my main takeaways:
Trent Tarantino (@trenttarantino) is a journalism student at Mizzou with a great background in graphic design. He worked with me to create a "Covering Your Community" logo for our project and did a fantastic job. I requested something using elements of the Chicago flag because it is very widely used and recognized in the city, but didn't want anything too cliché. Trent made a logo that melds a sense of community with Chicago identity, and it helped me design a very basic and accessible website.
I also had a wonderful conversation with Associate Dean for Graduate Studies and Research Earnest L. Perry, who gave me a lot of great things to consider that hadn't yet crossed my mind. One of the main takeaways was to assure anyone attending our first event that they, and the event, are not going to "end up on the news."
In reaching out to a community that does not necessarily trust the media, we want to make sure people know this is not reporting or for our publications, it's an opportunity for people to voice their concerns and for us to listen. We want feedback about previous coverage — are we telling "your" story, the story of the people in the community?
Perry also suggested to make sure we are clear to community members that as journalists we still have to tell more negative, though newsworthy, stories in addition to the good ones, but that we want to assure people even the more negative stories should be "their" story.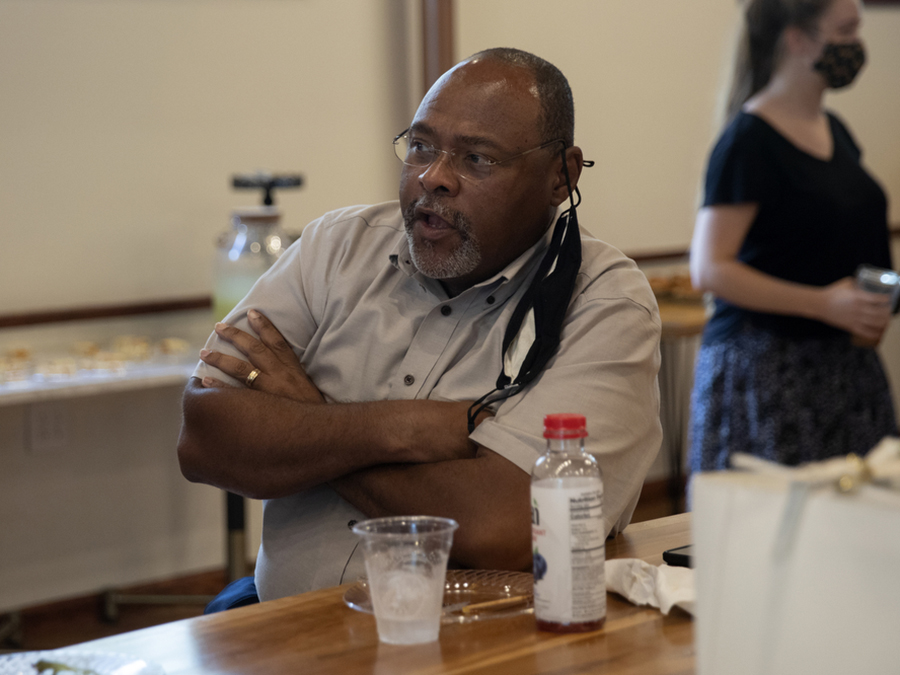 Next steps
I created and launched our website, www.coveringyourcommunity.org, this month. The website explains the project, shares event details and allows people to subscribe to updates or ask questions.
In addition to providing online information, I made and printed fliers in Spanish and English to post and hand out in Little Village and other communities for those who do not have internet access or do not regularly use it and as an effort to meet people face to face.
After a lot of preliminary planning, my CYC team narrowed our focus and worked with members of the Little Village community in Chicago to solidify event details. Our first will be held Oct. 8 in the gymnasium at St. Agnes of Bohemia.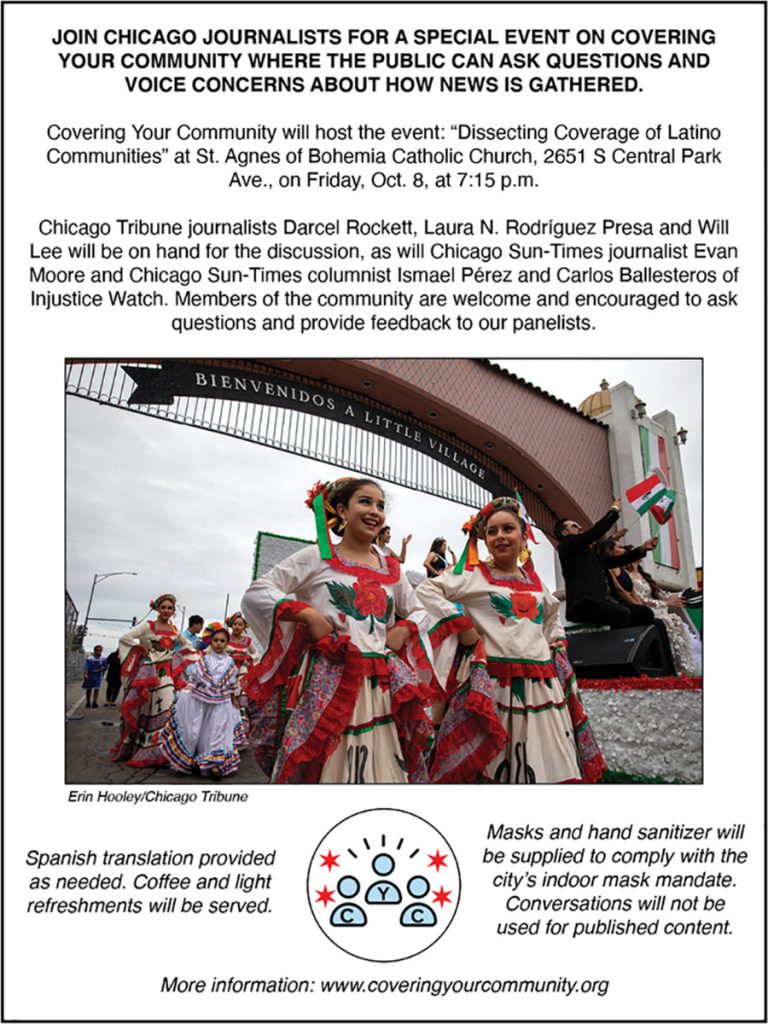 The coronavirus pandemic and city and state mandates may affect our plans but will provide PPE at the event. We discussed holding an outdoor event but ultimately concluded we really need a facility that is already set up to host events with access to seating, air conditioning (October can still be hot and humid in Chicago), restrooms, water and ADA accessibility. An indoor facility also saves us from worrying about weather. St. Agnes provides these and provides us an opportunity to connect with people who may already attend Mass at the church next to the school.

We know we need to discuss issues specifically related to the Latino community and take into consideration the diversity of cultures and people within the Little Village and surrounding neighborhoods. "Latino" is a broad term and we understand that.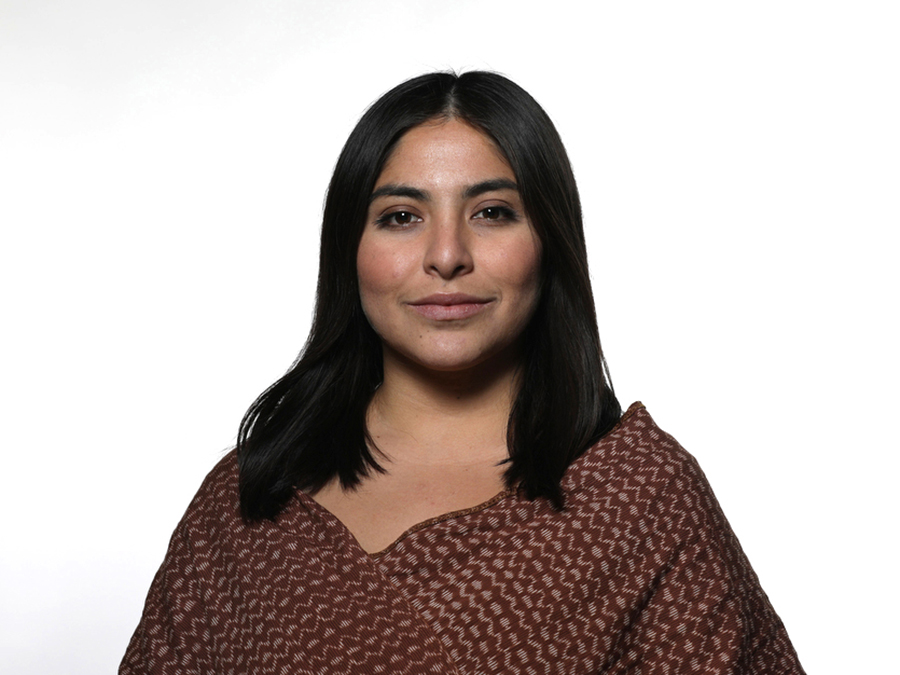 Laura N. Rodríguez Presa (@LAURA_N_ROD) is our new moderator. Our presenters:
Darcel Rockett (@DarcelTribune) and Laura N. Rodríguez Presa (@LAURA_N_ROD) of the Chicago Tribune will discuss a story they collaborated on about Latinos facing the largest increase in Alzheimer's disease and dementia-related illnesses of any racial/ethnic group in the United States. They will also explain the publication process, starting from how they found the idea to finding sources, collecting data, writing and editing, collaboration with photographers, to the final publication.
Evan F. Moore (@evanFmoore) of the Chicago Sun-Times will talk about the differences between columnists/editorial boards at newspapers and the rest of the newsroom, citing specific controversial columns and ways newspapers can reduce harm to communities and to their own reputations. Some readers do not distinguish between opinion and reporting, so we want to clarify the differences and get feedback from community members about what they really want out of an opinion section.
Finally, Rodríguez will moderate a panel discussion with Rockett, Moore, Will Lee (@MidnoirCowboy) of the Chicago Tribune, Carlos Ballesteros (@ballesteros_312) of Injustice Watch and Ismael Pérez (@_ismaperez) of the Chicago Sun-Times. Members of the community are welcome and encouraged to ask questions and provide feedback to our panelists.
I am thrilled to have received such great feedback and ideas and look forward to our first event!
Comments