Business, journalism competition offers real-world industry solutions to Hearken, AP
A University of Missouri team tasked with finding solutions to help Hearken, an engagement consulting startup, expand the business's target market and make it more sustainable, won the 12th annual Center for the Digital Globe (CDIG) media symposium.
The competition brought together graduate students from the Missouri School of Journalism and Trulaske College of Business at MU to tackle various challenges from industry clients. This year, student teams worked with Hearken and The Associated Press. Team AP placed second in the competition.
The students worked on the projects for their Entrepreneurship and Media of the Future class taught by Professor Randall Smith, Donald W. Reynolds Endowed Chair in Business Journalism and director of CDIG. Professor Scott Christianson of the Business School mentored the students throughout the semester. Their final ideas were then shared with clients.
"Team Hearken and Team AP provided professional presentations and solutions for their respective organizations," says competition judge Les Borgmeyer, branch manager and escrow closer for Monarch Title Company who also worked for many years in sales and marketing in the newspaper industry. "The students worked throughout the semester to learn about the businesses, then provided excellent ways to achieve the goals of the businesses. Each solution was practical and could be used immediately in the real world."
Team Hearken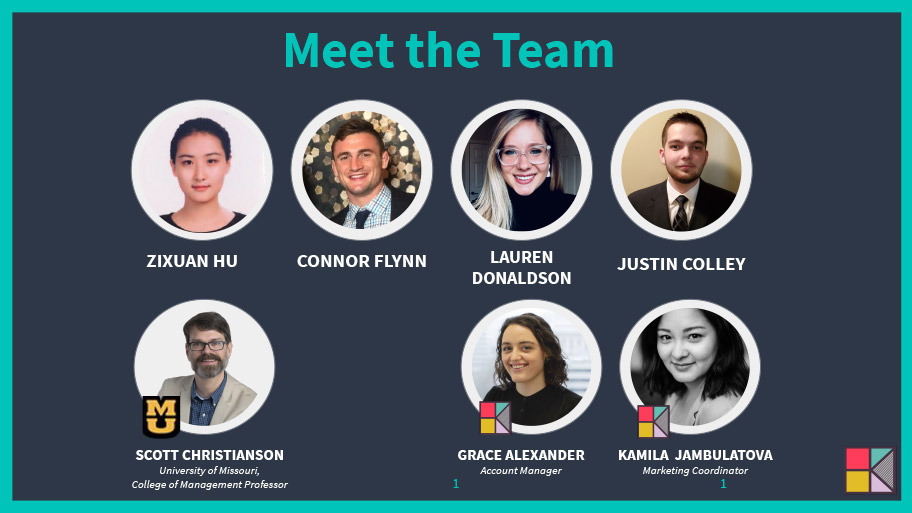 Team Hearken was made up of Justin Colley (business), Lauren Donaldson (business), Connor Flynn (business) and Zixuan Hu (business).
The team proposed that Hearken begins targeting for-profit business in three phases beginning with small local businesses and finishing with large operations like Amazon.
"Team Hearken's proposal offered a clear and measured approach for Hearken to expand from its current market to a wider swath of for-profit businesses," says judge Michael Stacy, managing editor of Missouri Business Alert. "Additionally, the team smartly positioned Hearken as a tool for companies to strengthen their corporate social responsibility efforts at a time of heightened interest in social accountability for businesses."
Team Associated Press
The Associated Press team was challenged to help the wire service approach the idea of building a Missouri network for its AP Story Share program, which they started to help newsrooms collaborate and share stories.
The team was made up of Jaehee Jo (journalism), Emmy Lucas (journalism), Yang Tang (business) and Yiheng Zhao (journalism).
The event was sponsored by CDIG and the Donald W. Reynolds Journalism Institute.
Comments