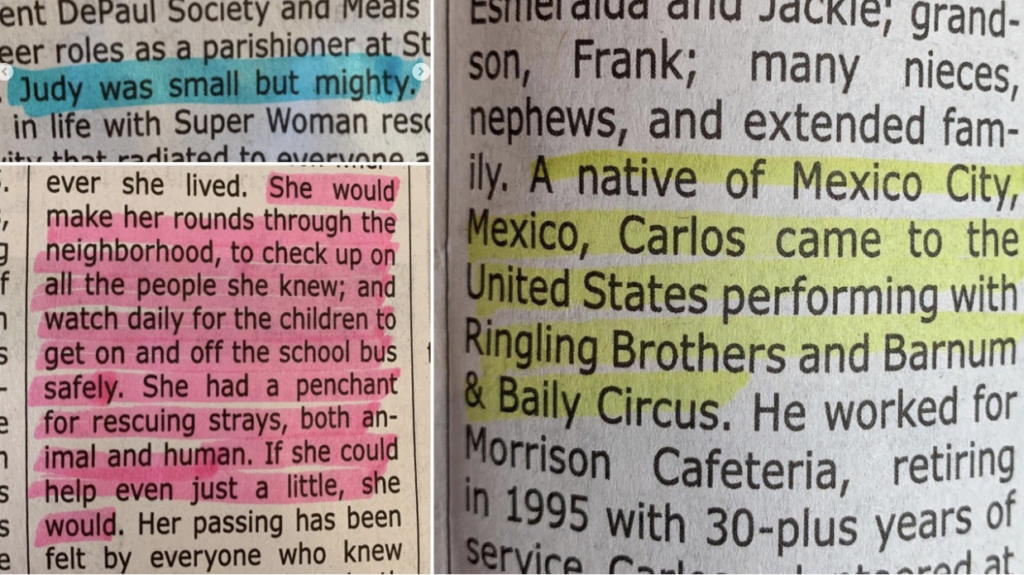 Turns out there's a few things about obituaries that need re-thinking
Obituaries are a lot of things.
They're a legal notice of death. They're the story of a life. They're a tool for grieving. And they're a business.
In taking on one kind of obituary – the story – for this fellowship, I constantly bump into all the other forms. I'm experimenting with reviving feature obituaries and working to build loyalty that drives subscription through an upcoming free, weekly newsletter, called How They Lived, with the Tampa Bay Times. It will include highlights from the feature and news obituaries that the Times publishes each week, snippets from paid obits, and a look back into the archives.
But what about all the other kinds of obits?
Here are a few questions I have collected since starting this fellowship that aren't directly related to what I'm working on, but still matter.
How can submitted obituaries better reflect a community?
Paid obits are a reliable source of revenue for local newsrooms. Last year, Axios reported obits brought in $500 million in total revenue.
As newsrooms shrink and struggle, both because of the pandemic and before it, I get that that's real money. But who's left out when it costs $1,000 or more to share someone's story? You probably know the answer.
Newspapers have given lip service to diversity for years. They have not made progress in hiring people who reflect their communities. I haven't found any data on how paid obits fare, but I do have a few years of looking through them for story subjects. My conclusion from that: Lengthy paid obits are most often about white men.
I built in strategies in my experiments to account for that, including following all the funeral homes that post obits themselves regularly. But that's my job. I'm guessing the problem isn't that people don't want long obituaries on their family members, but that the cost is prohibitive.
Here's how the Tampa Bay Times explains its pricing: "Minimum of 5 lines: First 5 lines are free first day only. There are approximately 20-25 characters per line, including spaces and punctuation. Additional lines (6+): $11 per line Mon-Sat; $12 per line Sunday; Each additional day beyond the first day is charged at half price of first paid day."
There's also a Legacy.com $30 fee.
I clicked on the first obit I saw on the Tampa Bay Times site, about a white woman, and it was a whopping 4,670 characters. That makes it about 186 lines. And that makes that obit $2,084 if it ran once during the week.
Is there a better, more equitable way to run submitted obits?
Here's one alternative: Berkeleyside, an online newsroom in Berkeley, California, runs obituaries for free.
"As part of our service to the community, Berkeleyside is honored to edit and publish, for no charge, obituaries of members of the Berkeley community," the obit page explains.
But what about the much needed obit revenue?
Berkeleyside sees obits as a community service, said Lance Knobel, the site's CEO and co-founder.
"When we publish an obit, we do suggest to the family that we're a nonprofit newsroom and any contribution will be gratefully received," he said. "And many do become members and donors."
So the newsroom doesn't see it as revenue lost, he said.
"It's a community win."
What if you don't have a storyteller in the family?
Great obits don't have to come from formal reporting.
My friend Angela texted me a few months ago with a request. Her mother-in-law had died, and they needed help writing the obituary.
It took me 30 minutes, a few questions and we got to something beyond the standard form. It led with this:
"Joan Toomey might have rolled her eyes and flipped a few people off in her 81 years, but the lucky ones also got the pleasure of savoring her homemade pies, her stoic devotion and her unfiltered opinions."
It felt good to help my friends when they were grieving. And it made me wonder, what do people do when they don't have a storyteller nearby?
I wrote my own dad's obituary, and in the fog of grief, I stuck to the traditional form. What do storytellers do when the obit they have to write is for a loved one?
For this, I have stumbled across two ideas.
What if newspapers hired freelance journalists and charged an additional fee for a professional obit? That doesn't help with my first question about equity and inclusion, I know. But it might help put some people back to work.
Or maybe this could work instead: What if funeral homes had a journalist on staff to write obituaries for their clients? This idea came from Bonnie Upright, the former journalist whose mom's obit went viral.
"Laid off journos could partner with funeral homes to become storytellers for their customers," she tweeted after my interview with her published. "Most families are given a form to fill out, then the standard templated obit is submitted to the paper. But if families had the option to tell their loved ones story? Imagine the magic!"
Rethinking who we write obituaries about led to a great project from The New York Times called Overlooked. It tells the stories of people, mostly women and people of color, who didn't get obituaries in the Times when they died.
So maybe it's time to rethink the traditional obit business model, too.
Comments