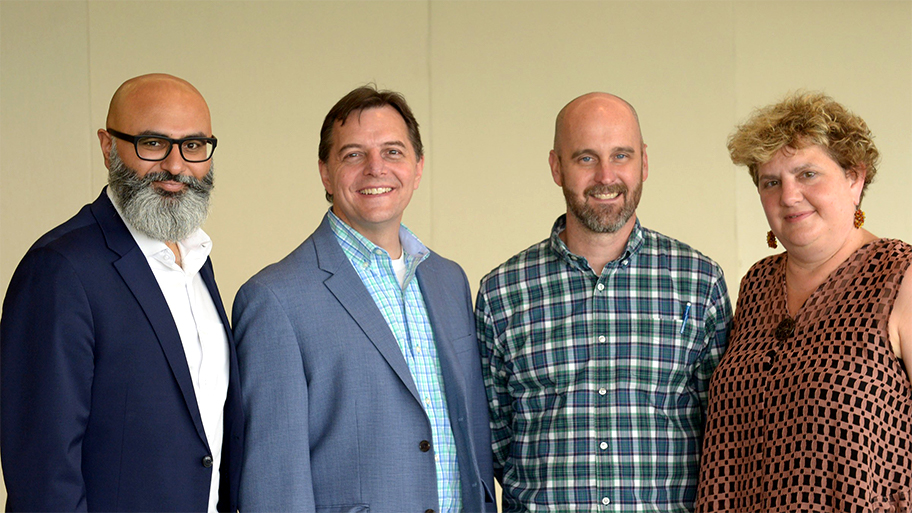 POY leader participates in 'Trauma to Transformation' panel discussion
On Saturday, Aug. 3, a traveling exhibit from the Newseum in Washington, D.C., of Pulitzer Prize-winning photographs opens at the Missouri History Museum in St. Louis.
Lynden Steele, RJI photojournalism director, recently took part in discussion at the exhibit's stop at the Gilcrease Museum in Tulsa, Oklahoma. The discussion was titled, "Trauma to Transformation: The Power of Photographs as Catalysts for Change."
The panelists included Tulsa World photo editor John Clanton and Reuters and former Pictures of the Year judge photojournalist Adrees Latif, who was worked with several Pulitzer Prize-winning entries. Latif has also been recognized by RJI's POY competition many times, including being named "Photographer of the Year" for his work in Pakistan and Thailand in 2010. Latif won this year's POY Community Awareness Award for his work on immigration. Some of those images were also included in Reuter's Pulitzer Prize-winning story.
Dr. Elana Newman, McFarlin Professor of Psychology at the University of Tulsa, moderated the panel, which drew in 129 people.
Dr. Newman also works extensively with the Dart Center for Journalism and Trauma. In 2015, she came to the Reynolds Journalism Institute to discuss trauma and the brain.
The conversation in Oklahoma touched on trauma, social media and the relationship between journalists and the communities they cover.
"The public makes a lot of assumptions about journalists, journalistic practice and the news," says Dr. Newman. "Journalists don't always explain their operating assumptions and practices. It is important for the public to learn about the news making process, hear journalists' perspectives, and learn more. Similarly, the public need to inform journalists about their expectations, desires and wants."
John Clanton, who grew up in Oklahoma and now lives in Tulsa, says he hears directly from residents while on assignment, in the grocery store and sometimes at the paper itself because the public is invited to attend budget meetings.
For him, his paper's connection to the community and being a good photographer are one in the same. "There are things we all connect with: a smile, a hug, laughter, crying, discovery, chaos or reverence," says Clanton. "We've all lived through these things, so documenting people's lives and keeping an eye out for things like that helps make good pictures."
The traveling exhibit is the most comprehensive collection of Pulitzer-winning images ever assembled. Prints from every winning entry dating back to 1942 are on display. In addition, interactive screens give viewers access to interviews and thousands of additional images.
Latif received a Pulitzer award in 2008 for an image of a Japanese videographer fatally wounded during demonstrations in Myanmar. He is also part of the Reuter's team that received the Pulitzer this year for their coverage of the U.S. immigration crisis. Like these stories, many of the winning images in the exhibit show people in traumatic moments.
After covering international conflicts, Latif is aware of the toll that traumatic experiences can have on him and the people he photographs. "I prioritize security and respect, for my subjects and for myself," he explains that he's mindful that images could put people at additional risk.
Plane rides are sometimes the best place to have a good cry, he says, because he's cut off from communication and social media. It's then that he reflects on what he witnessed.
Trauma awareness about covering people in these terrible situations as well as the effects on journalists is increasing, but it hasn't always been the case. "Like first responders, journalists are often witnesses to some of the world's most tragic and horrific events," says Latif. "Trauma not only comes with bearing witness but often feeling the struggle and inability to help and bring change. Up until recently, trauma is a topic that has not been widely addressed in the industry."
"I only very recently became aware that the word 'trauma' could be applied to some of the things I've seen and photographed for Oklahoma's newspapers over the last 20 plus years," says Clanton. "So I'm still learning about this, but I've started talking with interns, especially, about how they feel after a spot news event. I let them know that they aren't weak or 'less' of a journalist if they need to talk to someone after seeing something traumatic."
Even receiving an award like a Pulitzer can also add to the trauma, says Dr. Newman. "I have talked to many award-winning journalists who feel guilt for 'profiting' from others pain," she says. "These concerns tend to weigh deeply on journalists' ability to appreciate an award for a story well told. It is especially taxing if the story receives an award but there is no change — many journalists have talked about this tension as an issue."
How to deal with the stress depends on the severity. "If not immediately threatening, journalists should use the coping strategies that have helped them in the past to get through difficult times," says Dr. Newman. "Social support is important, so reaching out to someone trusted to talk to can be helpful."
"Engaging in dialogue and sharing our experiences helps bring understanding and makes this world a better place," says Latif.
Photo exhibit coming to Missouri
The traveling exhibit next opens in St. Louis and runs from Aug. 3, 2019 to Jan. 20, 2020. On Aug. 21, the museum is hosting a conversation with St. Louis Post-Dispatch photographers Robert Cohen and David Carson, who were part of the photo staff at the Post-Dispatch who won the Pulitzer for Breaking News Photography in 2015 for their coverage of protests in Ferguson, Missouri.
The Dart Center offers some resources for journalists facing trauma:
Comments