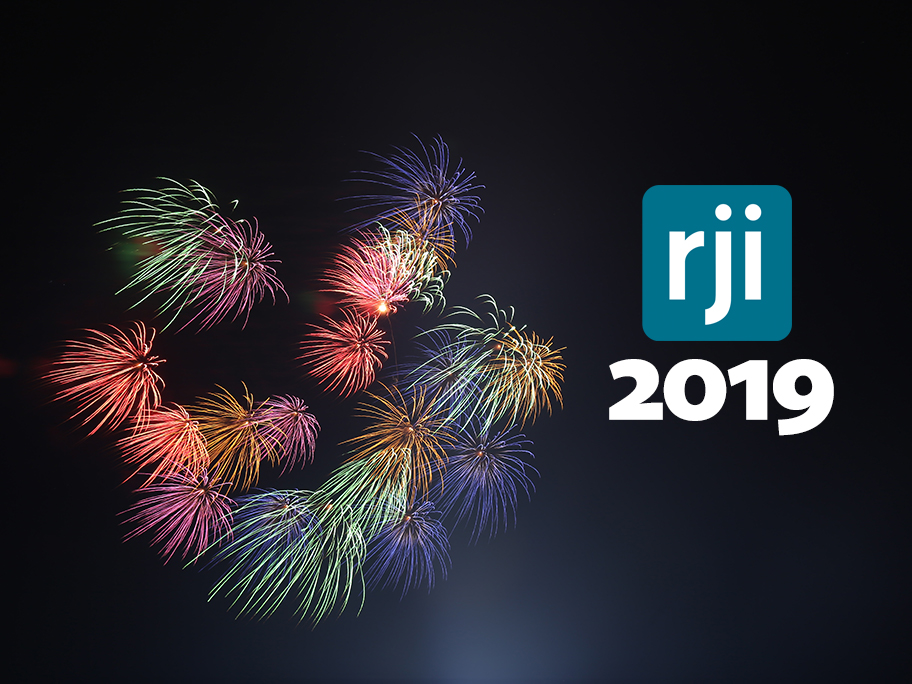 RJI 2019: Strengthening journalism, connecting with citizens, preserving content and exploring tech
As another year ends, the Donald W. Reynolds Journalism Institute reflects on some of its accomplishments and lessons learned with a mission of helping journalism survive and thrive.
Among the initiatives and projects we tackled, there were four general areas of emphasis:
Strengthening local journalism,
Finding new ways to connect and engage with citizens who need reliable news and information,
Preserving born-digital content and
Exploring new technology to understand how it can make journalism better.
Here are some of the highlights from the year.
Strengthening local journalism
With community newsrooms shrinking in size and resources, we came alongside newsroom partners to help them make the digital transformation, embrace innovation and reach audiences.
We began the year by launching seven digitally-savvy young journalists from the Missouri School of Journalism into seven newsrooms for a week during their winter break as part of the Potter Digital Ambassadors Program. They helped train the staffs of Missouri newspapers in a variety of areas including video production, social media analytics and other digital skills.
Three Missouri School of Journalism students spent the summer helping three metro newspapers refine their Instagram strategies during the Instagram Local News Fellowship offered by the social platform and RJI. Additionally, the student fellows worked with high school students from a school without a student newspaper. The high school students worked on an Instagram story project about a Gen Z specific topic. Nico Gendron, a 2018-19 RJI Fellow, oversaw this portion of the fellowship.
In 2019, we began providing a hands-on view into the process that is unfolding as newsrooms at the Missouri School of Journalism begin exploring and launching over-the-top products and projects. Raycom Media's former Vice President of News Steve Ackermann has been sharing insights in a series.
Former fellow Linda Austin shared the results of testing her first mobile micro learning course, which focused on writing for mobile audiences, and encouraged RJI's audience to try out the course for themselves. Austin said the next step was to find additional funding to provide more digital journalism courses.
This year we worked with The Houston Chronicle to make sure the Right to Know Network remained an accessible resource to them and other newsrooms. The site provided data that has helped the Chronicle shed light on chemical disasters and facilities posing the greatest potential threat to the public, in the event of an emergency. The news outlet acquired the site after its previous owners went out of business. But the site was old and needed an update. Improving the website was more than the outlet could handle on its own. Partners from RJI and the Missouri School of Journalism helped relaunch the site with a more user-friendly, accessible site design.
2018-19 RJI Fellow Simon Galperin worked on a project to address underperforming local news ecosystems by building special taxing zones called community information districts. These districts let geographic communities design and fund their ideal news and information sources. He believed these districts would not only help fund an operating budget but also involve readers more intimately. Galperin finished his fellowship by laying out step-by-step instructions on how to launch a community info district.
Our 2019-20 RJI Fellows have been busy working on their projects this fall including Virginia Arrigucci of The Associated Press who is looking into the real value of push alert notifications that are bringing news to consumers. For example, are they meeting consumers' information needs and wants, and if not, how can they improve?

On a related note, fellow Krystal Knapp, publisher of Planet Princeton, is creating a guide for small independent publishers showing why push notifications are a great fit for their local news businesses. She is identifying best practices and detailing how notifications can fit into an overall strategy for audience development that complements other distribution methods such as email newsletters, social media, instant messaging and voice search tools.
As part of Carolyn Robinson, regional director of newsroom practice at Solutions Journalism Network's fellowship, she equipped a trainer to return to 15 TV newsrooms that received training in solutions journalism earlier this year to observe daily operations and learn specifically what's working and what isn't when it comes to implementing the solutions journalism concepts.
Fellow Jim MacMillan is developing a guidebook of gun reporting best practices. Putting that guidebook together included the Better Gun Violence Reporting Summit. He brought together journalists, medical professionals, families of gun violence victims and others to curate best practices and develop a network of journalists to work toward improving gun violence reporting. Shortly after the event, Philadelphia media began linking to a list of resources in their gun violence reporting stories after hearing concerns from those impacted by gun violence who were seeking resources and answers.

RJI held its second annual Women in Journalism Workshop, which focuses on challenges, accomplishments and issues specific to women in the journalism industry. Sessions covered topics including self-care, how to prepare for violent breaking news, social media engagement and unconscious bias training. Participant Kasey Carlson shared her thoughts after the event.
Former fellow Michele McLellan, founder of Michele's List, updated her database of local, independent digital news outlets, which she continues to track. As part of the project, she surveyed 100 publications and shared some of her key takeaways from them, which included the fact that advertising remains the primary source of revenue for these smaller publishers.
After spending a fellowship year improving a re-useable crowdsourcing platform intended to help analyze large government document sets, 2018-19 RJI Fellow Michael Morisy, co-founder of MuckRock, shed some light on what worked well and what's next for the project.
This summer Innovation in Focus, RJI's web series, took a break from testing and reviewing technology to study startups and share insights and challenges from a handful of news outlets' efforts to raise revenue. We covered topics including growing membership with events and newsletters and a video-driven revenue stream.
Finding new ways to connect and engage with citizens who need reliable news and information
In attempts to help news outlets connect and engage with citizens – whether that's Gen Z or immigrants — RJI tackled a variety of projects in 2019. These projects included helping librarians and journalists communicate better literacy habits to their communities and allowing audio story listeners to decide if they want to hear more or less of a story on a smart home device.
The Instagram Fellowship mentioned above was born out of Nico Gendron's 2018-19 RJI Fellowship where she worked with students from five high schools in rural Missouri to help them see themselves and see value in community journalism. Survey findings showed that the students didn't believe their state was "consistently and accurately portrayed in the news." She shared more of her learnings in a final report.
RJI Fellow Madeleine Bair, a journalist and human rights documentarian, wanted to help address the media desert, particularly for immigrant residents, seen in East Oakland, California. During her fellowship, she piloted Pasa La Voz, which was designed to be a participatory local news service providing empowering, local information to Oakland's Latino immigrant community through text messages. According to Bair's wrap-up post about the project, almost 400 people signed up to receive text messages, about 13 percent of subscribers responded at least once, and half responded more than once.
Digital news thought leader Jim Brady began a monthly series on key developments that are shaping and will continue to shape discussions about the future of journalism. So far, he has covered subjects including reader revenue, social media and engagement.
A group of news literacy experts and advocates from organizations including The News Literacy Project and Missouri School of Journalism gathered at RJI to share current research and literacy tools and projects during "Friends of the Facts: A News Literacy Fair." Besides exchanging ideas and information, members of the group also brainstormed ways to share what they learned during the two-day event with their own communities.
RJI Fellow Michael Epstein began developing what he calls Expandable Audio Journalism, a platform for producing audio stories that can expand or contract based on a person's interest level. Listeners tell their smart speaker they want to hear more at a certain point in the story or respond to an Alexa voice prompt and the story naturally expands to give more detail.
Former fellow Thomas Seymat spent his fellowship studying how those producing 360/VR content could "better put the audience at the center of the production process." He shared what he learned and next steps for his work before he completed his 2018-19 fellowship.
Preserving born-digital content
One of RJI's ongoing initiatives is continuing to look for ways to help the industry protect its born-digital content from being lost. "Born-digital content," or content which originates from computer chips or digital sensors, can disappear forever or become inaccessible if not preserved because of several factors. As content becomes more technologically complex, it's requiring new preservation methods.
RJI Fellow Neil Mara, a journalist and former technology director at McClatchy, is leveraging his industry experience and contacts to help find archiving solutions for media companies. During his fellowship, he is seeking out and sharing the best and most innovative ideas out there that leverage a newsroom's archived content, particularly those with a potential return on investment or ROI.
RJI and the University of Missouri Libraries received a $250,000 grant this fall from The Andrew W. Mellon Foundation to help ensure the survival of today's digital news record for future generations. During a yearlong project, a team from the Journalism Digital News Archive is visiting news outlets across the U.S. and Europe. During the visits, the team will identify what's hampering the process of preserving online content by examining the outlets' technology, workflows and policies.
In 2019, we bid farewell to outgoing RJI Fellow Meredith Broussard who worked throughout the 2018-19 year on a project to protect data-driven news applications such as ProPublica's Dollars for Docs.
Exploring new technology to understand how it can make journalism better
The proliferation of new storytelling technologies can overwhelm journalists as they wonder which tools are worth the investments of time and money. Even the time to investigate can be a drain on budgets and staffing. RJI and its partners recognized those needs and tested technologies through its RJI Innovation and Futures Lab and shared the results. RJI also invited outside experts to offer their tips and lessons learned on innovative technologies and platforms.
Comments