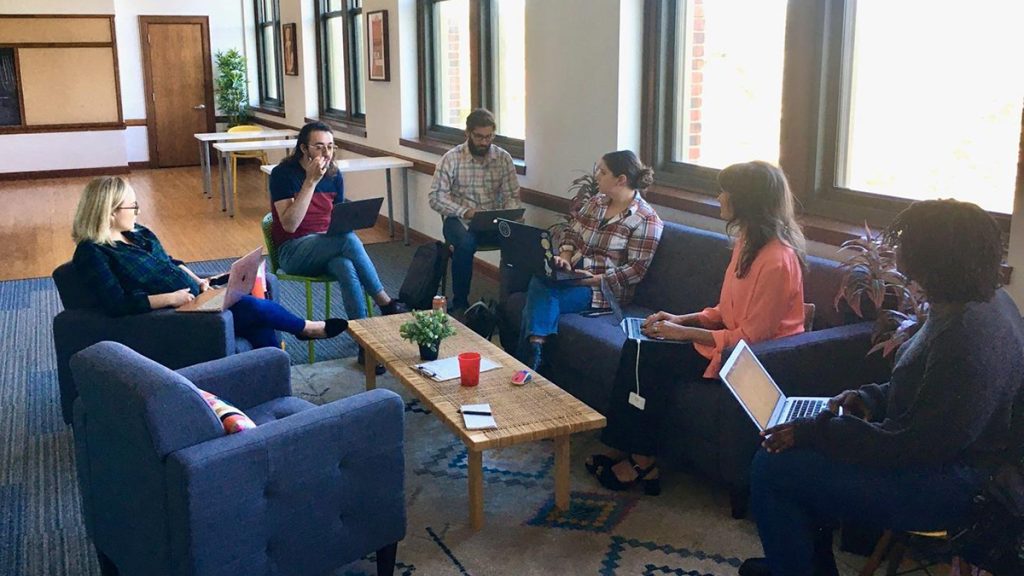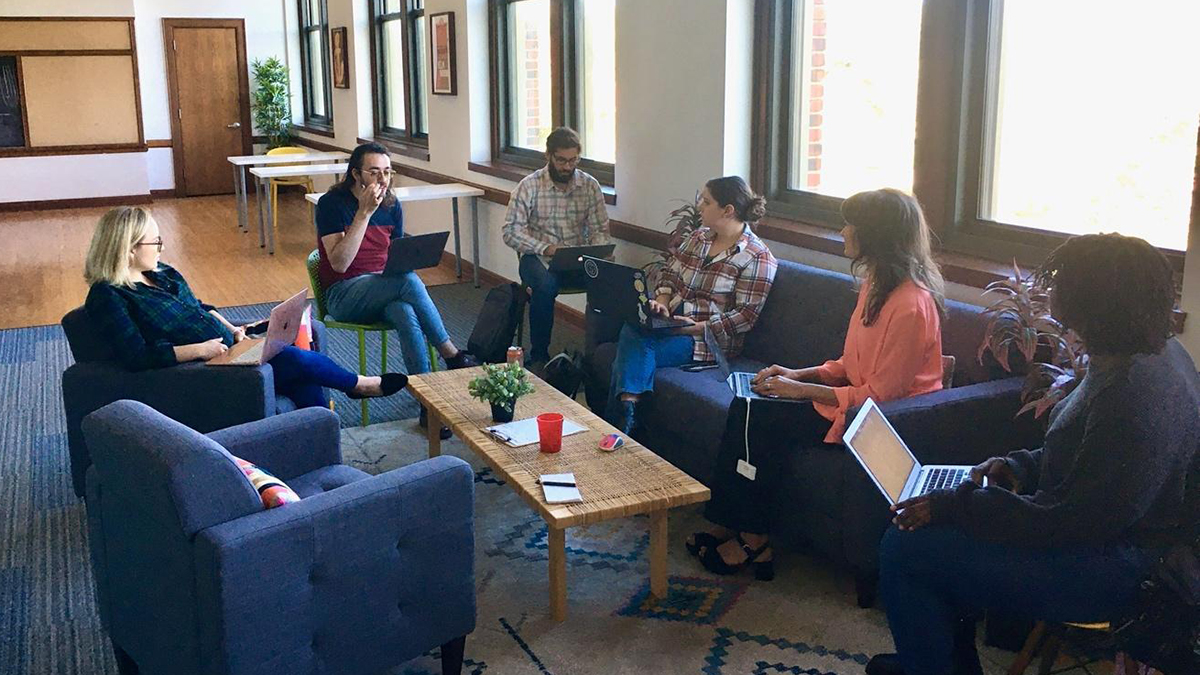 2 Kansas City area news outlets show different paths toward nonprofit sustainability
The Beacon is 3 years old. The Northeast News of Kansas City is more than 90. They are part of a surge in nonprofit news outlets and funding
Walter B. "Walt" Potter Jr. is a retired newspaper executive who in 2010 established the Walter B. Potter Fund for Innovation in Local Journalism at the Reynolds Journalism Institute. Among other initiatives, the fund backs the Potter Digital Ambassadors, which sends Missouri journalism students out to local papers as consultants on new technology.
Producing news with nonprofit revenue streams is an approach that's rapidly gaining steam.
Nonprofit news outlets have been around for decades, but the approach began to spread some 15 or so years ago with the founding of organizations like Voice of San Diego in 2005, which describes itself as the first digital, nonprofit news organization in the country to serve a local community, as well as the MinnPost in 2007 and the Texas Tribune in 2009. At the same time philanthropic organizations like the John S. and James L. Knight Foundation, the John D. and Catherine T. MacArthur Foundation and others have poured tens of millions of dollars into backing those efforts.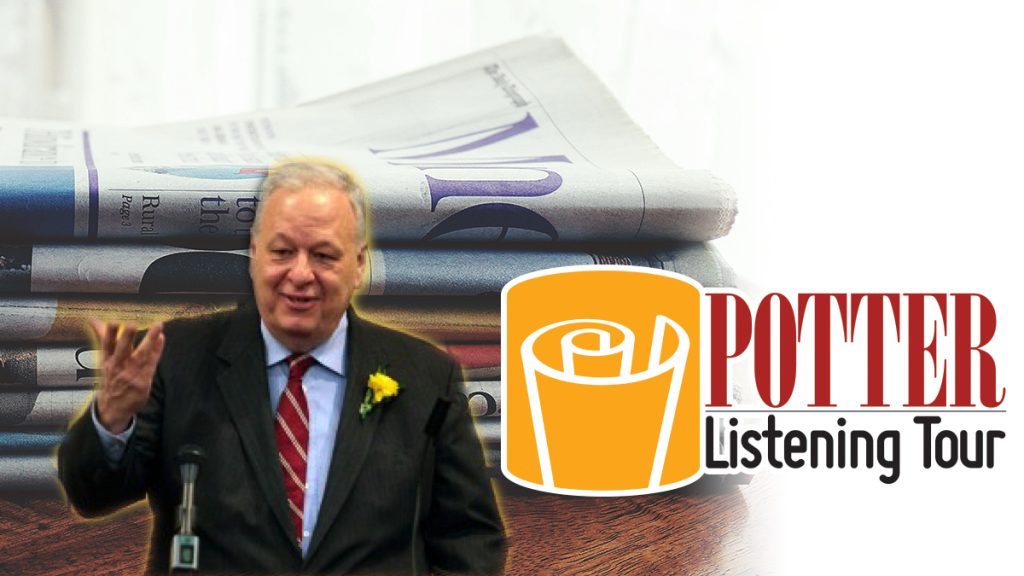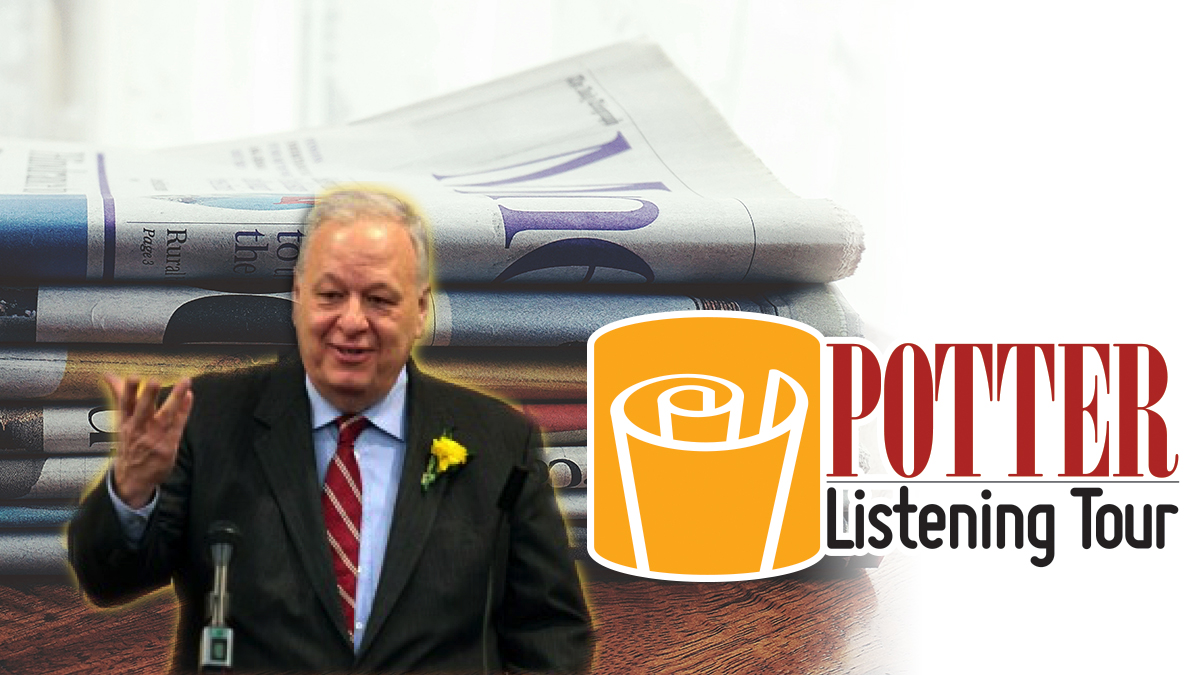 Now amidst widespread concerns about threats to democracy, interest in supporting local news has reached "a ferment," says Knight Foundation Vice President for Journalism Jim Brady. Interest has coalesced in "a large collaborative effort to support local journalism," he reported to hundreds of attendees at the Knight Media Forum in February. The goal is "that philanthropy might work together to accelerate the gains we've seen in local media over the last couple of years."
Philanthropy for local news is already at a high. At the INN Days conference in Washington, D.C. in June, Courtney Lewis, chief of growth programs for the Institute for Nonprofit News, told the event's closing session that INN had tallied total support for nonprofit news at about $600 million during 2022 — "$800 million if you count public broadcasting."
But that's just a start. A few days before Lewis made her report, MacArthur Foundation President John Palfrey told the 2023 Media Impact Forum in San Francisco that a "coalition of the enthusiastic" was aiming to raise as much as $500 million for local news during the next several months.
Longer term, there are even more ambitious efforts. The Rebuild Local News coalition, which says its member groups represent more than 3,000 local newsrooms, has proposed a plan to "deliver approximately $3-5 billion into the local news economy from philanthropy, businesses, consumers and the government, mostly through tax credits," according to its website.
As this philanthropic gusher of funds comes to the aid of local news, local news outlets are already growing. For example, the 2018 INN Index reported about 180 members for the organization. A half decade later, INN members are now nearly 400 strong with members from across the country.
The report said the organization's digital-first members employed nearly 4,000 people, two thirds of whom are reporters, editors or other types of journalists.
Last fall, I visited two examples of those solutions. Trips to The Kansas City Beacon and The Northeast News of Kansas City showed two different approaches to relying on grants and donations for revenue.
The Beacon is a 3-year-old news organization that publishes online and brings new ideas to government reporting and community engagement. "It'll certainly work" as an example of a common approach to nonprofit news, says Mark Horvit, a Missouri School of Journalism professor who sits on the Beacon's board.
Meanwhile, The Northeast News is a nearly century old publication that's working to blend nonprofit status into its traditional model, an approach that intrigues other traditional papers.
Kansas City Beacon is classic nonprofit news effort
The Kansas City Beacon started the way many nonprofit local news organizations have begun — local news people and local philanthropists saw a need and were determined to fill it.
Kelsey Ryan was laid off from the Kansas City Star in 2018, the same year she was part of an investigative team named finalists for a Pulitzer Prize. Ryan did extensive research on whether a nonprofit news organization could plug the gaps left by her former paper's shrinking capacity, recalled Beacon Interim Publisher Jennifer Hack Wolf, herself a former Star staffer. "She laid out a vision."
That vision eventually secured philanthropic support from Google News Initiative, the Ewing Marion Kauffman Foundation and others, said Wolf, enabling the Kansas City Beacon to launch in March 2020. The following year the American Journalism Project, started by Texas Tribune co-founder John Thornton, and others backed the launch of the Wichita Beacon.
The Kansas City Beacon makes extensive efforts to focus its coverage, Wolf says: "We look for things that are uncovered, rather than trying to be a one-stop shop." Listed on the banner of the Beacon's homepage are buttons to click for local and state government, education, health care, housing, labor and DIY Democracy (stories on how to file to run for school board, etc.)
The Beacon refines these categories and picks stories within them using extensive community input. It has an 11-person community engagement board with members from throughout the Kansas City community picked to be diverse in race, geography and opinions, says Wolf. Gary Enrique Bradley-Lopez, a former community organizer for Kansas City nonprofits, was hired to be a full-time engagement manager. Plus, "We do (Google) analytics every day" as well as broader surveys, Wolf says.
This is journalism that puts agency with the community. It compels readers and leaders to take action.

Jennifer Hack Wolf, Kansas City Beacon interim publisher
Underserved audiences are particularly targeted. "Most of our audiences are coming to us via mobile, which affects how we (tune) the speed of our website, even the length of our headlines."
Another key to news coverage is the Beacon's collaborative approach. Wolf highlights the weekly in person "full team" staff meeting where every reporter can comment on every aspect of the Beacon's work. During one such meeting last fall the Beacon's staffers gathered in a conversation area of the organization's offices in PlexPod Westport, a progressive "Live, Work, Play" campus in a former junior high school. In part of the wide-ranging discussion, staffers told the group what their "rose, thorn and bud" choices were for the week, meaning what was the best moment during the period, the worst and what the staffer was looking forward to during the week. The gathering's topics range from story ideas to reader engagement suggestions to whether "unhoused" or "houseless" is the proper term.
The Beacon's ultimate goal is described by a term widely used among nonprofits: solutions journalism. "This is journalism that puts agency with the community," Wolf says. "It compels readers and leaders to take action."
For revenue, the Beacon follows a model similar to public broadcasting. Revenue primarily comes from grants from foundations plus community engagement. Chief Executive Officer Stephanie Campbell broke it down as 82% from grants, 8% from major gifts, 5% from individual givers and 5% from "service revenue." The Beacon has received donations from 830 memberships, which readers can buy from the Beacon's homepage. These sources altogether provided a $2.1 million annual budget for both the Kansas City and Wichita Beacons.
Grant funding generally is for a few years or less. Like many other non-profits, sustainability, perhaps in the form of an endowment, is a long term Beacon goal.
Traditional papers get into the nonprofit act
A breakout session of last fall's Missouri Press Association convention drew a number of traditional MPA members to its untraditional topic: "Not-for-Profit Newspapers." Michael Bushnell, publisher of the 90-plus-year-old Northeast News of Kansas City, walked several groups through the intricacies of securing nonprofit designation.
What attracted the interest are the several advantages of nonprofit status, attendees said. Not only does nonprofit status open up new revenue streams, but it makes companies eligible for discounts on supplies, printing and taxes.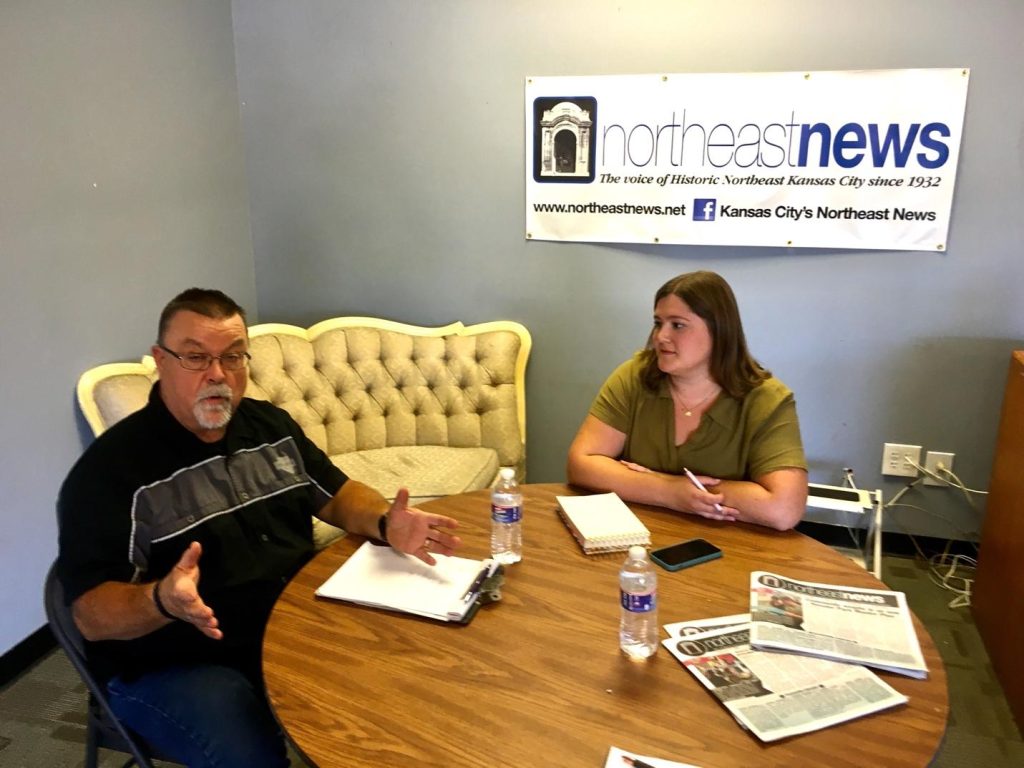 The Northeast News, which traces its beginning in an historic Kansas City neighborhood nestled near the Missouri River to 1932, "has been free-distribution as long as anybody can remember," says Bushnell, who along with his wife, Chris Adams, bought the publication in 1998. That has meant near total dependence on advertising.
As advertising and readership moved to the internet, the Northeast News worked to keep up. In 2005, the Northeast News website was launched. Later the paper created a FaceBook page and a Twitter account.
But the shrinking of advertising revenue newspapers have suffered in recent years hit the Northeast News even harder. "We have a lot of small businesses," says Bushnell. "Small business pulled ads during COVID."
These threatening trends accelerated something Bushnell had been considering for years. He had been executive director of the Northeast Kansas City Chamber of Commerce prior to becoming a newspaper owner. In that role, he had developed close relations to the many nonprofit organizations that serve immigrants and others in the multi-ethnic neighborhood his paper covers.
So, in May 2022 Bushnell published a letter to his readers announcing his paper would be operating under a nonprofit corporation. That move, the letter said, "will allow our organization to seek grant and foundation funding set aside for nonprofit journalism outlets."
Since then, the Northeast News nonprofit revenue approaches 10% of its income, reports Bushnell. Revenue is enhanced by donations from individuals and organizations. Individual donations are made easy by a large "click to donate" square in the upper right hand portion of the homepage. The paper also sells sponsorship ads.
The paper's nonprofit stance doesn't prevent seeking ads from profit-oriented companies and individuals, including politicians, Bushnell says. "We just can't make endorsements anymore."
On the expense side, once the federal government approves 501c3 status for the Northeast News, the company will enjoy breaks on sales taxes, printing bills and various supplies such as computer equipment. "As long as we have that tax letter," he says, "we cannot pay taxes or get a better rate or sometimes both."
Even staffing can be improved with a nonprofit approach. The Northeast News has been prolific in hiring interns, who appear frequently on the website's "Faces of Northeast" page. "I was an intern myself at this paper," notes Managing Editor Abby Hoover. To further this practice, on his 501c3 application, Bushnell chose education as his reason for going nonprofit.
This in turn helped the Northeast News pursue another attraction of the nonprofit approach, partnering with other nonprofits. In a community that Bushnell estimates is more than one-third Latino, a highlight is the paper's content partnership with Revolución Educativa, an organization that supports Latinos in education. That 501c4 organization sponsors the Northeast News' annual back to school edition and pays the salary of the Northeast News' part-time education writer, another former Northeast News intern. Her stories are printed in both English and Spanish.
Spanish, in fact, is one of nearly two dozen languages into which readers can translate Northeast News web pages using a pull-down menu.
Thanks to partnering with the already officially nonprofit Northeast Kansas City Chamber of Commerce, Bushnell has been able to forge nonprofit relationships like the one with Revolucion Educativa.
However, despite applying nearly six months earlier, in late June his paper's application for federal 501c3 nonprofit status had yet to be approved. "We didn't know what we didn't know," he says of the "detail-oriented" application process. He hopes to get that approval within 30 days and with it the thousands of dollars of savings he anticipates.
Bushnell also hopes to share his hard-won knowledge by returning to this September's MPA convention to "give a progress report" on what he now knows about becoming a nonprofit news organization.
Comments